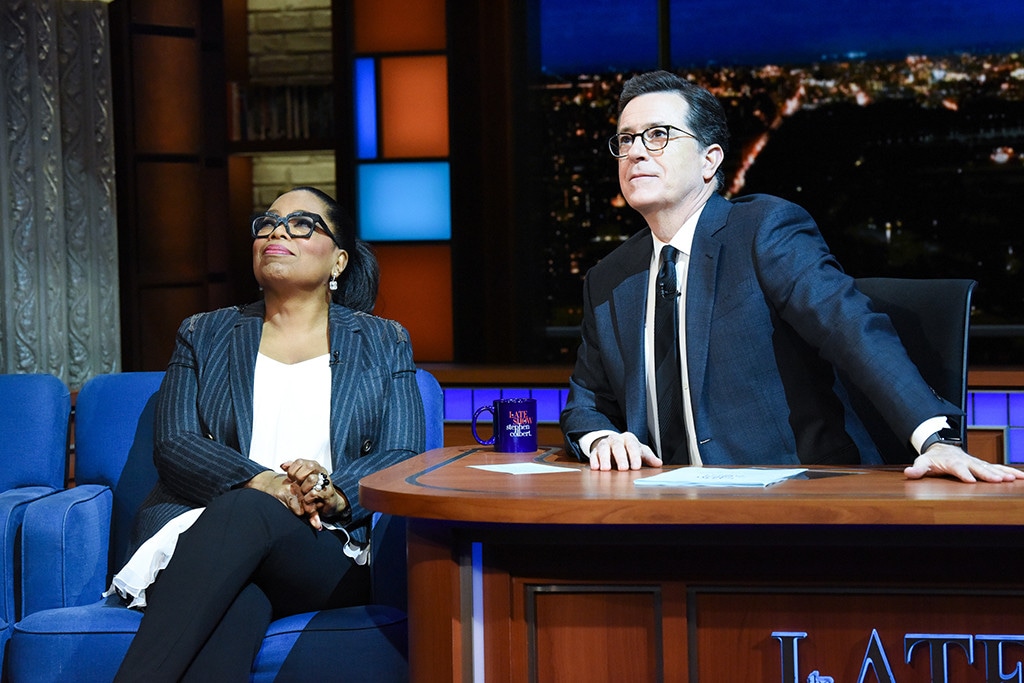 Scott Kowalchyk/CBS
Looking for a sign, Oprah Winfrey? Here's one you definitely can't miss. 
Despite immense public support following her electric 2018 Golden Globes speech, the media magnate has consistently rejected the idea of running for president in recent months, citing her need for a divine "sign."
"I went into prayer: 'God, if you think I'm supposed to run, you gotta tell me, and it has to be so clear that not even I can miss it,'" she told People. "And I haven't gotten that."
Well, that time has finally arrived thanks in part to a visit to The Late Show with Stephen Colbert. Turns out—God stops by the show from time to time.  
"Oprah, Stephen—what's up?" an animated figure of "God" asked while appearing in the set's ceiling. "It's God, everybody! Give it up for the Lord," Colbert announced. 
"I'm a huge fan," the figure said of the star. "That's great to hear. I'm a big fan of yours, too, God. I really am," she replied. "Wow, Oprah knows who I am? I can't wait to tell Jesus," he bantered back. 
"Is there something you'd like to tell Oprah?" Colbert hinted. 
"I hear thou seekest a sign? Well, is this clear enough?" "God" asked while holding up a sign that read "Run!" Winfrey nearly choked on her laughter. "Run is now a part of my exercise routine, I can tell you that," she retorted. 
To make it clearer, "God" held up vibrant merchandise, including an Oprah 2020 hat, T-shirt and sign. "You asked for it—there it is Oprah. A big endorsement," Colbert pointed out. 
"It's not something I've ever seen myself doing. It's not the kind of job that you can have without fully devoting yourself to it 100 percent," she explained. 
"Not really—have you seen this White House?" the figure argued. "God, take it from me, Oprah, it's going to be ok," she assured. "Everything's going to be ok and I'm sure you're going to find someone you're just inspired by in 2020."
Check out the hilarious clip above to find out what special request "God" had for Oprah before he left.