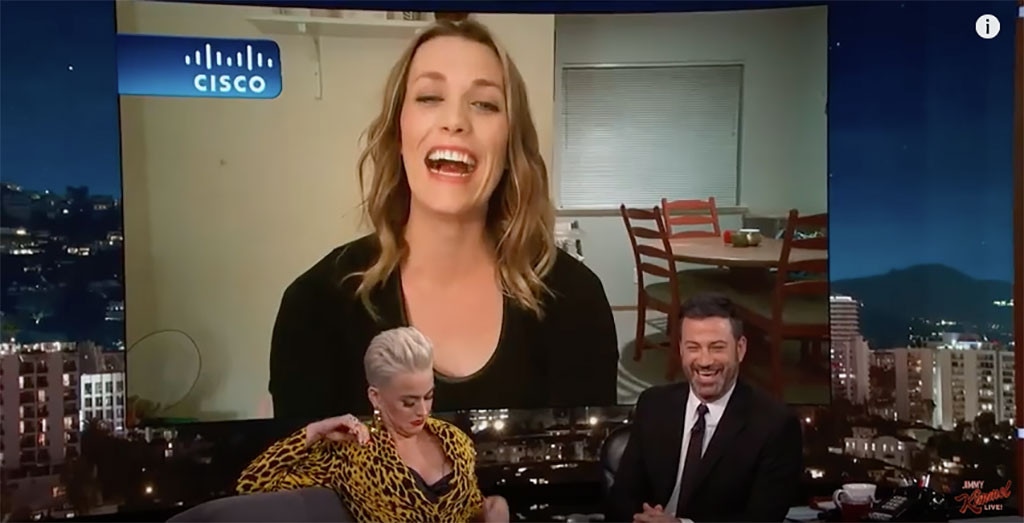 YouTube
Pay attention because Katy Perry got quite the entertaining visit from her past. 
The Grammy nominee stopped by the set of Jimmy Kimmel Live! on Monday night before heading off to Chile for her world tour. While in the late-night hot seat, Kimmel revealed the show had rounded up five strangers and one person from her past for her to talk to. First, Perry had to figure out who she actually knew, which proved to be a bit of a challenge. 
After first picking a guy who she doesn't actually know at all, the star tried again with a smiling lady named Ahnika who she was friends with in the sixth and seventh grade at Santa Barbara Christian School. "What an incredibly beautiful woman you've grown into," Perry complimented. 
However, things took a bit of a turn. "I remember we were pretty mischievous," Perry noted. 
"Do you remember getting me suspended for three days for humping a tree?" the songstress asked. Ahnika did remember an ongoing theme with Perry—boobs. "[My stories about Katy] kind of all revolve around boobs," she said.   
The friend proceeded to recall how, during a sleepover at her house, Perry told Ahnika and her sister that they could not wear a bra to bed because it would crush their boobs and they would never grow. 
"Your body is a temple and you should protect it," Perry insisted. "Or leave it unprotected," Kimmel retorted. 
The friend also remembered how one time, while in the locker room for gym class, Perry lifted up her shirt to reveal she was wearing two bras because her boobs were "so big."
"And that has not gotten my anywhere," Perry quipped.  
As Kimmel added,"What a beautiful reunion this has been."