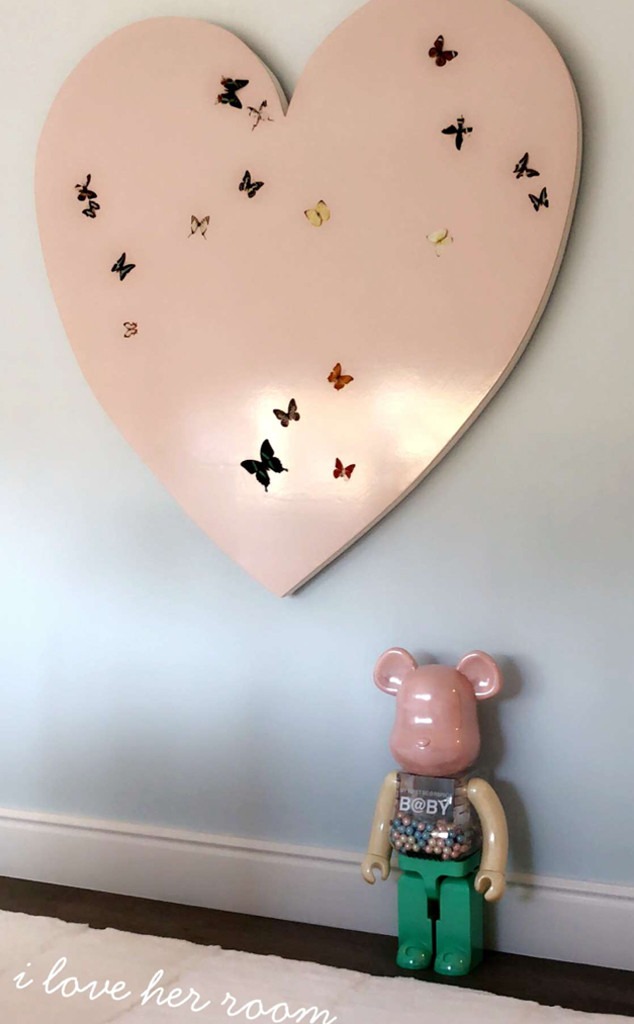 Snapchat
So this is where baby Stormi Webster calls home.
One month after Kylie Jenner welcomed her first child into the world with Travis Scott, the Keeping Up With the Kardashians star is ready to share even more details about her motherhood journey.
In a new Snapchat posted Monday afternoon, the new mom gave fans an inside look into Stormi's nursery that is fit for a princess.
The photo shows a giant pink heart filled with various types of butterflies scattered throughout the wall decor. A matching pink rug is also visible alongside a toy mouse that appears to be filled with candy.
"I love her room," Kylie's Snapchat read before it flashed away after 10 seconds.
Back in February, a source told E! News that Kylie was "obsessed with buying things for the baby and figuring out what the nursery will look like."
Another source said she had decorated the nursery in classic light pink and white with a goal of keeping things "very clean and simple."
While today's Snapchat is only a preview in what is sure to be a special space, Kylie has been slowly getting more public with fans after her private pregnancy.
Over the weekend, the woman behind Kylie's Cosmetics shared the first photo of her baby's face on Snapchat. She also posed in underwear one month after giving birth.
"It's been a big adjustment for Kylie, but she's loving being a mom and watching all of the little things that Stormi is doing each day," a source recently shared with E! News. "She's exhausted and emotional, but she's also completely in love."
Our insider added, "She has a baby nurse that's been helping out and that gives her little breaks and some guidance. Her sisters have been very helpful and a wealth of knowledge when it comes to feeding and fussiness. They talk all the time and are comparing notes on how to get Stormi on a feeding and sleeping schedule."