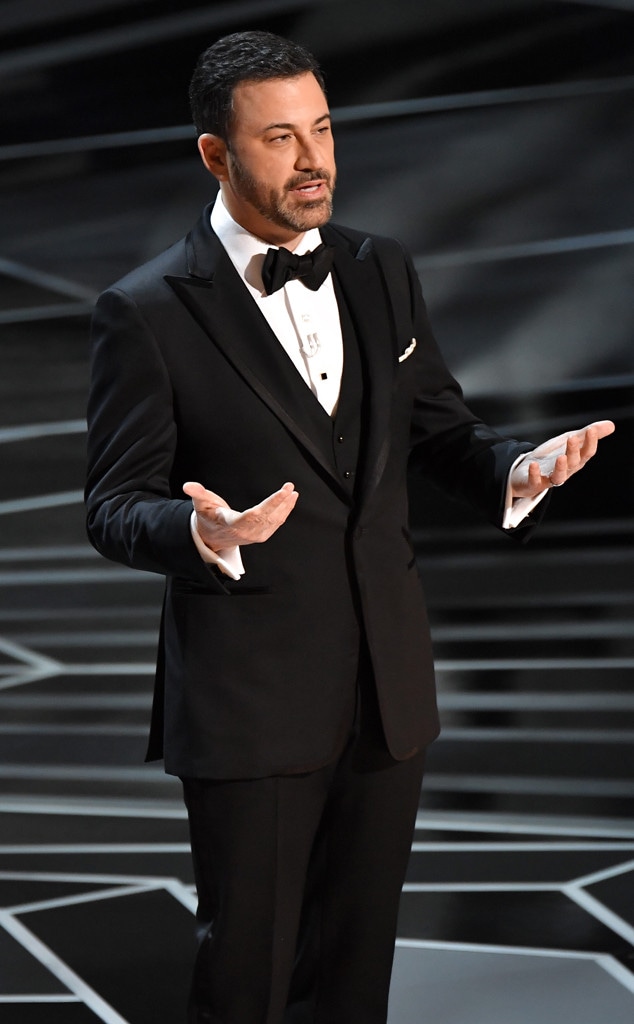 Rob Latour/REX/Shutterstock
Jimmy Kimmel may have been freed from his hosting obligations last night, but his daddy duties are still in full swing.
The comedian and late night host was up bright and early this morning after the Oscars to fill an important request from his 3-year-old daughter, Jane—pancakes!
"When your 3 yr old wakes up at 6:56 am the morning after #Oscars, #pancakes disguised as #donuts," the star posted to Instagram, proudly showing of his daughter with an adorable looking breakfast.
And while the pancakes may look impressive, it's because Jimmy has had some practice. Before hosting the 90th Annual Academy Awards yesterday, he made a green pancake in the shape of the Sesame Street character, Oscar the Grouch—a clever nod to his busy day ahead.
"Happy Oscar Sunday! #pancakes," he posted on the social media app.
Jimmy has certainly proven his flapjack capabilities in the past—a hobby that drives his wife of four years, Molly McNearney, absolutely crazy.
In a piece written in the Washington Post earlier this week titled, "The adorable pancakes my husband, Jimmy Kimmel, cooks for our kids are making my life hell," Molly shared some insight regarding the issue.
"Just when I think he's spent all his energy on the previous night's show, when I think he has nothing left to give, he rises shortly after the sun, crawls out of bed, down the stairs and into our kitchen, and with a quick squeeze of a squirt bottle, spurts cartoon characters onto a hot griddle," she wrote.
"He makes pancakes. And not your average pancakes. He makes art. With pancake batter. Like a lumberjack psychopath."
She continued, "His artistic ability has become my burden. When he isn't home, our daughter sits at the kitchen table, glares at me and says, 'I want a pancake. Peppa Pig.' She doesn't even know that pancakes are round. I try to sell her on a bowl of oatmeal. I tell her it's Wonder Woman food. She doesn't buy it. She demands the edible art she is accustomed to. I cave and nervously promise her a pancake. "I'll make you a 'brown ball'!" She looks at me with confusion, followed by pity and then disgust. A tantrum follows."
All jokes aside, props to Jimmy for consistently killing the pancake game!