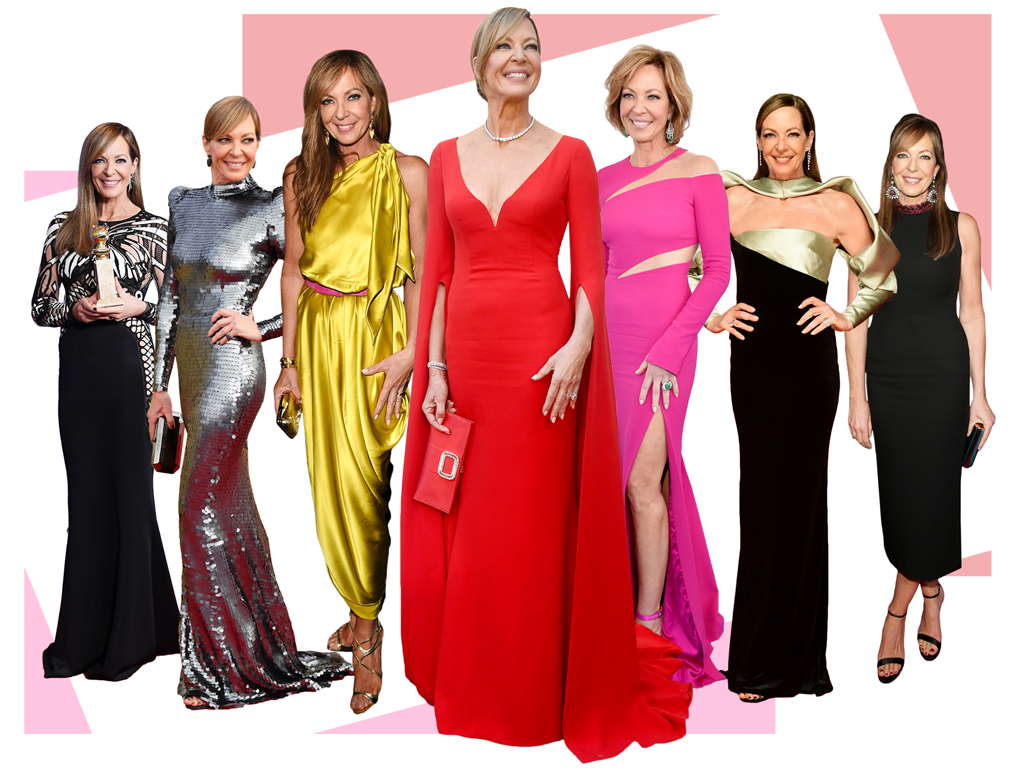 Allison Janney's award season style said it all: She was in it to win it.
The I, Tonya star went home with the gold at Sunday night's Academy Awards, winning the Best Supporting Actress category. It was Janney's first time and nomination at the Oscars, and aside from her solid performance, a hard look at the 58-year-old's recent ensembles prove she was poised to accept film's highest honor from the very start of the season.
"[Allison is] fun and lively," said Hollywood stylist Tara Swennen, whose diverse clientele ranges from the ever-so edgy Kristen Stewart to America's favorite mama Julie Bowen. "I like to sort of match that. I always say fashion is an extension of one's personality. And Allison is not afraid to show that."
Christopher Polk/Getty Images for Turner
It's been an evolution for the stylist as much as it has for the Mom star, who opened and closed the season with both personality and cause. The actress donned an archived creation from Mario Dice for the Golden Globes; the skirt of which was changed from white to black in support of the Time's Up movement. Because most, if not all, celebrities attending the award show also championed the cause, there was a smaller pool of viable black options for stylists to choose from.
"Instead of two racks of dresses, there might have been one. [The challenge] amped up my creativity. If everyone is going to be wearing the same color, how would we be different?" recalled the stylist, who also dressed Outlander actress Caitriona Balfe, whose ruched, floral dress stood in stark contrast to Allison's intricate, weaved creation.
As the season went on, from the SAG Awards in metallic armor Yanina Couture, to the BAFTAs in a very dramatic Bibhu Mohapatra dress, to the Independent Spirit Awards in hot-pink Pamella Roland, Allison picked up award after award—and also along the way, her looks grew bolder and seemingly more confident.
"We wanted to show our collective creativity. To not repeat ourselves, we literally went through the colors of the rainbow," explained Tara. "She can pull off any color."
Chelsea Lauren/WWD/REX/Shutterstock
The journey culminated in the perfect choice: a custom Reem Acra gown in bold red. Every detail was thought out: The dress was made in double-face crepe so it wouldn't wrinkle; the exaggerated sleeve was cut right below the elbow so it would ruche up as the Oscar-winner moved; she wore responsibly sourced Forevermark diamonds; her Jimmy Choo shoes were dyed the same color to match; "it was the type of dress that couldn't be worn by all shapes and sizes," explained Tara. The dress was made unique for Allison's amazing, statuesque figure. More importantly, the dress was made by a female designer, which the I, Tonya star made sure to request.
If Allison was going to win at the Oscars, as she had done all season, she would make a statement with her style, as she had done all season.
And that's exactly what happened. 
Watch:
Allison Janney - 2018 Oscars E! Glambot