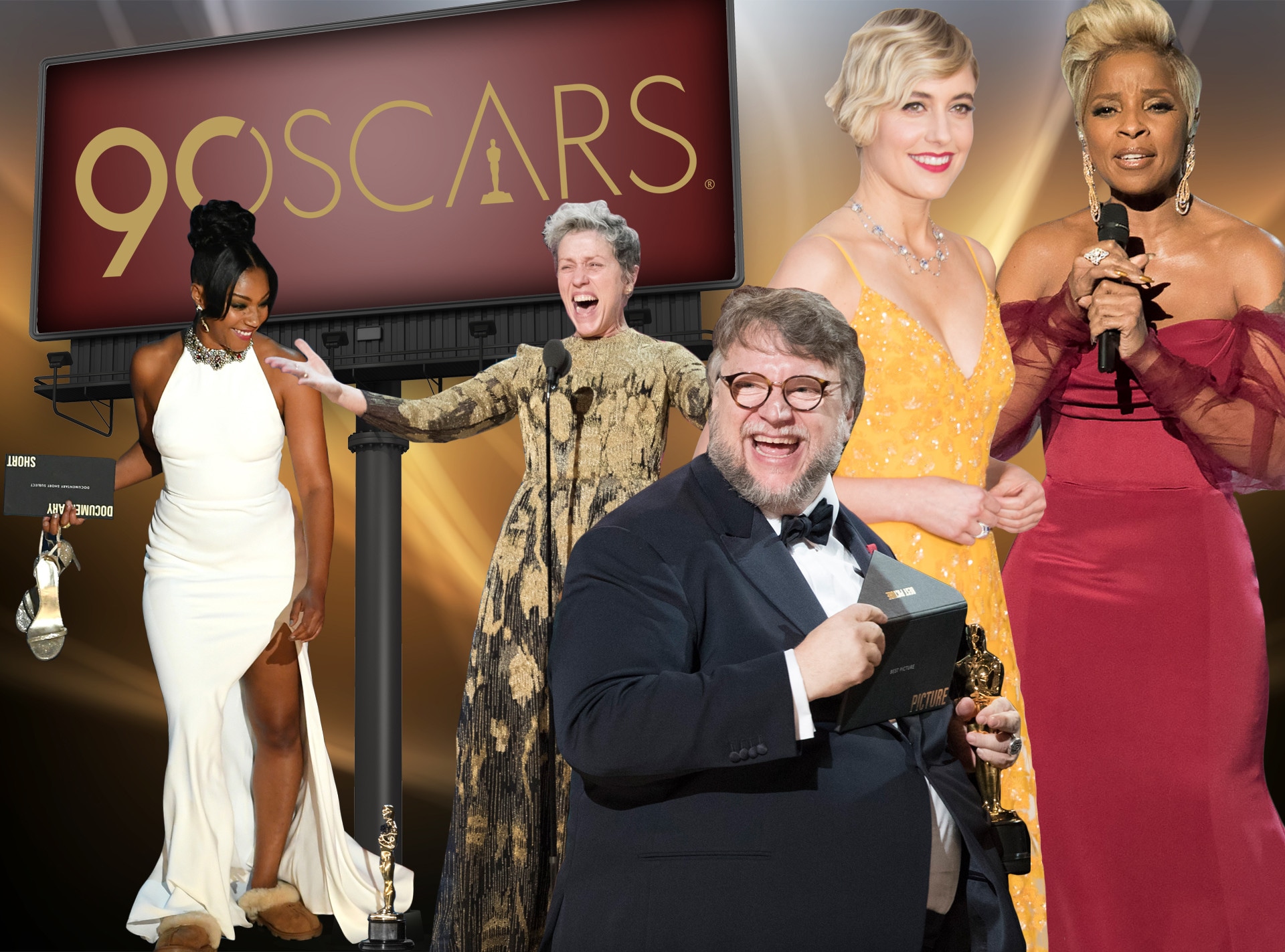 Melissa Herwitt/E! Illustration
Sure, The Shape of Water triumphed at the Oscars last night, but a successful awards season depends on far more than how much hardware you bring home.
Guillermo del Toro's interspecies romance was named Best Picture and won a leading four awards, including Best Director, and Frances McDormand added a dozen trophies to her case even before winning (then losing, then finding) her Oscar for her performance in Three Billboards Outside Ebbing, Missouri. Sam Rockwell, Allison Janney and Gary Oldman were also unstoppable forces, and perhaps hip-hop-loving voters couldn't settle solely on Jay-Z, Kendrick Lamar or Childish Gambino, resulting in Bruno Mars' 24K Magic being named Album of the Year at the Grammys.
But those are the brass tacks of awards season. Here are the other big winners:
Women: Well, one would hope.
There's no shortage of reminders that there's still much work to be done, and there's just a little thing known as a centuries-old pecking order that needs rearranging, but there's no question that the entirety of this awards season will be remembered for the voices that spoke up, the history made and the women who drew that line in the sand (and then kicked a little sand in the patriarchy's face for good measure), stood up and declared, "Time's up."
From the sea of black dresses at the Golden Globes and the BAFTAs (Kate Middleton, we feel your forest-green, and we salute you) to the white roses at the Grammys and the all-female award presenters and Kristen Bell as host at the SAG Awards, gestures were made to ensure that people watching in the room and at home didn't forget that there's a movement taking shape.
Now comes the challenge, however. While the red carpet and a big stage provided a hard-to-ignore platform from which to be heard, consider the award-show leg of Time's Up and #MeToo only the beginning. It's how well the message resonates moving forward, when all eyes are not on all the big stars all at once, that will be the true test of how serious people are about change. We know Frances McDormand is serious—Hollywood has its marching orders as far as inclusion riders go—but a more collaborative effort is needed.
Greta Gerwig's Oscar nomination for Best Director was simultaneously a start and also a reminder that she was only the fifth woman to be nominated and only one woman has ever won. Meanwhile, she was left out of the running at the Golden Globes, and Natalie Portman wasn't the only one angry about it. Rachel Morrison's Best Cinematography nomination was historic, but in 90 years of Oscar nominations, she was the first-ever woman. That's just nutty.
On the bright side, Gerwig won the Independent Spirit Award, and you couldn't not be thrilled for the oh-so-deserving Mary J. Blige's dual Oscar nominations, for Best Supporting Actress and Best Song, both for Mudbound.
The important thing is to make sure the march toward better representation for women onscreen, behind the camera and in the boardroom continues forward.
Moonlight and La La Land: They were last season's movies, but nobody stopped talking about them all year, especially during the weeks leading up to this year's show, after the flub to end all flubs at the 2017 Oscars. Somehow we don't feel that will be an issue heading into 2019.
Tiffany Haddish: She wasn't nominated for a Globe, SAG Award or Oscar—in fact, most would say she was robbed after her scene-stealing turn in Girls Trip—but she was the New York Film Critics Circle's pick for best supporting actress, she helped announce the Oscar nominations in January (even drawing plaudits and thank yous for her mispronunciations), and was a welcome presence (and a gleeful, curtsying fan) all throughout awards season.
Her real-life star turn culminated at the Oscars last night as a dual presenter for Live Action Short and Documentary Short Subject, when she and Maya Rudolph came out, stilettos in hand, and proceeded to compliment each other on their respective public expulsions of bodily fluids onscreen.
In a show low on exciting moments, it was a highlight. Haddish also got to show off that white, jewel-trimmed Alexander McQueen gown she loves so much (she's even wearing it in her IMDb profile pic) yet again on stage, after first paying tribute to her late father's homeland of Eritrea with her red carpet dress.
And not only did everyone love watching her on the scene for the past several months, not an award show went by without a call for Tiffany Haddish to take over as host next year. Happily, the call has been heeded, and you can catch her hosting the MTV Movie and TV Awards on June 18.
Kevin Winter/Getty Images
Get Out: Four Oscar nominations, including a win for Jordan Peele's original screenplay. Winner of the Independent Spirit Awards for Best Feature and Best Director. AFI's Movie of the Year. SAG Award nominations for Performance by a Cast and Male Actor in a Lead Role. The twist that was its nomination for Best Musical or Comedy film at the Golden Globes.
Peele's debut feature—a small-budget horror film that became a hit thanks to critical praise, word of mouth and assurances that you had to see it before you got spoiled—had a momentous year. Thanks in part to the general climate, which made it clearer than ever that schools should require students to sit down and really watch stories about the experiences of people who don't look like them or who come from a different background. Get Out probably didn't make everyone think and reconsider themselves quite as much as the world needs, but it got people talking—about race, about bigotry, about how places that are safe spaces for some present a whole other set of challenges for others. And about how used to all of that we've become as a culture.
Moreover, Get Out opened in theaters in February 2017, so there was no "old" movie getting more attention as we rang in the new year.
Kevin Winter/Getty Images for NARAS
Kesha: Recording Academy president Neil Portnow might want to forget about this year's Grammys, or the aftermath anyway, but we'll always have Kesha's performance of "Praying"—when she was joined by Camila Cabello, Julia Michaels, Cyndi Lauper, Andra Day, Bebe Rexha and the all-woman Resistance Revival Chorus—as the redeeming factor amid all the male-dominated business-as-usual, an ironically tone-deaf response to the sea change under way everywhere except inside Madison Square Garden that night. Producers understood what those white roses were for, right?
And even though the Rainbow artist lost to Ed Sheeran, who wasn't even there, in one of the handful of Grammy categories announced during the actual telecast, when you're the one everyone is saying should have won, people tend to remember. Just ask Goodfellas.
The Kardashians: But of course. We can't help but point out that there were lots of people far more interested in the sex of Khloe Kardashian's baby (she's having a girl!) than there were who couldn't wait to see whether Get Out would pull off that Best Picture upset last night.
Though if it had, the hardware may have won awards season after all.