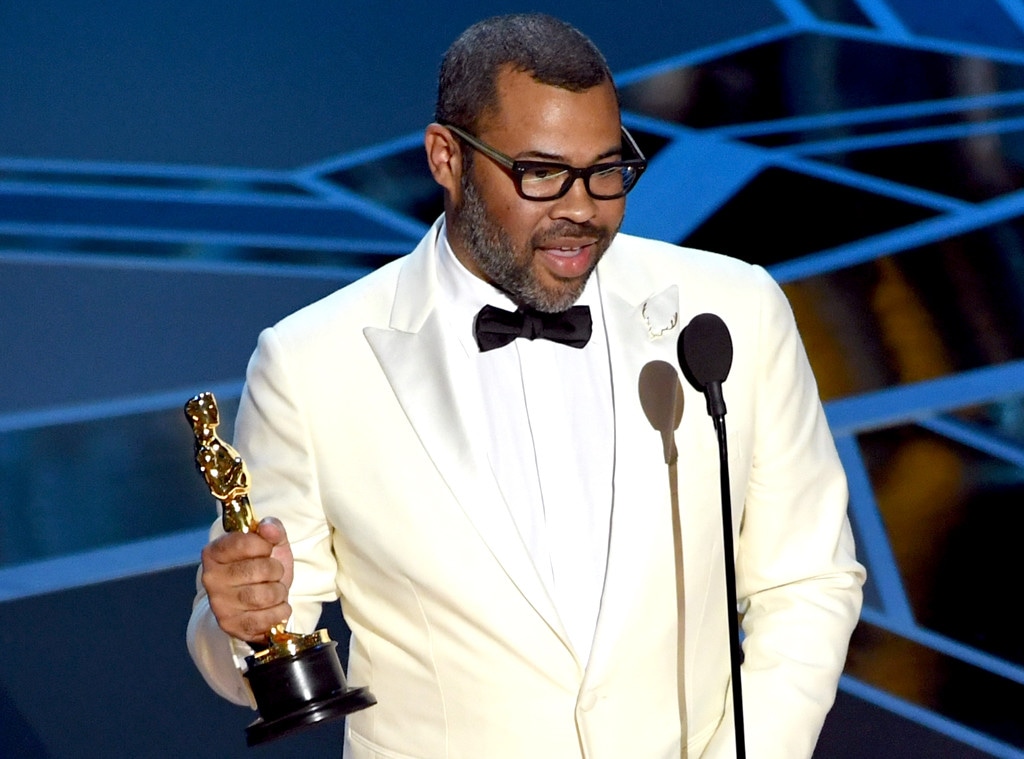 Kevin Winter/Getty Images
Jordan Peele made history at the 2018 Oscars on Sunday when he became the first African-American screenwriter to win Best Original Screenplay.
After his win, the Get Out director took to the pressroom to discuss what the award meant to him and how the moment was so much bigger than himself. 
"It's a Renaissance," he said. "I almost never became a director [sic] because there's such a shortage of role models. We had Spike [Lee]. We had John Singleton. We had the Peebleses. We had the Hughes brothers. But they felt like the exception to the rule."
He then added, "I'm so proud to be a part of a time—the beginning of a movement, where you—where I feel like the best films in every genre are being brought to me by my fellow black directors. It's very special, and I think that goes for all areas of inclusion, but it's quite clear with the work that Ava [DuVernay] is doing, that Ryan [Coogler] is doing, F. Gary Gray, Barry [Jenkins], that this is a very special time."
Following the greats before him, Peele was aware of the influence he has in the entertainment industry. 
"When the nominations came out, I had this amazing feeling of looking at the 12-year-old that had this burning in my guts for this type of validation… I instantly realized that an award like this is much bigger than me. This is about paying it forward to the young people who might not believe that they could achieve the highest honor in whatever craft they want to push toward."
But, the decision to make the critically acclaimed film did not come without doubts. The budget was small and the message was controversial. Nonetheless, Peele persevered, thinking about those he could inspire.
He said, "I almost didn't do it, because I didn't believe that there was a place for me. Whoopi Goldberg and her acceptance speech for best supporting actress for Ghost was a huge inspiration for me. And when I got nominated, one of the first things I did was reach out and call her and thank her for telling young people who maybe doubted themselves if they can do it. So I hope that this does the same and inspires more people to use their voices," he said.
Although he made history with his Oscar win, the best part for Peele has simply been "the full-circle moments of meeting heroes."
"[Gary Oldman]'s been my favorite actor since Bram Stoker's Dracula and True Romance.  I got to sit down with him outside, and we just talked about this experience, and we shot the shit.  And it's moments like that.  It's moments like getting to meet Spike Lee, Steven Spielberg.  I got to meet Francis Ford Coppola.  All my fellow nominees.  These are moments that are priceless.  Priceless, priceless, priceless.  And I'll take them with me forever."
Peel wasn't the only one excited about his big win. Several celebrities congratulated the director on Twitter, including his former Key & Peele star Keegan-Michael Key.
"Congrats to my partner in laughs @JordanPeele on his first Oscar," he tweeted. "#OscarsSoPeele. #VFOscars.
Producer Ben Winston also shared a photo of Key reacting to Peele's historic win.
Get Out cast member Bradley Whitford also told Ryan Seacrest on the E! Red Carpet that what Peele achieved was a "miracle."
"This is a $4 million movie. It's his first movie. [It's a] genre-busting, cultural bomb that changes the way we think about each other. It's amazing."