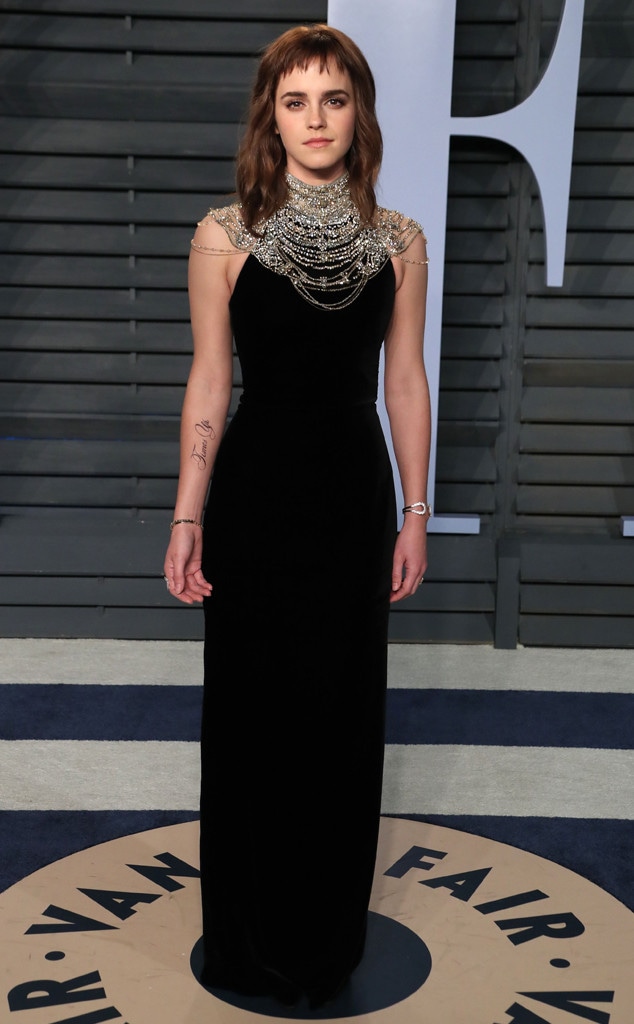 Matt Baron/REX/Shutterstock
UPDATE: After being called out online about the missing apostrophe on her "Times Up" ink on Sunday night, Emma Watson tweeted a joke that both confirmed the fact that the permanent-looking words were merely temporary and also made fun of her accidental grammatical oversight.
On Monday, the Harry Potter actress tweeted, "Fake tattoo proofreading position available. Experience with apostrophes a must."
Perhaps the army candy was written in disappearing ink?
______
Emma Watson is wearing her heart on her arm. 
The actress and activist stepped out at the annual 2018 Oscars Vanity Fair after-party Sunday night donning a black gown and what appears to be some special new body ink. "Times Up" was written in script on the 27-year-old's forearm curiously without an apostrophe. Currently, it's unclear if the art is permanent or temporary. 
Of course, the phrase is a very direct reference to the Time's Up movement that launched at the start of the year in response to the systemic sexual harassment, assault and inequality women have been facing at work and in their daily lives around the world. 
Having already helped start the HeForShe campaign years ago, Watson once again leapt into action and committed herself to the cause so close to her heart, signing a letter of solidarity and pledging her support to the movement.
Evan Agostini/Invision/AP/REX/Shutterstock
"The clock's been ticking on the abuse of power. I stand in solidarity with women across every industry to say #TIMESUP on abuse, harassment, and assault. #TIMESUP on oppression and marginalization. #TIMESUP on misrepresentation and underrepresentation. Sign the solidarity letter and donate to the @TIMESUPNOW," she urged her followers back in January. 
Then, when the 2018 Golden Globes came later that month, she stood on the carpet alongside Marai Larasi, a revered activist working to prevent violence against marginalized European girls and women. Together, the women wore black as a symbol of their unity with each other and women around the world. 
"Marai- what can I say. You were the best date on the most meaningful red carpet I have ever walked," she later wrote to Larasi. "Thank you for being so darn articulate and fun. Thank you for the trust, care, compassion and solidarity. I am so proud to say I work with #Imkaan and the End Violence Against Women Coalition and to be learning from you."
As she later penned to her more than 43 million followers, "There is no question that #TIMESUP should be and will be a global movement. A movement that is defined and led by those affected by the problem, not by those in power."
This story was first published at 8:17 a.m. on March 5, 2018.