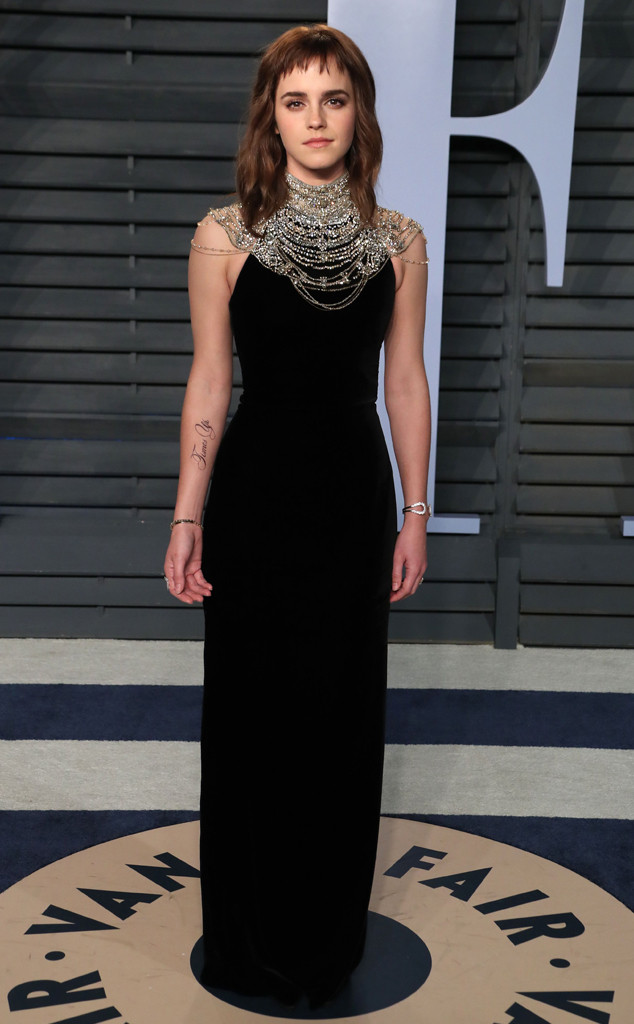 Matt Baron/REX/Shutterstock
UPDATE: After being called out online about the missing apostrophe on her "Times Up" ink on Sunday night, Emma Watson tweeted a joke that both confirmed the fact that the permanent-looking words were merely temporary and also made fun of her accidental grammatical oversight.
On Monday, the Harry Potter actress tweeted, "Fake tattoo proofreading position available. Experience with apostrophes a must."
Perhaps the army candy was written in disappearing ink?
______
Emma Watson is wearing her heart on her arm.
The actress and activist stepped out at the annual 2018 Oscars Vanity Fair after-party Sunday night donning a black gown and what appears to be some special new body ink. "Times Up" was written in script on the 27-year-old's forearm curiously without an apostrophe. Currently, it's unclear if the art is permanent or temporary.
Of course, the phrase is a very direct reference to the Time's Up movement that launched at the start of the year in response to the systemic sexual harassment, assault and inequality women have been facing at work and in their daily lives around the world.
Having already helped start the HeForShe campaign years ago, Watson once again leapt into action and committed herself to the cause so close to her heart, signing a letter of solidarity and pledging her support to the movement.