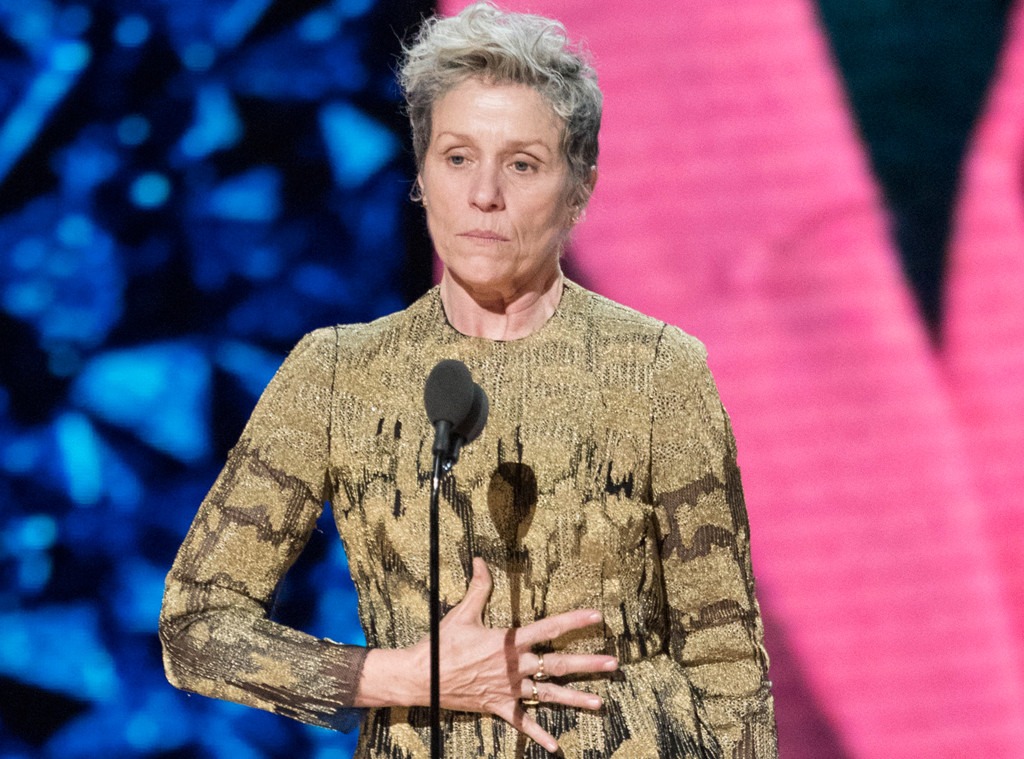 Craig Sjodin/ABC
Frances McDormand was simultaneously a winner and a loser Sunday night.
During the 2018 Oscars, the Three Billboards Outside Ebbing, Missouri star won the award for Best Actress, beating out fellow nominees Sally Hawkins (The Shape of Water), Margot Robbie (I, Tonya), Saoirse Ronan (Lady Bird) and Meryl Streep (The Post). Moments after McDormand walked offstage, Ronan "got up and ran over to Sally and summoned Meryl and Margot," a source tells E! News. Then, the four Best Actress nominees "embraced in a big, long group hug in the aisle for the entire commercial break," a source says. "It was amazing! Absolutely magic!"
And after McDormand walked back into the ballroom and took her seat, she was "hugging everybody," a source said. "Everyone was cheering for her as she held her Oscar and sat down."
But McDormand's good fortune didn't last long. By the time she arrived, Oscar in hand, to the popular Governors Ball, she "had set it down and was chatting" when she realized someone swiped it, The New York Times' Cara Buckley tweeted. Buckley tweeted a photo of the person who allegedly "grabbed" the award and "ran out with it," telling her followers, "Wolfgang Puck's photographer stopped him, got the Oscar back, and the guy disappeared back into the ball." Apparently, Buckley told her followers, the actress simply asked security "to let him go."
The actress was spotted "crying" after giving up her search, USA Today reported.
McDormand's publicist, Simon Halls, did not confirm Buckley's details, but did tell USA Today the actress and her award were "happily reunited" and "enjoying an In-N-Out burger together."
LAPD Media Relations confirmed to E! News Monday that Terry Bryant was arrested in connection with the attempted theft. He was booked at 11:50 p.m.; bond was set at $20,000.
In a Facebook video, Bryant kissed McDormand's award. "This is mine! We got it tonight, baby. Muah! Muah! Governors ball, baby!" Bryant, 47, said. "Who wants to tell me congratulations?"
The 90th Annual Academy Awards ended a stellar award season run for McDormand, who was recognized at the 2018 BAFTA Awards, 2018 Golden Globes, 2018 Independent Spirit and 2018 SAG Awards—to name just a few. "I don't do everything, as you know," she told reporters backstage Sunday. "I don't show up all the time. I only show up when I can and when I want to."
McDormand won her first Oscar in 1996 for Fargo, directed by her husband, Joel Coen.
—Reporting by Alli Rosenbloom