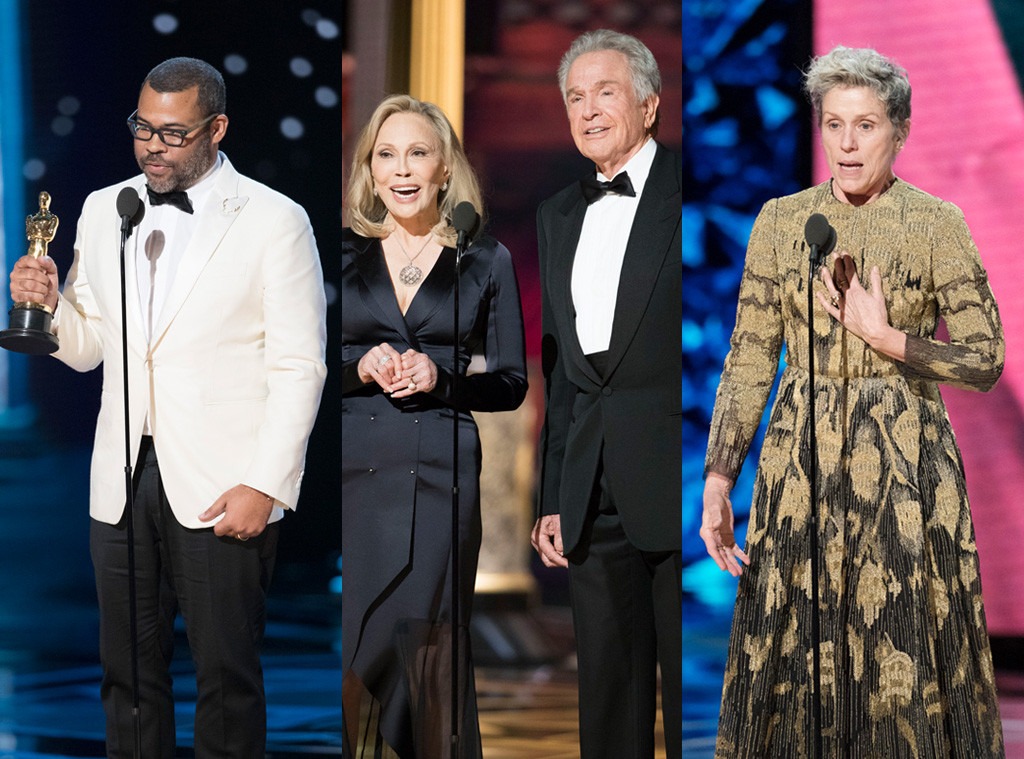 ABC/Craig Sjodin
After last year's Academy Awards, we really had seen it all. A-list jaws dropped all over the room. So, how to thrill us at the 2018 Oscars? That was the question.
And Jimmy Kimmel & Co. tried their best to answer it. They certainly had their work cut out for them.
Barring a major debacle of the nightmare-inducing variety, nothing could top the tidal wave of confusion that washed over the crowd last year when the producers of La La Land spent more than two minutes thinking they had won Best Picture, only to find out it was all a mistake. Combine that with the newly imposed task of having to strike the proper celebratory yet self-aware tone in a climate that's been in perpetual waiting-for-the-other-shoe-to-drop mode for the past five months.
So perhaps the answer was to withhold thrills, and rather just honor and respect the films and the people who make them. Which they were so successful at, this being the milestone 90th Oscars, that for the first time in recent memory there was no playoff music. Nobody got cut off in the middle of saying thank you to their late wife or telling their kids to go to bed or explaining why they wanted to tell stories in the first place. They shaved some time off the ceremony by not individually presenting clips from each Best Picture nominee—and look, everyone got to say what they wanted and winning costume designer Mark Bridges rode off on a new Jet Ski for his 36-second speech, the shortest of the night. 
But though year 89 was an all new high (or low?), from which year 90 had to recover, that isn't to say nothing merited a special reaction last night. Here's what resonated:
Rob Latour/REX/Shutterstock
The Best Picture Race Finally Takes Shape: Originally the favorite before the race became a toss-up, with the late edge seemingly going toward Three Billboards Outside Ebbing, Missouri, the fantastical sci-fi love story The Shape of Water ultimately led the field with four Oscar wins, including Best Picture. It marked the first time since 2015 that the Best Director winner directed the Best Picture winner. Sweetly, the last to do it before Guillermo del Toro this year was his friend Alejandro Iñárritu, for Birdman. Alfonso Cuarón, the other member of their trio popularly known as "the Three Amigos" as a nod to their Mexican heritage (it's also the title of a book about their impact on cinema), won for Gravity in 2014.
And you'll notice off to the right there, a bemused Warren Beatty and Faye Dunaway, last year's co-presenters having good-naturedly returned to the scene of the crime to help exorcise the demons.
Stopping Just Short of Ebbing, Missouri: Martin McDonagh's relentlessly brutal, acerbically funny and tonally uncertain drama about a grieving mother seeking justice and vengeance ultimately wasn't what Academy voters were looking for in a Best Picture. But momentum wasn't derailed in the slightest when it came to Sam Rockwell, who won for Best Supporting Actor, thereby capping off a fine season for the veteran character actor and bringing the Leslie Bibb appreciation tour to a close.
Meanwhile, Frances McDormand was exactly what the zeitgeist was looking for in a Best Actress, 21 years after her first win for Fargo—and for good reason.
McDormand, who's only grown increasingly spirited with each win this season (though she may have best enjoyed being able to wear pajamas and blurt the F-word without being censored at the Film Independent Spirit Awards on Saturday), used her platform to put her Oscar in perspective (literally, standing the 13.5-inch-tall golden man next to her while she spoke), thank her husband and son, Joel and Pedro "McCoen" ("These two stalwart individuals were well-raised by their feminist mothers; they value themselves, each other and those around them"), and ask all the female nominees in the room to stand up.
"The actors—Meryl, if you do it everybody else will, come on—the filmmakers, the producers, the directors, the writers, the cinematographer, the composers, the songwriters, the designers. Come on!" she encouraged, signaling with a maniacal giggle that time was a-ticking on the patriarchy. "OK, look around everybody, look around, ladies and gentlemen, because we all have stories to tell and projects we need financed. Don't talk to us about it at the parties tonight. Invite us into your office in a couple of days or you can come to ours, whatever suits you best, and we'll tell you all about them.
"I have two words to leave you with tonight, ladies and gentlemen: inclusion rider." (That would be a contract stipulation requiring there be a certain amount of gender or racial diversity on a project. Translation: "You're not making this with a bunch of white dudes and, like, one token woman and/or a token minority.") 
Kevin Winter/Getty Images
Get Out!: Said in the manner of Elaine Benes. Jordan Peele's blockbuster horror film, a labor of love that he "stopped writing 20 times" while assuming it would never get made, earned him the Oscar for Best Original Screenplay. Peele was only the third person in Oscar history to be nominated for screenplay, directing and Best Picture for a debut feature, in his case an allegory taking on institutional, societal and blatant racism in the form of a young black man's brush with the Sunken Place, and he was only the fifth African-American man ever to be nominated for Best Director.
We can't wait to see what Peele is going to do next. And as far as his first movie being a pop-culture-changing, conversation-starting, think-piece-inspiring, groundbreaking piece of art...hey, no pressure when it comes to the follow-up.
Rob Latour/REX/Shutterstock
Viva Daniela Vega: A year after Moonlight became the first Best Picture winner to center on a gay character's journey, Chile's A Fantastic Woman became the first-ever winner for Best Foreign Language Film with a main transgender character and starring an openly transgender woman. Vega, whose character is shunned by her lover's family after his sudden death, previously won Best Actress in a Foreign Language Film at the Palm Springs International Film Festival and she took the stage multiple times last night.
In announcing Sufjan Stevens' performance of "Mystery of Love," his nominated song from Call Me by Your Name, Vega said, "I want to invite you to open your heart and your feelings to feel the reality, to feel love...Can you feel it?"
As Lin-Manuel Miranda would say, "Love is love is love is love is love."
Rob Latour/REX/Shutterstock
What a Tease: As expected, Allison Janney won Best Supporting Actress for playing Tonya Harding's abusive, tough-talking mother, as she had railroaded the competition at the big shows all season long (despite many critics' groups preferring Laurie Metcalf's performance as the more relatably aggravated and critical yet super-concerned mom in Lady Bird). But how ah-maz-ing would it have been if Janney had just gone with "I did it all by myself" and exited stage left?
We like to think society would've been accommodating enough to understand that it was a joke. Then she could've gone on to share all her real feelings with the press backstage and people would've talked about it for at least 36 hours. 
Then again, maybe winning (and attending) your first ever Oscars isn't the time to not thank everybody who matters to you when you can? We're torn.
Man of the People: Similarly to how Jimmy Kimmel and producers arranged last year for a tour bus full of people to make a stop at the Dolby Theater and unwittingly walk in on the Oscars, so he gathered an Ellen's-selfie-worth of stars to join him in surprising a theater full of people across the street from the Dolby who were being treated to a screening of A Wrinkle in Time.
More than a few jaws dropped when Margot Robbie, Mark Hamill, Guillermo del Toro, Lin-Manuel Miranda, Emily Blunt, Lupita Nyong'o, Armie Hammer and Gal Gadot showed up with hot dogs, subs and baskets of candy.