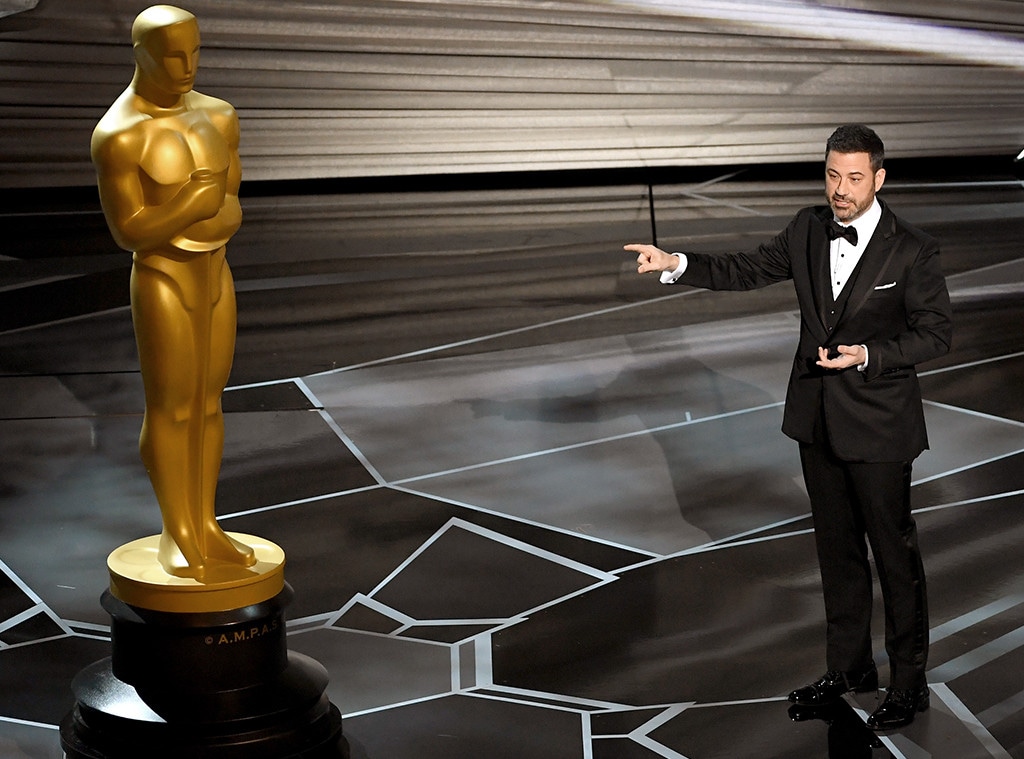 Kevin Winter/Getty Images
Jimmy Kimmel is officially a pro when it comes to the Academy Awards.
For the second year in a row, the Jimmy Kimmel Live late-night star returned to host the 2018 Oscars. And from the very beginning, viewers discovered that the man in charge was going to bring a combination of serious topics and laughs to the forefront.
It all began during the opening monologue when Jimmy touched on the infamous Moonlight Best Picture mix-up.
In addition, sexual harassment in Hollywood was addressed when the host pointed out the Oscar statue and referred to the figure as "the most respected man in Hollywood," because "he keeps his hands were you can see them, never says a rude word, and most importantly, no penis at all."
For viewers who were just hoping for some creative segments and LOL-worthy moments, you were in luck too.
Kevin Winter/Getty Images
Throughout the show, Jimmy urged winners to keep their acceptance speeches short and sweet. And for those who needed some extra motivation, a brand-new jet ski was used as a hilarious bargaining tool.
"Why waste precious time thanking your mom when you could be taking her for the ride of her life on a brand new jet ski? This is not a joke. I will be timing you. I have a stop watch. The moment you are handed that Oscar, the clock will start ticking," Jimmy explained as model Helen Mirren posed in a Rami Al Ali gown while showcasing the prize. "So get up here, grab it and go. And in the unlikely event of a tie, I need to say, the jet ski will be awarded to Christopher Plummer so let's get the show going."
Later on into the evening, it was revealed the winner would also enjoy a three-day, two-night stay at the beautiful Havasu Days Inn. And sorry celebs, but the winner has to drive there with his or her's new jet ski.  
We're happy to report Phantom Thread's Mark Bridges eventually won the jet skit (and trophy for Best Costume Design). The award show, however, was still close to four hours long. 
In a surprise segment, Jimmy later invited his famous friends including Lin-Manuel Miranda, Margot Robbie, Mark Hamill, Armie Hammer and Gal Gadot and more to travel inside the TCL Chinese Theater. While tourists and moviegoers were enjoying a screening of Disney's A Wrinkle in Time, the Hollywood stars crashed the party to say thank you for watching movies.
Their gift? Some screen time on Hollywood's biggest night and free snacks including hot dogs, Sour Patch candy and Red Vines.
Watch:
Why Jimmy Kimmel Signed on to Host the Oscars Again
Hollywood's most famous faces weren't immune to Jimmy's humor during the live telecast. While walking through the audience, Jimmy asked Steven Spielberg, "What do you do" before wondering if he had any pot.
And it's not a Jimmy show without Matt Damon being targeted. After the Academy paid tribute to films that spotlight the military around the world, Jimmy found a perfect way to get a dig in.
"On behalf of the Academy, I want to apologize to our great U.S. military, the men and women here and overseas for including Matt Damon in that montage," he shared. "You deserve better than that. You really do."
And when it was time to say goodnight, Jimmy had one more message for his frenemy.
"Happy birthday to my wife. And apologies to Matt Damon, we ran out of time for him," he shared. Guess Jimmy has the last word—and laugh—at the 2018 Oscars.