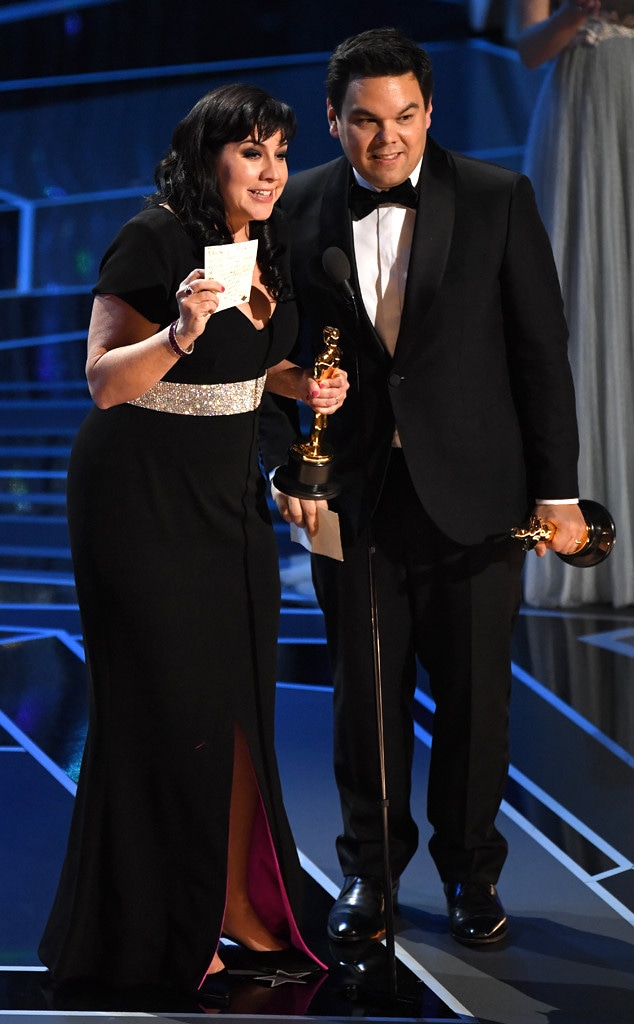 Rob Latour/REX/Shutterstock
It may have been their moment to shine, but when Kristen Anderson-Lopez and Robert Lopez took the stage at the Dolby Theatre to accept the award for Best Original Song at the 90th Academy Awards, they made sure to shine a spotlight on their fellow nominees.
The husband-and-wife duo, who won their second Oscar for their song "Remember Me" from the Pixar animated film Coco, started off their acceptance speech with a celebration of the diverse artists in their category. "I really want to take a minute to look at this category of incredible nominated songwriters tonight," Anderson-Lopez said. "Not only are we diverse, but we are close to 50/50 for gender representation. When you look at a category like ours, it helps us imagine a world where all the categories look like this one."
The pair beat out a stacked field that included Mary J. Blige, Raphael Saadiq and Taura Stinson for Mudbound, Sufjan Stevens for Call Me by Your Name, Lonnrie R. Lynn and Diane Warren for Marshall, and Justin Paul and Benj Pasek for The Greatest Showman.
Of course, they also took the time to thank the people who matter most. "Most of all, we thank our family, the Andersons and the Lopezes and our daughters, Katie and Annie, who are here with us tonight," Anderson-Lopez continued. "Your love and creativity inspire everything we do."
"But this is not for you," Lopez said, wrapping things up. "This is for my mom who passed away. Everyone who knew her will always remember her."
The songwriting duo previously won the award for Best Original Picture in 2014 for their smash hit "Let It Go" from Frozen.
Congrats to the pair on their well-deserved win!