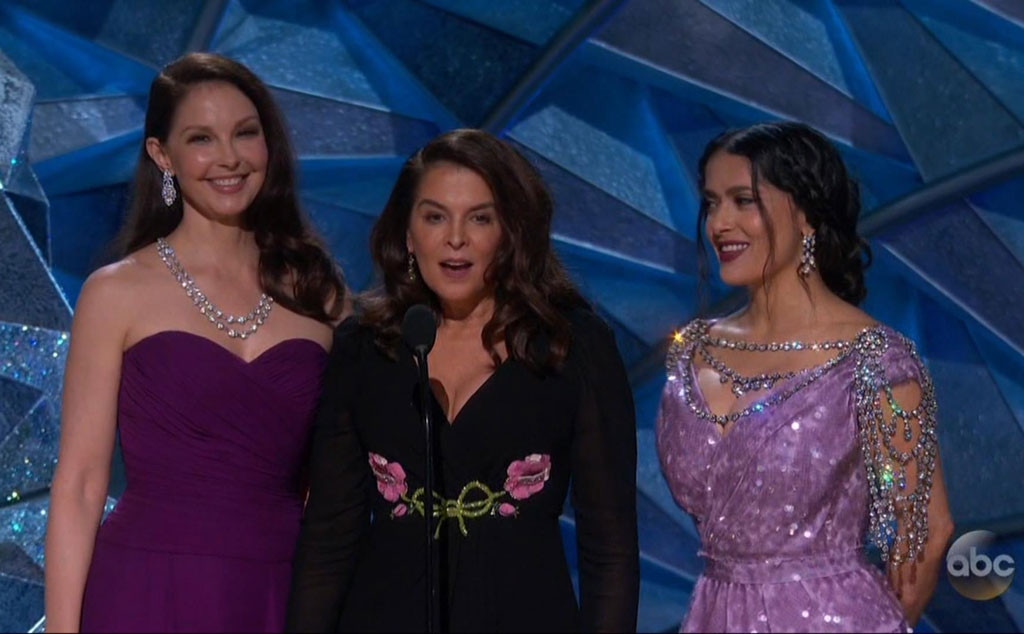 ABC
Ashley Judd, Annabella Sciorra and Salma Hayek took the stage at the 2018 Oscars to reflect on the #MeToo and #TimesUp movements.
"It's an honor to be here tonight, this year many spoke their truth and the journey ahead is long but slowly a new path has emerged," Sciorra said.
"The changes we are witnessing are being driven by the powerful sound of new voices, of different voices, of our voices, joining together the mighty chorus that is finally saying, time's up," Judd told the audience.
"So we salute those unstoppable spirits who kicked ass and broke through the biased perceptions against their gender, their race and ethnicity to tell their stories," Hayek continued.
"And on this 90th anniversary evening when the Oscars celebrates timeless classics, we also look forward as well," Sciorra shared.
Judd then continued, "And we work together to make sure that the next 90 years empower these limitless possibilities of equality, diversity, inclusion, intersectionality...that's what this year has promised us."
The trio then asked everyone to join them in honoring some of the trailblazers this year, starting with Mira Sorvino.
"This entire fall, the #MeToo, the #TimesUp movements, everyone is getting a voice to express something that has been happening forever, not only in Hollywood, but in every walk of life," Sorvino shared in a video segment.