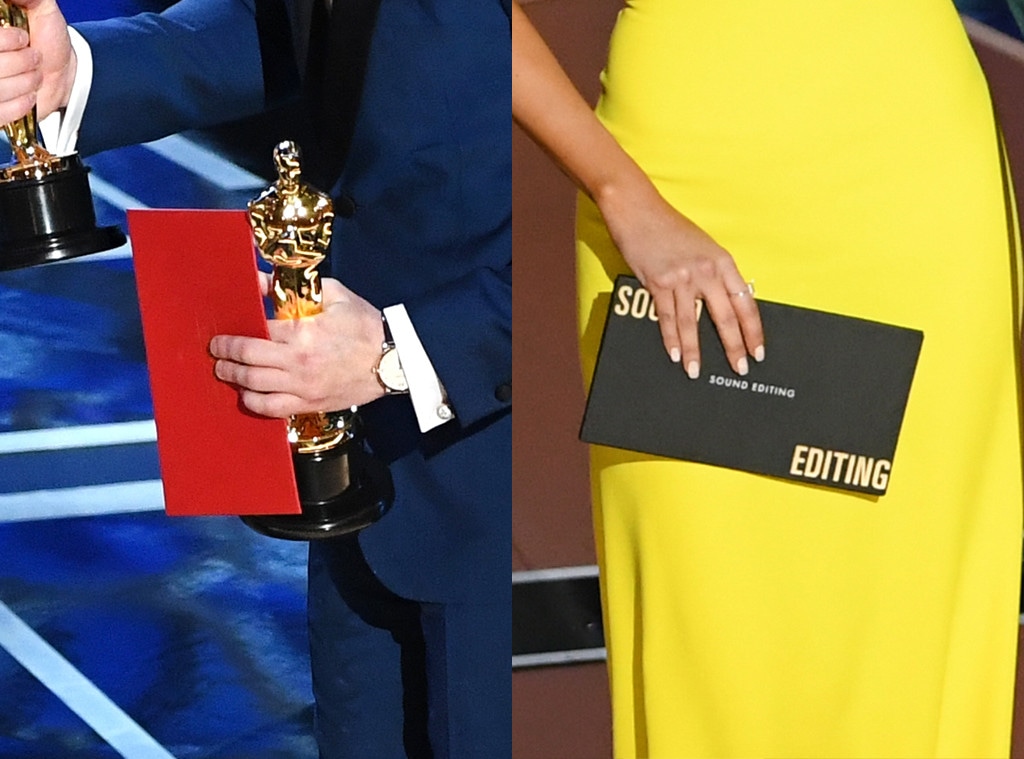 Getty Images
The 2018 Oscars were in full swing tonight, and if you were paying close attention, you may have noticed one ever-so-minor but wildly important difference—the envelopes!
To avoid another Best Picture mix-up from taking place after last year's unforgettable Moonlight and La La Land fiasco, an edit was made to the design of the winning envelopes to ensure that no accidents would go down at this year's 90th Annual Academy Awards.
Large text on the front of the cards could be seen with clear font, marking which category each envelope was for. The category was written not once, but twice, in gold and white font on a black background, making sure it could be correctly spotted from a mile away.
Basically, the envelopes were practically fool-proof.
Rob Latour/REX/Shutterstock
During tonight's opening monologue, host Jimmy Kimmel poked fun at the infamous disaster that occurred one year ago. (In case you need a refresher, La La Land was mistakenly announced as the winner for Best Picture due to the wrong envelope being read. The award was meant to go to Moonlight.)
Following the mistake, The Academy of Motion Picture Arts & Sciences released a statement in regards to the snafu.
"We deeply regret the mistakes that were made during the presentation of the Best Picture category during last night's Oscar ceremony. We apologize to the entire cast and crew of La La Land and Moonlight whose experience was profoundly altered by this error. We salute the tremendous grace they displayed under the circumstances. To all involved — including our presenters Warren Beatty and Faye Dunaway, the filmmakers, and our fans watching worldwide — we apologize," the statement read. "For the last 83 years, the Academy has entrusted PwC to handle the critical tabulation process, including the accurate delivery of results."
Props to The Academy for making the crucial switch!