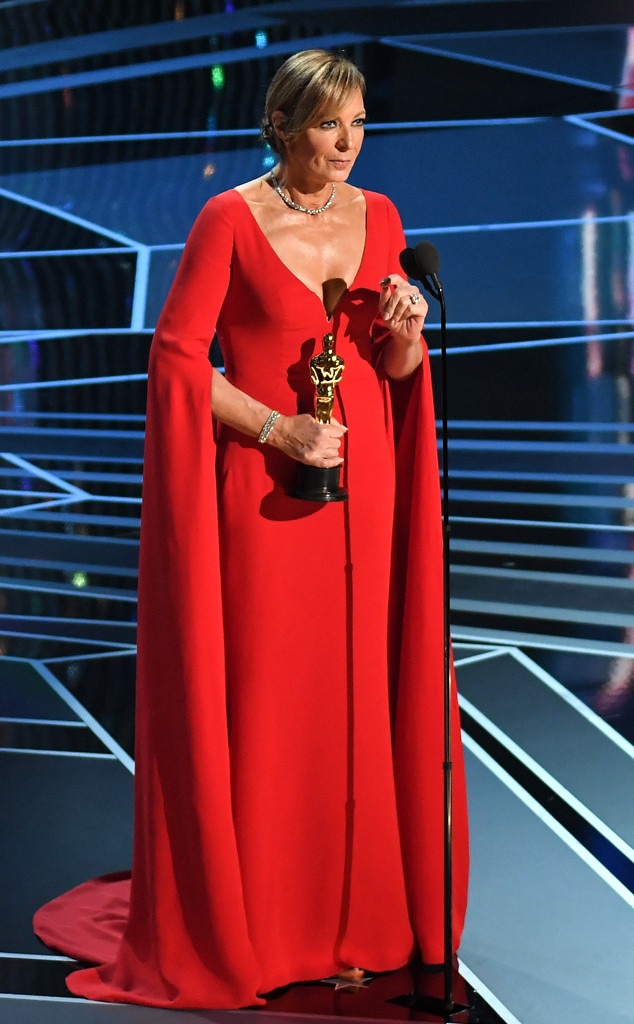 Rob Latour/REX/Shutterstock
The Academy has spoken!
The 2018 Oscars found its Best Supporting Actress in Allison Janney, whose performance as Tonya Harding's mother in I, Tony was adored by critics and moviegoers alike. This marks the talented A-lister's first Oscar win and nomination. Mahershala Ali, who won Best Supporting Actor in 2017 for Moonlight, presented the coveted honor. 
Fellow Best Supporting Actress nominees included Mary J. Blige (Mudbound), Lesley Manville (Phantom Thread), Laurie Metcalfe (Lady Bird) and Octavia Spencer (The Shape of Water). 
Janney graced the Dolby Theater's stage with undeniable poise and humor, telling attendees in her acceptance speech, "I did it all by myself." Joking, of course, she said, "Nothing further from the truth." 
Watch:
Allison Janney - 2018 Oscars E! Glambot
Janney continued, "Thank you to The Academy. My fellow nominees, you represent everything that is good and right and human about this profession. You are all extraordinary. Steven Rogers, look what you did. Thank you for the gift of LaVona. I did not see this coming; you did. You give new meaning to the word friend."
"To my I, Tonya family," the actress shared, "the magnificent Margot Robbie, the fearless Craig Gillespie, a cast and crew and bird that elevated my work." 
The 2018 award season has certainly treated this actress well, with wins at the 2018 Golden Globes and SAG Awards.
Congratulations to Allison, and check out the entire list of Oscars 2018 winners here.