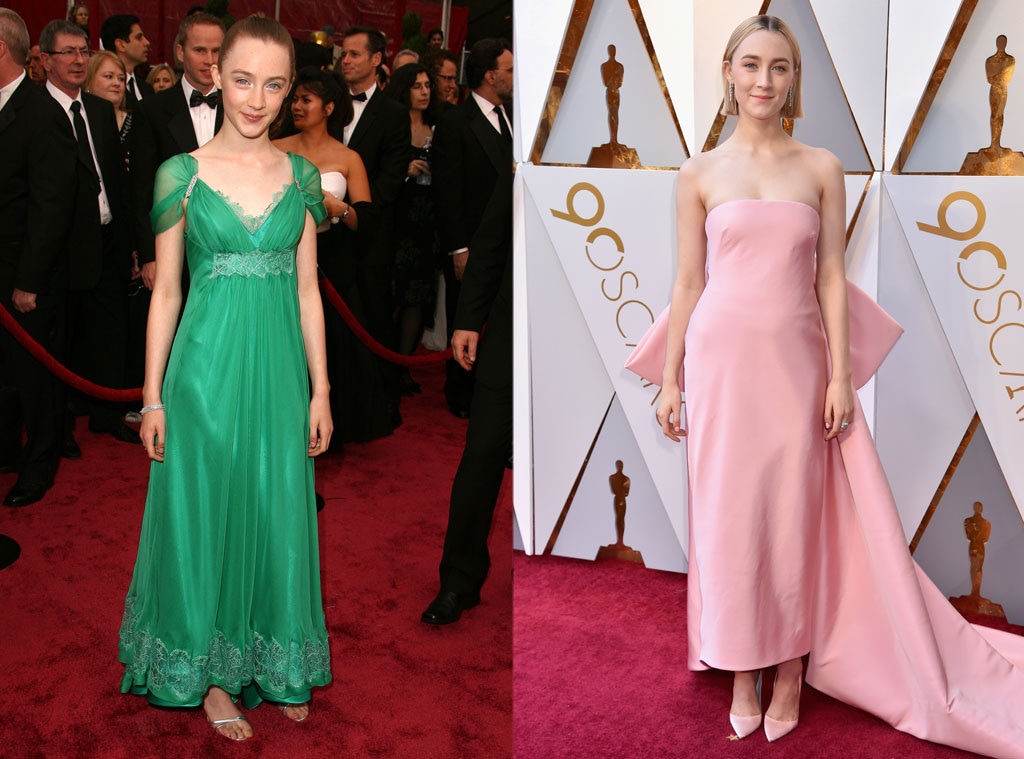 Jeff Kravitz/FilmMagic, Steve Granitz/WireImage
Saoirse Ronan may only be 23 years old, but she's basically a seasoned pro when it comes to the big award shows at this point. 
The Irish actress made her first appearance a full 10 years ago at the 2008 Oscars, when she was just 13 years old. She arrived in a green ankle-length dress that was both appropriate for her age and old school in a way that felt like it went with Atonement, the 2007 period film for which Ronan was nominated for Best Supporting Actress. 
Saoirse may have lost to Tilda Swinton (who won for Michael Clayton), but that was just the beginning of her time as a nominee and a staple on red carpets. 
Jordan Strauss/Invision/AP
In 2016, Ronan was nominated for Best Lead Actress for her role in Brooklyn, and she showed up in green again. This time, the green was darker and the neckline was a lot more plunging—clearly a very grown up Saoirse Ronan, but still not quite as much of a statement as she made in 2018. 
Ronan, nominated for Best Actress for her role in Lady Bird, hit the carpet fairly late in the afternoon with a blunt bob, understated make up and jewelry, and a gorgeous Calvin Klein dress in full "millennial pink," with pink shoes to match and a big bow in the back—a look that sounds like a traditional little girl's dream, but all grown up. 
Between the bob and that color, the look probably couldn't be more now, while also giving a nod to Gwyneth Paltrow's famous pink Ralph Lauren dress at the 1999 Oscars. 
One thing that hasn't changed about Ronan in the past 10 years is her Oscars red carpet presence—same smile, same pose, same incredible talent. We'll soon find out if her number of Oscar wins will stay the same as well.