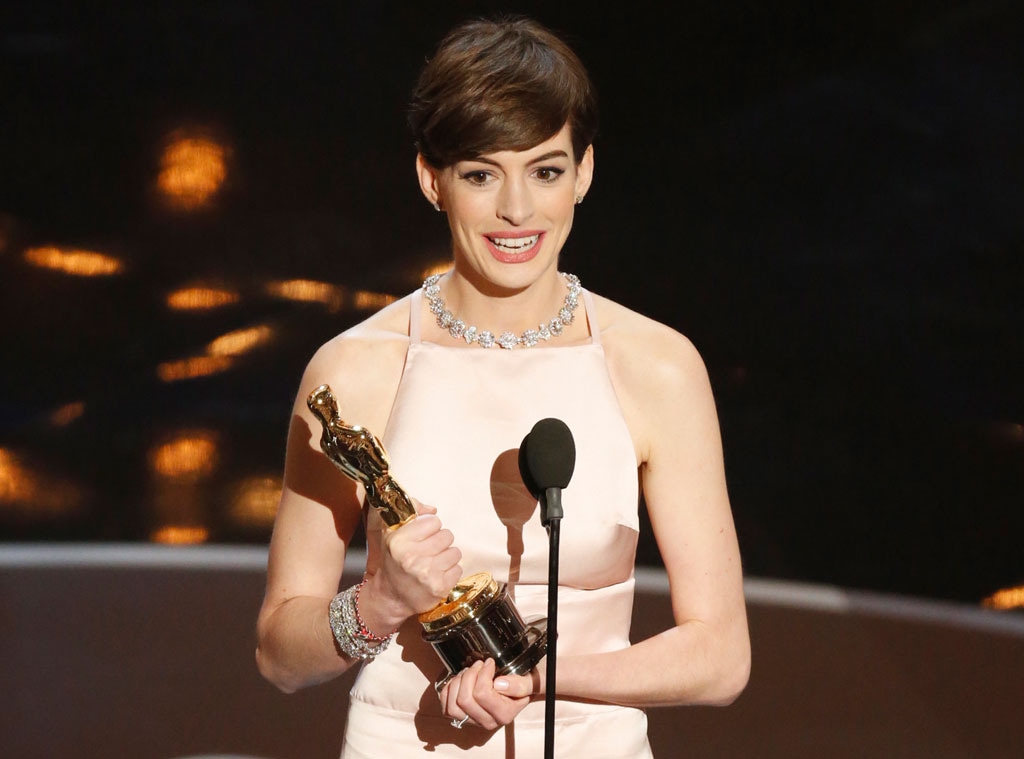 ABC/Craig Sjodin
The good always outweighs the bad on Oscar night!
Before a few Hollywood stars were awarded trophies at the 2018 Academy Awards, a few past winners decided to reflect on their unforgettable nights.
In an Instagram posted Sunday night, Anne Hathaway traveled back to the evening where she won Best Supporting Actress for her role in Les Misérables.
While recalling the night, the Oscar winner couldn't help but address the critics who made some noise around her win.
"I had to change my dress last minute and so it looked like my nipples were hard, I had full blown laryngitis and had to sing, and a bunch of corny haters were getting lots of attention from the media for being haters but you know what? It was still the best," she wrote to her followers. "To all the nominees, I hope you have a BLAST tonight doing all that #bestlife #oscars stuff. Peace xx"
Another A-lister looking back on her big win is Reese Witherspoon.
While sharing a throwback photo from the stage with her trophy, the Walk the Line star recalled the moment she earned the title of Best Actress.
"This moment was so special in my life. I worked really hard on #WalkTheLine, taking singing lessons for 6 months, learning to play the auto-harp (which was REALLY Fun!) and watching endless tapes of June Carter," she explained. "So, when I won the on Oscar on March 5, 2006, it meant the world to me to be recognized by my peers. Overwhelmed, excited and truly humbled, I will never forget that moment."
Reese continued, "I am thinking about every nominee today and congratulating them on the incredible hard work that got them to this place. Have a great night! You are all winners. #Oscars."
So who could win big tonight? We will just have to tune in tonight and celebrate the best movies of the year.
Congratulations to all the nominees!