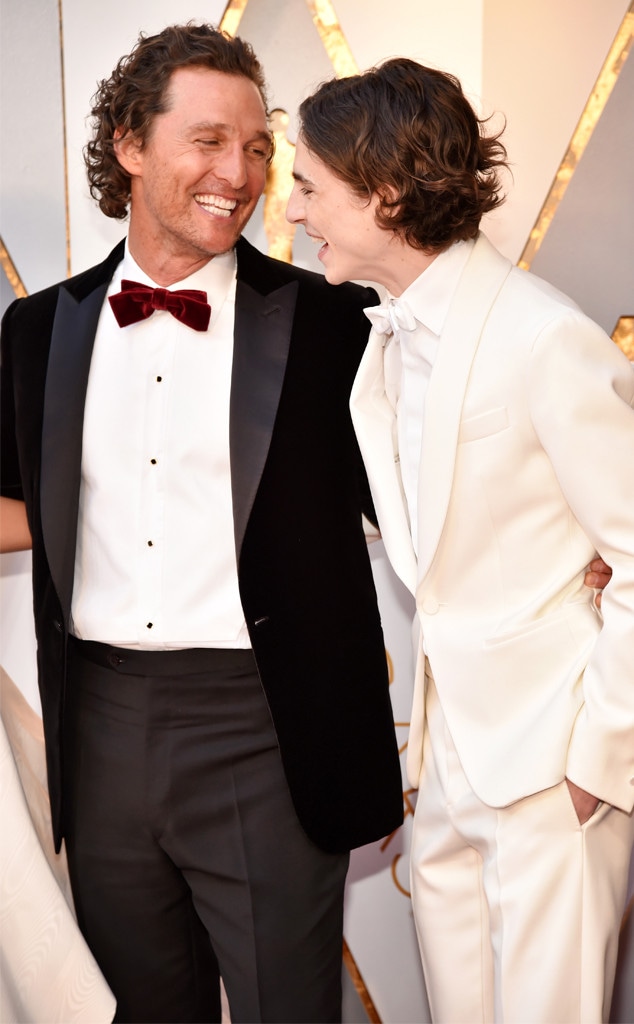 Kevin Mazur/WireImage
Father and son, reunited! Sorry, Interstellar father and son, reunited! Timothée Chalamet and Matthew McConaughey reunited at the 2018 Oscars red carpet and as you can see, they were all smiles. The duo played father and son in Interstellar. The Christopher Nolan-helmed movie was Chalamet's big screen debut.
In 2017, McConaughey interviewed the Call Me by Your Name star for Interview magazine.
"We had a 5:30 a.m. call one day, and I remember pulling up to set, next to that gorgeous river, really groggy. I saw a figure swimming among the rocks, and it was you," Chalamet said.
"I was just getting ready for work," McConaughey said. "But how about you, friend? Last we talked, you were going back to New York—school?
Chalamet perfected his McConaughey impression thanks to the voicemail the Oscar winner left him while they were working on Interstellar. In a GQ video, Chalamet performed the voicemail monologue—he committed it to memory!
"You left me a great voicemail my first semester of college asking me about the move-in and how everything was going," Chalamet  said in Interview. "You had just filmed the scene where you watch years of video messages in Interstellar, which, I never got to tell you, but that really floored me. I saw that movie 12 times in theaters. Anyway, I did a year at Columbia, and I just kind of floundered. Maybe it wasn't the right place for me."
Chalamet ended up leaving school after a year to work full-time. Seems that decision is working out alright for him. The young actor is nominated for his work in Call Me by Your Name. The 22-year-old also appeared in Lady Bird this year. His other credit includes Royal Pains, Homeland and Love the Coopers.