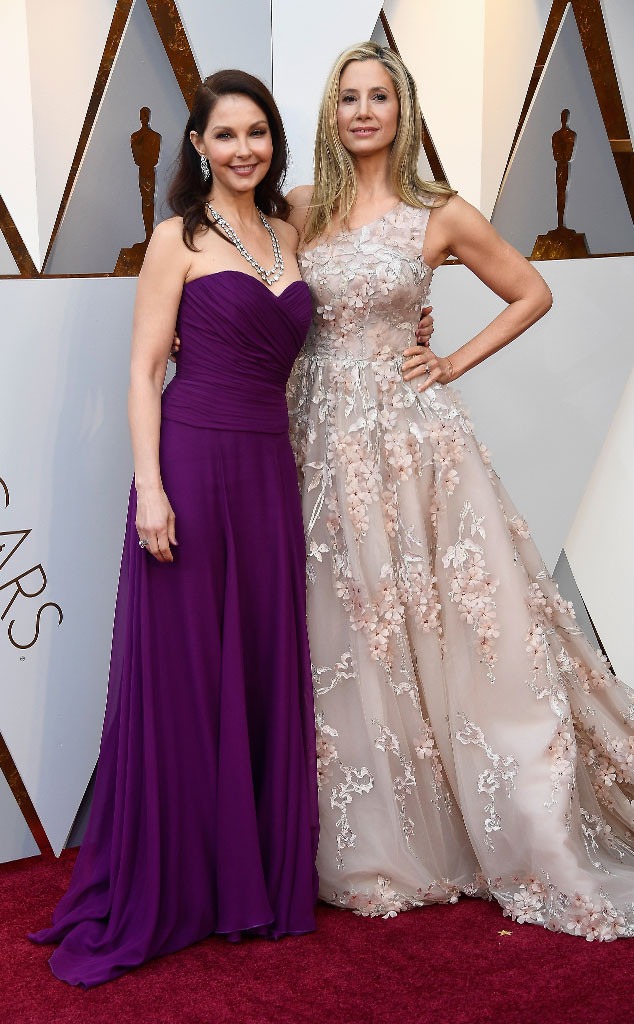 Frazer Harrison/Getty Images
The two Marilyns reunite. 
Mira Sorvino and Ashley Judd, two of the women who came forward with sexual assault allegations against Harvey Weinstein and were at the forefront of the #MeToo conversation, walked the red carpet together at the 2018 Oscars on Sunday night. Sorvino posted a selfie with Judd on their way to the show, writing, "We're on our way!!! #oscars2018 #normajeanandmarilynredux!! @ashley_judd love you!!!"
The duo starred in Norma Jean & Marilyn, a 1996 movie about Marliyn Monroe, together. In the film, they played the two sides of the iconic star: Judd played Norma Jean Dougherty, while Sorvino played Marilyn.
But their walk on the red carpet together was also a poignant one. 
In December 2017, director Peter Jackson revealed the two women were blacklisted by Weinstein, with the producer and his brother Bob Weinstein telling the Lord of the Rings director not to hire them.
"I recall Miramax telling us they were a nightmare to work with and we should avoid them at all costs," Jackson said. "This was probably in 1998."
After Jackson's article, both Sorvino and Judd, who is presenting during the ceremony, tweeted in response. 
"I remember this well," Judd tweeted, while Sorvino thanked the director. "Just seeing this after I awoke, I burst out crying," she wrote. "There it is, confirmation that Harvey Weinstein derailed my career, something I suspected but was unsure. Thank you Peter Jackson for being honest. I'm just heartsick."
 A spokesperson for Weinstein denied Jackson's claims. 
"After the success of Lord of the Rings, Peter Jackson was so powerful he could have cast anyone he wanted in the Hobbit. Neither Ms. Judd nor Ms. Sorvino had roles in the film. Mr. Weinstein continues to admire Mr. Jackson for his creative genius, but he firmly denies these accusations."
The first wave of public accusations made against Weinstein were published in a New York Times story in October 2017, and Judd was one of the accusers. Sorvino came forward in Dylan Farrow's piece for the New Yorker.