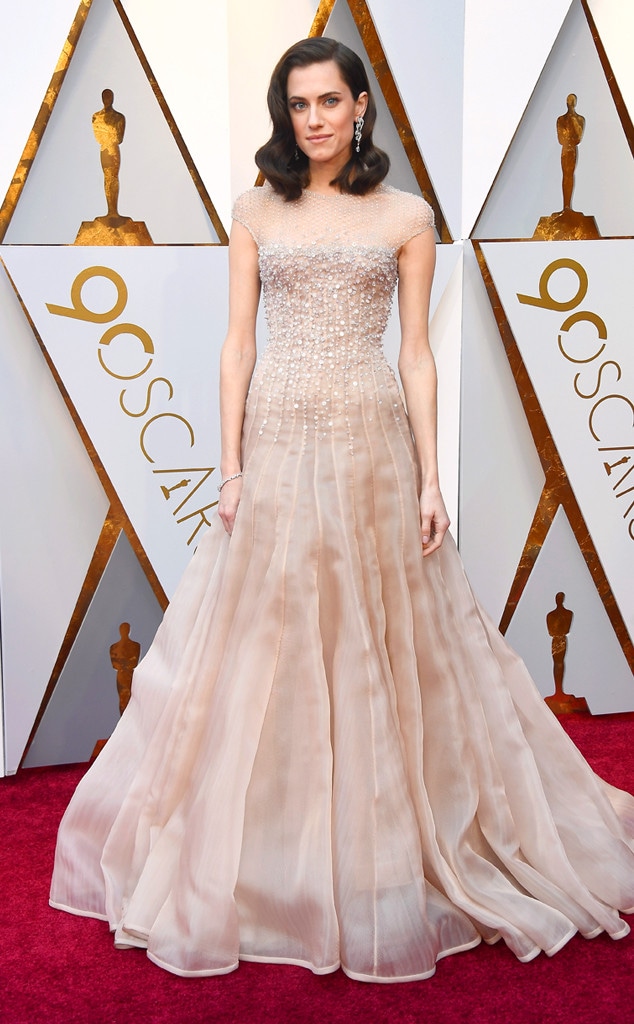 Frazer Harrison/Getty Images
Childhood dreams do come true!
Allison Williams was one of the first to walk the red carpet at the 90th Annual Academy Awards on Sunday, but her look will be a hard one to forget. Williams, 29, donned a cream Armani Privé Couture gown with beaded detailing. 
The Girls star is attending in support of Get Out, her movie that is nominated for several awards, including Best Picture and Best Director (Jordan Peele). It might be hard to believe, but Williams' villainous turn as the Froot Loops-loving Rose was actually her first-ever movie role. 
Ahead of walking the carpet, Williams took to Instagram for "a little sentimentality" over attending the Oscars for her first movie, posting a throwback photo from her childhood.
"If you'll permit me a little sentimentality...I've been thinking a lot lately about this little goofball (who already knew she wanted to be an actress - obvi) and how unbelievably excited she would be if somehow she knew that she would go to the Oscars when she grew up," she wrote in the caption. "That her first movie would be nominated for Best Picture. And, most importantly, that she gets to make a living doing the thing that makes her happiest in the world. She dreamed about it all, and now it's happening. I can't thank my little girl self enough for continuing to dream big - and for always having a style that I would classify as 'permanent dress-up.'"
Be sure to watch E!'s After Party: The 2018 Academy Awards special at 11:30 p.m. to 1 a.m. ET/11 p.m. to 12:30 a.m. PT!