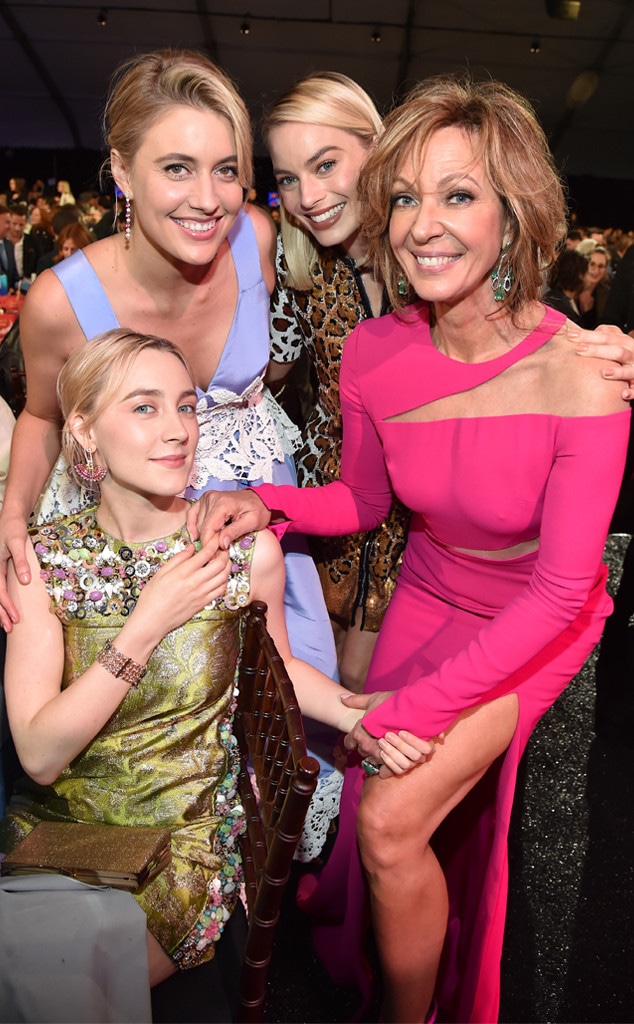 Kevin Mazur/Getty Images
As the 2018 Oscars are just around the corner (tomorrow, in fact!), the best in independent filmmaking are getting their day in the spotlight (or rather the rain, as was the case today).
The 2018 Independent Spirit Awards was off and running at its usual beachfront locale in Santa Monica, Calif. on Saturday afternoon, with comedians Nick Kroll and John Mulaney serving as the ceremony's co-hosts once again.
The funnymen put on a fun-filled show, complete with surprise appearances by Andy Samberg and Kristen Wiig. As the world saw, some of the big winners were Get Out, Greta Gerwig, Timothee Chalamet, Frances McDormand and others.
But what didn't the world see?
From newlywed Emily Ratajkowski's snuggling with her husband of one week Sebastian Bear-McClard to Robert Pattinson's nervous energy and what the cast of I, Tonya really thought of the Nancy Kerrigan jokes, check out everything you didn't see on TV...
Stefanie Keenan/Getty Images for Bulleit Frontier Whiskey
Newlywedded Bliss: Just a week and one day after secretly lying the knot, Emily Ratajowski and her husband, actor and producer Sebastian Bear-McClard, arrived together. Emily was putting shaving cream lotion on her male friends face. Everyone was yelling, "Let her do it let her do it." Emily looked so in love with her husband. She kept staring at him smiling and was touching his face a lot. They were by each other's side the entire time before the show started. Emily rested her head on his shoulder and really looked truly happy.
Hug It Out: Get Out's Daniel Kaluuya walked in and immediately went up to to Emily and Sebastian. Daniel said, "Shut the f--k up" and then the pair hugged him and then Sebastian congratulated him.
So in Love: During the cocktail hour, Independent Spirit Award nominees and winners Kumail Nanjani and his wife Emily V. Gordon arrived together and were roaming around while holding hands. They looked very in love and proud to be there.
No-Date Night: Robert Pattinson arrived with his publicist. He looked relaxed and in the zone, wearing his gold aviators. His publicist was pulling him through the crowd. Later on during the event, he looked nervous, running his hand through his hair often.
Night Out: Kerry Washington had a rare Hollywood date night with husband Nnamdi Asomugha. Her under-the-radar spouse walked slowly behind her and the Scandal star turned around to see where he was and made a face.
Phillip Faraone/Getty Images
I, Awkward: When John Mulaney joked about making a sequel to I, Tonya called I, Nancy about a woman who gets her knee bashed by a trailer trash folk, Margot Robbie shook her head and looked embarrassed by his comment. However, she and co-star (and Independent Spirit Award winner) Allison Janney cracked a smile.
Make 'Em Laugh: When Andy Samberg came out on stage as Judd Nelson's character from The Breakfast Club, performed Simple Minds' "Don't You (Forget About Me)." and Avengers characters crowded Amanda Seyfried's table, Timothée Chalamet was cracking up laughing and loving it.  Salma Hayek held hands with husband François Pinault on the side of the stage watching Andy Samberg perform. They were laughing at his performance and then afterwards she quickly pulled Andy to their table. 
Chatty Cathys: Alison Brie and Molly Shannon, who presented the first award together, sat together and chatted the whole time. Neither of them were eating or drinking.
Potty Mouth: When Three Billboards Outside Ebbing, Missouri star Frances McDormand  won Best Female Lead, she said knew she could swear today and then she said, "This award convention goes on for f--king ever." The crowd erupted in laughter.
And the Crowd Went Wild: When Get Out won Best Feature, the crowd went insane—screaming and cheering. The cast took the stage and looked really excited. Jordan Peele said the A-list audience, "We are in the beginning of a renaissance right now." They loved his acceptance speech.