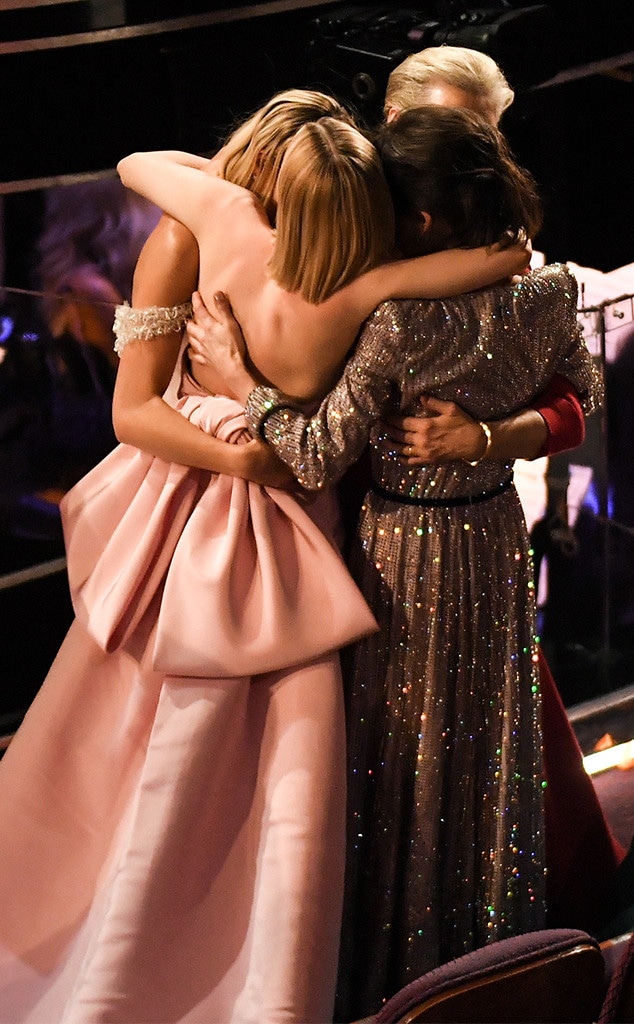 Rob Latour/REX/Shutterstock
Hollywood's biggest night, the 2018 Oscars, did not disappoint!
E! News was there, on and off the red carpet, to give you a special insider's look, with behind-the-scenes insights and other moments not seen during the live TV broadcast.
During the Show:
After Frances McDormand won Best Actress for Three Billboards Outside Ebbing, Missouri and walked off stage, fellow nominee Saoirse Ronan got up and ran over to fellow nominee Sally Hawkins and also summoned remaining nominees Meryl Streep and Margot Robbie. The four Best Actress nominees then had a group hug in the aisles during the commercial break.
McDormand later returned to the ballroom and Oscar in hand, hugged people as others cheered.
While en route to her seat, Sandra Bullock greeted Mary J. Blige by grabbing her face and kissing her on the cheek. She then knelt on the floor to talk to the actress and singer.
Bullock and Nicole Kidman sat together and were spotted pulling out the Oscar snack boxes from under their seats. They contained a handwritten note from host Jimmy Kimmel, Listerine, chips, gummy bears, a snack bar and a napkin. Their boxes contained titles of Best Picture-nominated films.
The entire downstairs bar cheered very loudly for Jordan Peele when he won an Oscar for his screenplay for Get Out. During the commercial break, many people clapped for him as he walked by. Earlier in the evening, he was spotted chatting with Maya Rudolph and a couple in the bar.
After Guillermo Del Toro won Director for The Shape of Water, the entire Dolby Theatre audience cheered.
Christopher Walken was spotted chatting with Meryl Streep. The two also hugged.
Jennifer Lawrence and BFF Emma Stone spotted drinking wine in the downstairs bar at the Dolby Theatre. They appeared to be in great spirits and Lawrence was overheard saying she had "nothing to do" but present one award. The two later headed to the bathroom together.
Judd Apatow and wife Leslie Mann greeted Lawrence and posed for a group photo. Mann got a drink at the bar while Apatow took another, sillier photo with Lawrence and Stone. Apatow and Mann later left to take their seats, then returned to the bar, watching the show on a TV monitor.
The Handmaid's Tale star Elisabeth Moss was spotted outside on the smoking patio, talking to a friend and holding an empty glass of wine.
Nominee Margot Robbie, her husband Tom Ackerley and her mom walked into the downstairs bar. There, they met the actress' I, Tonya co-star Allison Janney, who handed her a drink with a lime, which she then passed to her mother.
Robbie spotted fellow nominee Saoirse Robin by the ramp and stopped to chat with her. At one point, they high-fived each other. Lawrence and Stone later joined Robbie.
Emily Blunt walked to the bar arm-in-arm with an unidentified woman and chatted with Stone.
Gina Rodriguez and boyfriend Joe LoCicero were spotted grabbing a glass of Champagne at the bar.
Ronan and several other people gathered around her Lady Bird director Greta Gerwig as she showed them something on her phone. They all said, "Awwww," then cheered, toasted and said congratulations to Gerwig.
Also spotted at the bar: Olympic alpine skier Lindsay Vonn, fellow Olympians Adam Rippon and Mirai Nagasu, Timothée Chalamet, Ashley Judd, Taraji P. Henson with friends, Molly Sims, Laurie Metcalf and her daughter Zoe Perry.
Just Before the Show:
Nicole Kidman walked into the Dolby Theatre and had a lively conversation with Sally Hawkins. She also stopped to chat with and embrace Streep.
On the Oscars Red Carpet:
Peele was joined by wife and actress Chelsea Peretti, Sam Rockwell arrived with longtime partner and actress Leslie Bibb, Ansel Elgort was accompanied by girlfriend Violetta Komyshan and Kobe Bryant brought wife Vanessa Bryant. (See photos of hot couples on the Oscars red carpet).
Moss, chewing gum, took photos with fans as she walked the red carpet.
Nominee Allison Janney, wearing a red gown, entered the Dolby Theatre skipping the stairs.
Ashley Judd and Mira Sorvino were spotted waiting in line for the Oscars 2018 E! Glambot at the end of the carpet. Judd, wearing a strapless violet gown, ran into some friends, who complimented her on her look. She thanked them graciously.
Rippon, who recently helped Team USA's figure skating team win a bronze medal at the 2018 Winter Olympics, walked the red carpet in a bondage-themed outfit. He was accompanied by Mirai. The two slowly make their way down the carpet and paused to fix their outfits. A person later complimented Rippon on his look, to which he responded, "Thank you, just something subtle." 
Kelly Ripa, accompanied by husband Mark Consuelos, talked to E! News' host and her Live With Kelly and Ryan co-host Ryan Seacrest about her Oscars role, saying, "As soon as they hand them the Academy Award, they turn around, they come right to us backstage. We have candy set up there; we have a full bar. We serve tequila and apparently no one else here does so that's the key!"
Miguel and friends had fun at the Glambot as well. The singer, who is performing the Oscar-nominated song "Remember Me" from Coco, also talked to Seacrest, saying, "I do know how much it means and I want to represent for all the Latinos out there. I really, really do. I'm honored. I'm honored."
The 2018 Oscars aired live on ABC from the Dolby Theatre in Hollywood on Sunday, March 4 at 5 p.m. PT / 8 p.m. ET.