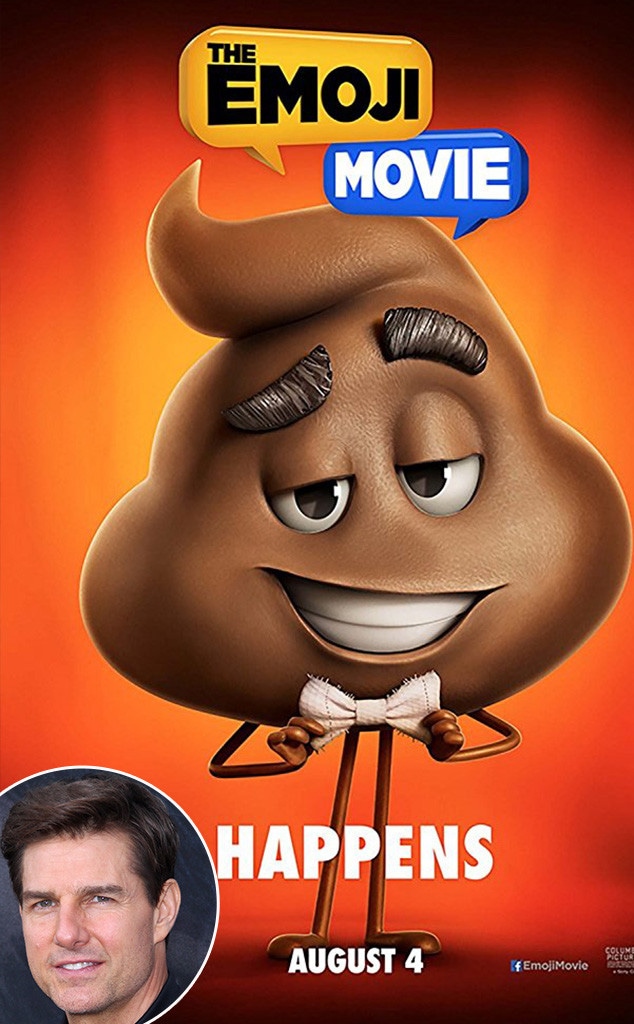 Columbia Pictures, Inset: Getty Images
How to describe the big winner of the 2018 Razzies? How about, [poop emoji]?
This year's Golden Raspberry Awards, honoring the worst in film, were announced on Friday, two days before the 2018 Oscars.
The animated film The Emoji Movie, starring the likes of T.J. Miller, James Corden and Anna Faris, was the big "winner," captured the prize for Worst Picture as well as Worst Screen Combo, Worst Director and Worst Screenplay.
Tom Cruise "won" a Razzie for Worst Actor for his role in The Mummy, while actor Tyler Perry was given the title of Worst Actress for BOO! 2: A Medea Halloween. Mel Gibson and Kim Basinger also "won" for their supporting roles in Daddy's Home 2 and Fifty Shades Freed, the latter of which was also dubbed Worst Remake, Rip-Off or Sequel.
Worst Picture
The Emoji Movie - WINNER
Baywatch
Fifty Shades Darker
The Mummy
Transformers: The Last Knight
Worst Actor
Tom Cruise, The Mummy - WINNER
Johnny Depp, Pirates of the Caribbean: Dead Men Tell No Tales
Jamie Dornan, Fifty Shades Darker
Zac Efron, Baywatch
Mark Wahlberg, Daddy's Home 2 and Transformers: The Last Knight
Worst Actress
Tyler Perry, Boo 2! A Madea Halloween - WINNER
Katherine Heigl, Unforgettable
Dakota Johnson, Fifty Shades Darker
Jennifer Lawrence, mother!
Emma Watson, The Circle
Worst Supporting Actor
Mel Gibson, Daddy's Home 2 - WINNER
Javier Bardem, mother! and Pirates of The Caribbean: Dead Men Tell No Tales
Russell Crowe, The Mummy
Josh Duhamel, Transformers: The Last Knight
Anthony Hopkins, Collide and Transformers: The Last Knight
Worst Supporting Actress
Kim Basinger, Fifty Shades Darker - WINNER
Sofia Boutella, The Mummy
Laura Haddock, Transformers: The Last Knight
Goldie Hawn, Snatched
Susan Sarandon, A Bad Moms Christmas
Worst Screen Combo
Any Two Obnoxious Emojis, The Emoji Movie - WINNER
Any Combination of Two Characters, Two Sex Toys or Two Sexual Positions, Fifty Shades Darker
Any Combination of Two Humans, Two Robots of Two Explosions, Transformers: The Last Knight
Johnny Depp and His Worn-Out Drunk Routine, Pirates of the Caribbean: Dead Men Tell No Tales
Tyler Perry and Either the Ratty Old Dress or Worn-Out Wig, Boo 2! A Madea Halloween
Worst Remake, Rip-Off or Sequel
Fifty Shades Darker - WINNER
Baywatch
Boo 2! A Madea Halloween
The Mummy
Transformers: The Last Knight
Worst Director
Tony Leonidis, The Emoji Movie - WINNER
Darren Aronofsky, mother!
Michael Bay, Transformers: The Last Knight
James Foley, Fifty Shades Darker
Alex Kurtzman, The Mummy

Worst Screenplay
The Emoji Movie - WINNER
Baywatch
Fifty Shades Darker
The Mummy
Transformers: The Last Knight