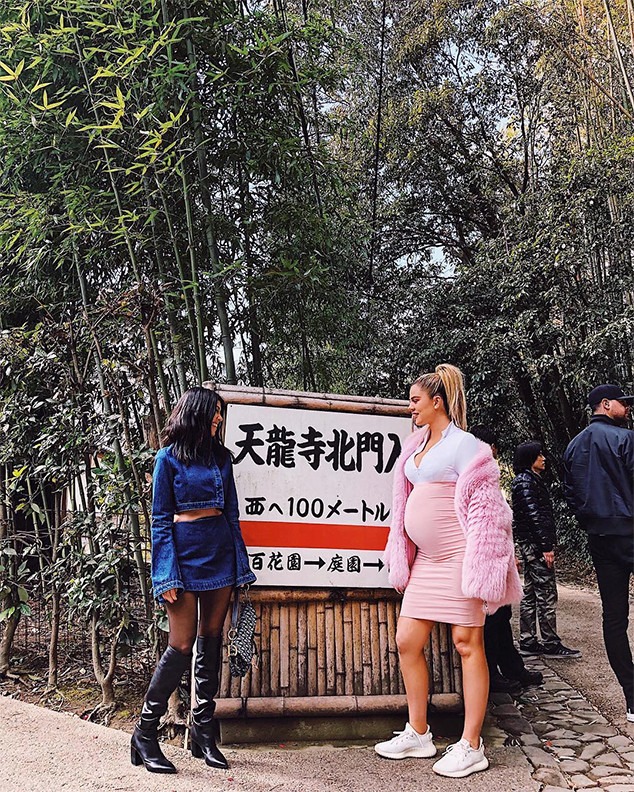 Instagram
Khloe Kardashian celebrated the eight-month mark of her pregnancy in Japan with a series of new baby bump pics.
The 33-year-old Keeping Up With the Kardashians star posted on her Instagram page on Friday night U.S. time a photo of herself standing with sister Kourtney Kardashian inside Arashiyama Bamboo Forest in Kyoto. Khloe showcased her baby bump in a bubblegum pink and white empire waist bodycon mini dress, paired with white sneakers and a pink fur coat.
"Bamboo Forest with my [panda emoji]," she wrote.
Khloe also posted a couple of photos of herself posing on a bride, writing, "Kyoto Khlo 8 Month Bump."
Khloe, who also traveled to Japan with sister Kim Kardashian, is expecting her first child with boyfriend and Cleveland Cavaliers player Tristan Thompson. They have not revealed the sex of their child, although the colors of her latest maternity style have fueled some fan speculation.
Earlier this week, an insider told E! News that while Khloe is "feeling great" and is "very excited," she's "also a bit nervous about how the delivery is going to go and all of the unknowns."
"Tristan is very reassuring and helps calm her nerves and makes her feel better," the source said. "He is extremely positive and nurturing and she loves that she can go through this experience with someone so wonderful."
Khloe recently took to Twitter to defend her choice to travel abroad during the third trimester of her pregnancy.
"I'm allowed to travel according to my dr," she wrote. "Of course, before our flight, I took all precautions and got my body checked from my dr and I'm completely healthy. I wouldn't put my baby at risk in any way."
She also fired back at people who criticized her choice to cradle her baby bump in photos.
"People are very opinionated about my bump. I choose to cradle my bump because it's MINE," she said. "I've waited for this VERY short moment for YEARS. I have only months to enjoy this phase in my life, so I will touch my bump and love my bump as often as I choose. Mommy loves you baby!"
Watch Keeping Up With the Kardashians on Sundays at 9/8c on E!