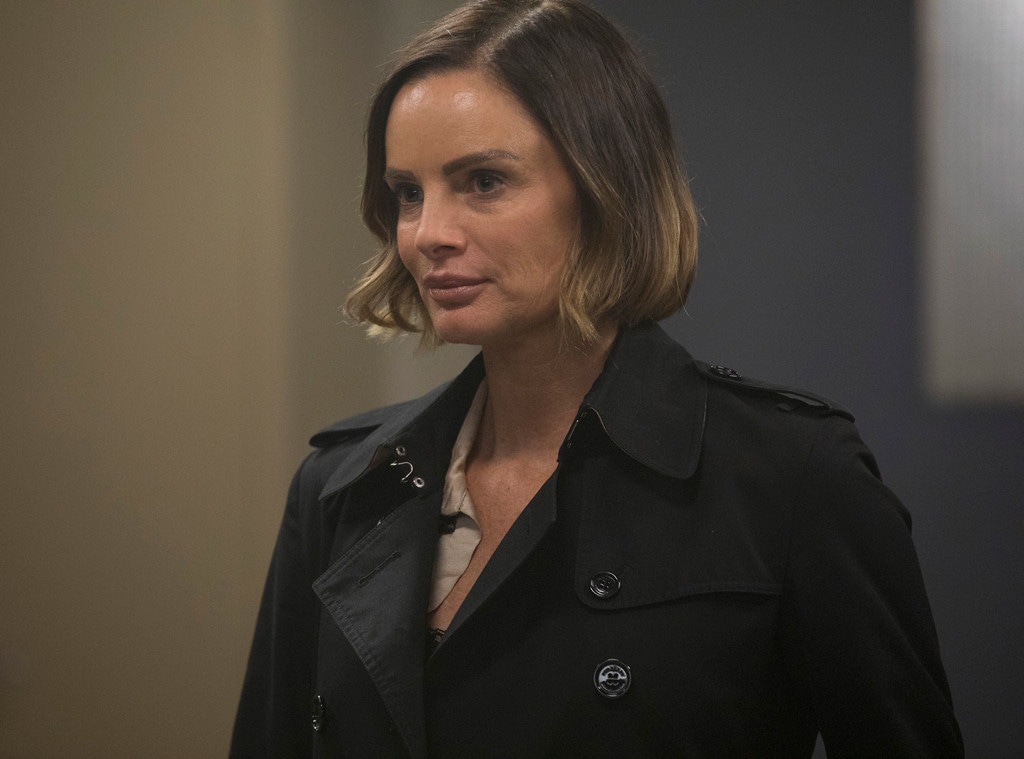 ABC
"If a life needs to be traded for Lucy, take mine."
And just like that, Victoria Belfrey has left the building, folks.
As Once Upon a Time returned tonight to kick off the second half of its now final season, the character we believed to be this season's big bad, Gabrielle Anwar's Victoria (aka Lady Tremaine and also Rapunzel because why not?), has proven to have a bit of hero in her as well. After putting her granddaughter Lucy (Alison Hernandez) under a sleeping curse to bring her beloved daughter Anastasia (Yael Yurman) back, she realized the error of her ways once Gothel (Emma Booth) set about to sacrifice her other daughter Ivy (Adelaide Kane) to undo it.
Proving to her beleaguered daughter once and for all that she actually does have love for her, Victoria pushed Ivy out of the way and let herself die as a bit of penance for her many sins. "I think the show is always evil is made, it's not born. And we see that [Victoria] originally was trapped in the tower and kind of became this villain," co-creator Edward Kitsis told reporters following a screening of the midseason premiere. "And yet, in this moment, what we wanted to do was the relationship between Ivy and her was a tough mother-daughter relationship, but when it really came down to it, she wasn't willing to sacrifice it. At the end of the day, she was able to reclaim who she was. And I think that's always been a message in the show which is this is not a show where we expect you to be perfect. This is a show where we all say, 'OK, every day we make mistakes, but it's how you come back from them.' So we felt like that was a fitting ending."
Of course, Victoria's ending is only the beginning for Ivy, Kitsis admitted. "Now Ivy has to deal with what happens when you spend your entire life hating someone and then you realize you shouldn't have," he added. "They really liked you. And now where do you put that hate?"
"We loved the idea of that relationship between a mother and a daughter where, from the audience perspective, we think for the first half of the season, you really feel that Gabrielle is the villain of the year and this terrible person. And then hopefully we pulled layers back enough to make you understand her more," co-creator Adam Horowitz added. "And just as you do, the focus is going to shift. And I think, as Eddy says, part of it is seeing how this effects Ivy and where this pushes her next."
With Lucy awake and reunited with Jacinda (Dania Ramirez), the focus now shifts to Gothel's plan to build her coven and the mystery of the killer who just offed that doctor who just learned, thanks to blood work done to see if anyone was a match to help Lucy, that Henry (Andrew J. West) is, in fact, the kid's father.
"We can tease that is what the next few episodes are going to be about: Who is the killer? Someone is, we will find out, killing witches," Kitsis teased. "So while Gothel is trying to assemble a coven, someone is trying to knock them off. And that is kind of what we're going to be seeing for the next little bit."
"The identity of the gloved perpetrator is a mystery," Horowitz added. "It's not the mystery, it gets revealed probably sooner than you expect, but it's opening a new story avenue."
With a serial killer on the loose and only a handful of episodes left, should we expect more big deaths on part with Victoria's? "Absolutely," Kitsis warns.
Were you surprised to see Victoria sacrifice herself? And who do you think will be the next to bite the dust? Share your theories with us in the comments below!
Once Upon a Time airs Fridays at 8 p.m. on ABC.