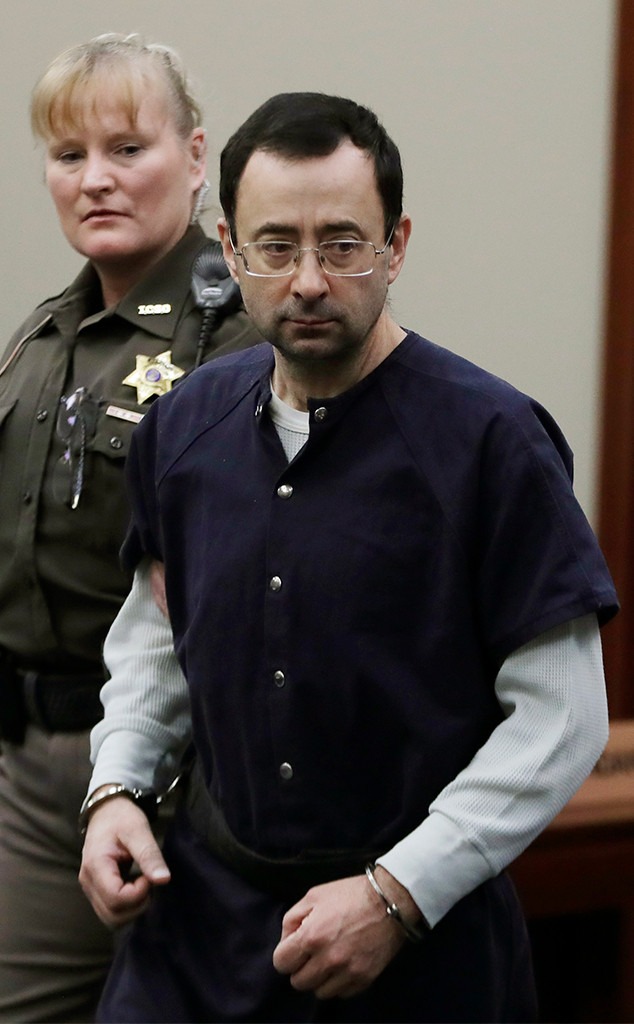 AP Photo/Carlos Osorio
Larry Nassar has been accused of sexual abuse by Jacob Moore, the first male gymnast to publicly come forward with claims against the former doctor. 
Moore, a former member of the U.S. men's junior national gymnastics team, has filed a lawsuit against Nassar, USA Gymnastics and Michigan State University.
In court documents obtained by E! News, Moore alleges he sought treatment from Nassar in 2016 for a shoulder injury. The lawsuit claims Nassar brought Moore to a basement in his home, and administered "acupuncture in his pubic area and in and around his genitalia" to treat his shoulder. Additionally, the suit alleges Nassar exposed Moore's genitalia to an underage female gymnast. 
In the lawsuit, Moore's sister, former member of the U.S. National Team Kamerin Moore, also claims Nassar abused her under the guise of medical treatment. She appeared in court in January to deliver a victim-impact statement during Nassar's sentencing. 
Dale G. Young/Detroit News via AP
More than 260 people have accused Nassar of sexual misconduct. Olympians Aly Raisman, McKayla Maroney and Jordyn Wieber were a few of the of the 150 survivors who shared statements before an open court. 
In February, Nassar was sentenced to 40 to 125 years for seven counts of felony criminal sexual conduct in the first degree. He was previously sentenced to 60 years in prison for child pornography charges. 
As E! News previously reported, Raisman is suing the U.S. Olympic Committee and USA Gymnastics for their alleged role in the Nassar case. 
USA Gymnastics shared in a statement, "USA Gymnastics supports our athletes, like Aly Raisman, Jacob Moore and others, who have shared their experiences with abuse, and we are very sorry that any athlete has been hurt by the despicable crimes of Larry Nassar. USA Gymnastics first became aware that an athlete had expressed concern about a procedure by Larry Nassar in June 2015, which led USA Gymnastics to report Nassar to the FBI and dismiss him from further involvement with USA Gymnastics. USA Gymnastics is committed to doing everything we can to prevent this from happening again by making bold decisions and holding ourselves to the highest standards of care. We need the gymnastics community to join with us to accomplish this for both the young men and women who are pursuing their gymnastics dreams today and to honor those who have gone before."
As the statement continued, "USA Gymnastics will not comment on the complaints filed on behalf of Aly Raisman and also Jacob Moore."
According to NBC News, more than 150 federal and state lawsuits have been filed against Nassar and the organizations he was associated with following his conviction.