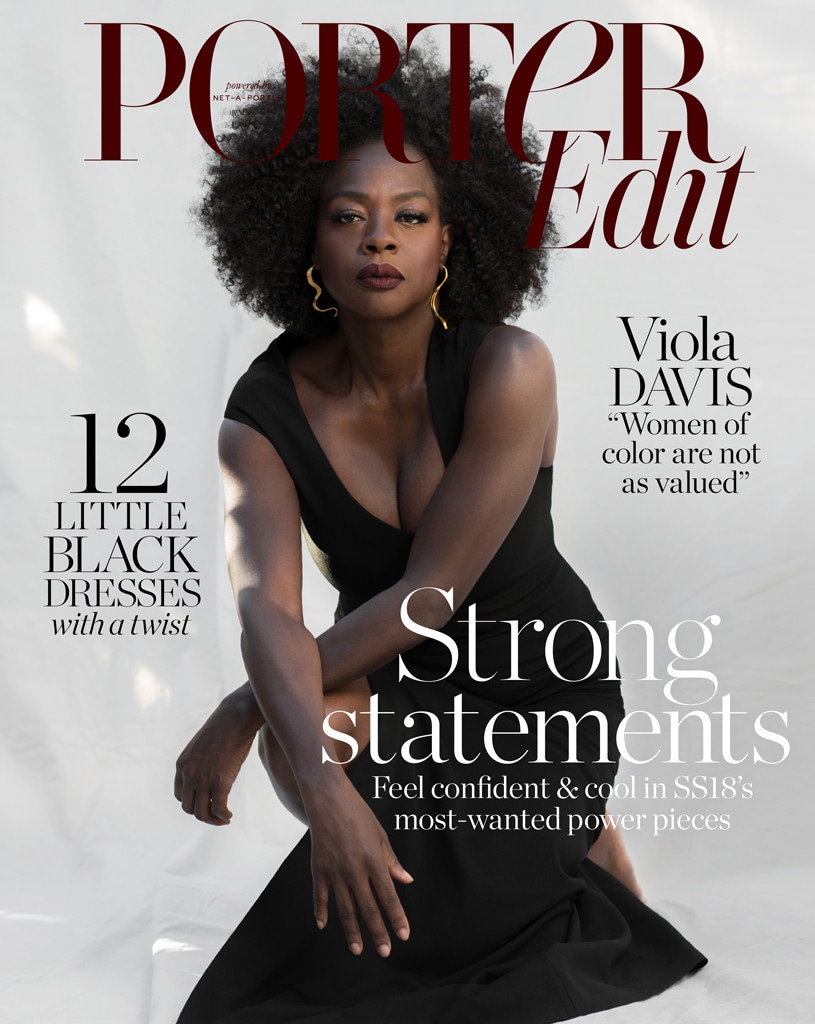 Virginie Khateeb /PorterEdit/ NET-A-PORTER.COM
When Viola Davis recently filmed the How To Get Away With Murder and Scandal crossover, she truly felt that her and Kerry Washington were making history.
In an interview with NET-A-PORTER's digital magazine, PorterEdit, Davis said, "I mean, to have two really strong, well-written, well-rounded characters in the same room together, who are women of color? It's black girl magic at its best."
This momentous occasion comes nearly three years after the actress won an Emmy award in 2015 for her lead role as Annalise Keating in How To Get Away With Murder, where she delivered a rousing speech about the need "for roles that are simply not there."
Virginie Khateeb /PorterEdit/ NET-A-PORTER.COM
As Davis said, actresses who looked like her were typecast into roles "for crackheads and mammas and the person with a hand on her hip who is always described as 'sassy' or 'soulful.'" Her role as Annalise Keating, however, is proof that the tide is slowly turning. 
The 52-year-old also described the surreal experience of finally being able to play a "sexual" character after a decades-long career "It's been a painful journey. It costs me something, because very rarely in my career—and in my life—have I been allowed to explore that part of myself, to be given permission to know that is an aspect of my humanity, that I desire and am desired," she told the digital magazine. "I always felt in playing sexuality you have to look a certain way, to be a certain size, to walk a certain way. Until I realized that what makes people lean in is when they see themselves. There's no way I am going to believe that all women who are sexualized are size zero or two, all have straight hair, all look like sex kittens every time they go to bed and want sex from their man, all are heterosexual. I am mirroring women. I always say it is not my job to be sexy, it's my job to be sexual, that's the difference."
These slow changes in how women of color are depicted on screen come at a time when social movements like #OscarsSoWhite and #MeToo are at the forefront of all conversations in Hollywood. Davis hopes that it spurs the kind of action necessary from behind the scenes.
"When you look at a role as a director or producer that is not ethnically specific, can you consider an actor of color, to invest in that talent? The problem is, if it's not an urban or civil rights drama, they don't see you in the story," she said. "People need to understand that they shouldn't see people of color one way. We don't always have to be slaves or in the 'hood or fighting the KKK. I could be in a romantic comedy. I could be in Gone Girl. Or Wild. I could be seen the same way as Nicole Kidman, Meryl Streep, Julianne Moore."
Virginie Khateeb /PorterEdit/ NET-A-PORTER.COM
The Juilliard graduate added, "They deserve everything they get paid. Nicole Kidman deserves it. Reese Witherspoon deserves it. Meryl Streep, Julianne Moore, Frances McDormand… But guess what—I deserve it, too. So does Octavia Spencer, Taraji P. Henson, Halle Berry. We've put the work in, too."
The star hopes to change disparities such as these and, as a result, improve society for the next generation, which includes her 6-year-old daughter Genesis. "I always say life is like a baton and you got to run your leg of the race and pass it on to the next great runner. I want to pass a fabulous baton and leave something that makes me immortal, in a fabulous way," the Oscar winner said.
 "I want to leave an elixir that people can taste and that makes them feel alive."
To see the full interview with Viola Davis, read PorterEdit and/or download the Net-A-Porter app for iPhone, iPad and Android.