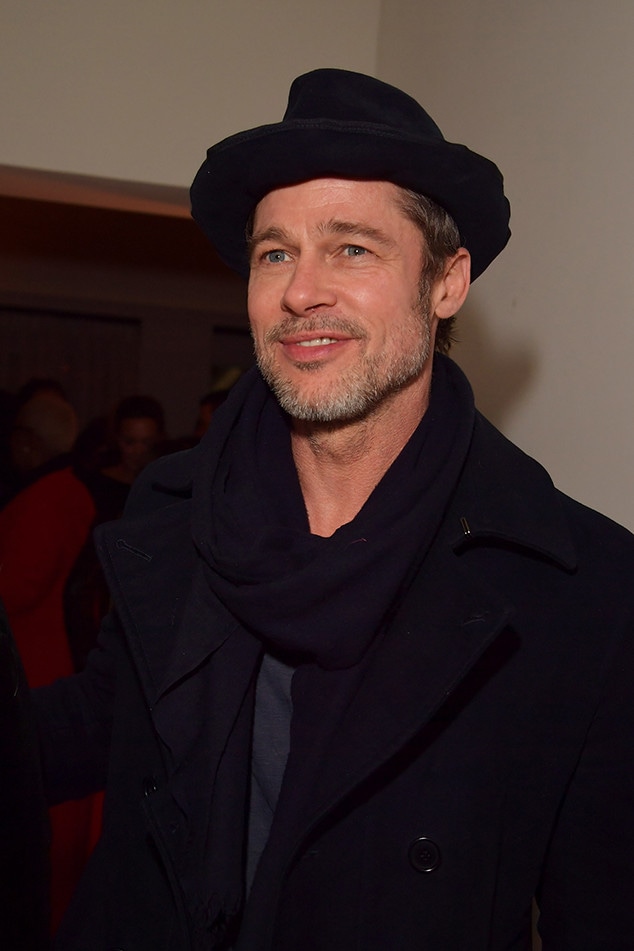 Lester Cohen/Getty Images for Gersh
Brad Pitt appeared to be in great spirits while making a surprise, brief appearance at the Gersh Agency's pre-2018 Oscars party on Thursday night.
Wearing a black jacket over a blue top and black pants, as well as a black scarf and hat, the Oscar-winning star arrived at the bash with his manager, Cynthia Pett-Dante. He was all smiles as he posed for photos alone and with her. He stayed for about half an hour. The party took place at the celebrity hotspot the Chateau Marmont hotel in West Hollywood. This marked a rare public appearance for Pitt, who is notoriously private.
"He was in and out so quick many people didn't even realize he had come," a source told E! News exclusively. "Brad had a big smile on his face and looked really happy, relaxed and healthy. He drank water as he chatted with friends."
"Everyone was excited he came even if it was brief," the source added. "Just seeing him out and happy was great." 
Lester Cohen/Getty Images for Gersh
The source said Pitt "just wanted to support and congratulate his friends Sam Rockwell and Richard Jenkins on their Oscar nominations."
Rockwell is nominated for his first Oscar for his supporting role in Three Billboards Outside Ebbing, Missouri, while Jenkins is nominated in the same category for his performance in The Shape of Water, which marks his second Oscar nomination. Rockwell starred with Pitt in the films Confessions of a Dangerous Mind and The Assassination of Jesse James by the Coward Robert Ford, while the Oscar winner also co-produced his latest acting project, Adam McKay's new movie Backseat, in which he plays former President George W. Bush.
Pitt and Jenkins starred together in the films Burn After Reading and Killing Them Softly, while the former star also served as an executive producer on Eat Pray Love, which stars the latter actor.
At the pre-Oscars party, Rockwell was joined by his longtime partner, actress Leslie Bibb, and his father, Pete Rockwell. Bibb gushed all night to friends about her "amazing husband," and gave him a big hug and kiss when he arrived, with a Tequila Don Julio margarita in hand.
Other celeb guests at the party included Oscar-nominated stars of I, Tonya, Allison Janney and Margot Robbie, the latter of whom who may appear with Pitt in Quentin Tarantino's new film Once Upon a Time in Hollywood. Janney and Robbie were in great spirits at the party, toasting their nominations over flowing glasses of Perrier-Jouët Belle Epoque Champagne. Janney was spotted giving hugs and starting a dance party with Bibb. She took home a specialty engraved bottle of Don Julio 1942 that read, "The Oscar goes to…Allison Janney."
Also in attendance: Elizabeth Olsen, Angela Bassett, Tiffany Haddish, Adam Driver, Kathryn Hahn, John Slattery, Joe Keery, Elizabeth Perkins and Missi Pyle.
It is unclear whether Pitt will appear at this Sunday's Oscars ceremony. He did not work on the nominated films and has not been announced as a presenter.
His ex Angelina Jolie is expected to attend, as the animated film The Breadwinner, of which she serves as an executive producer, is nominated for Best Animated Feature Film. She filed for divorce from Pitt in 2016. The two continue to co-parent their six children.