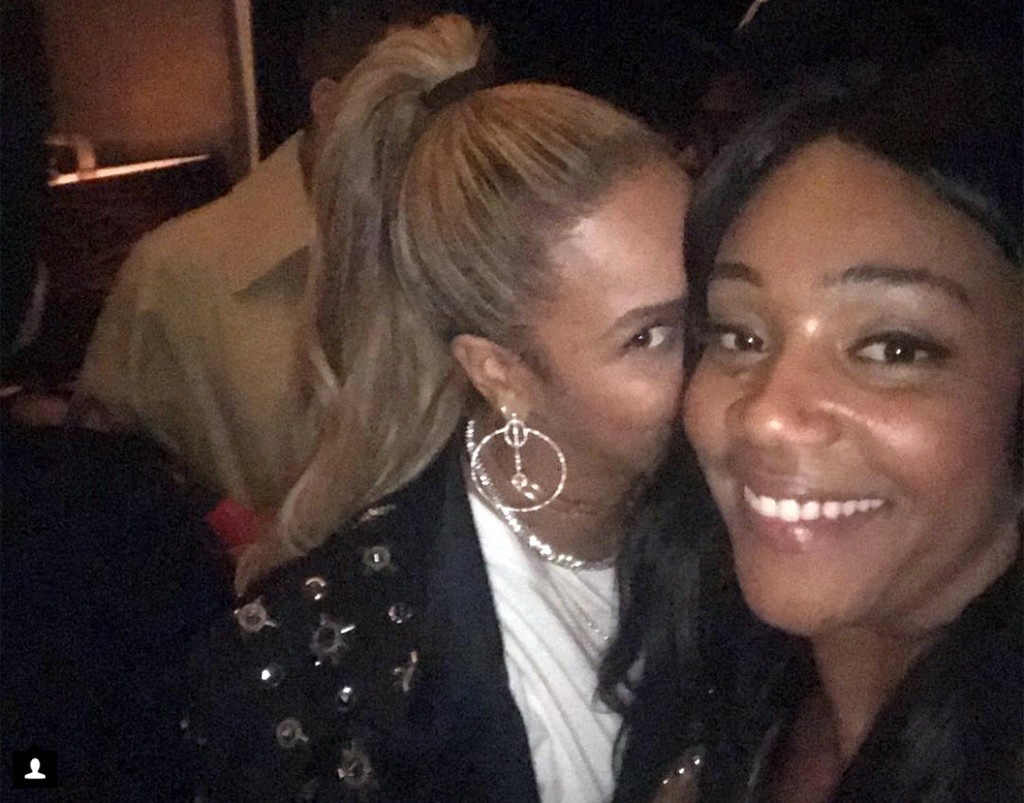 Tiffany Haddish/Instagram
Tiffany Haddish is sharing her thoughts on DJ Khaled's new song "Top Off" featuring Beyoncé, Jay-Z and Future.
After listening to the track, many fans are speculating that Bey is throwing some shade at the Girls Trip actress during her verse on the song. Social media is particularly curious over the Grammy winner's line, "If they're tryna party with the queen, they gon' have to sign a nondisclosure."
This comes just weeks after Tiffany dished to TV One's Uncensored about meeting Beyoncé for the first time and how the singer shut down an actress who touched Jay-Z.
But if Bey was referencing Tiffany in the song, the actress has no problems with it at all.
"I Love Beyonce part! Everything she said rang so real to me. Just know I will sign A NDA any day For Beyoncé," Tiffany tweeted Friday. "But also know this I will fight for Beyoncé. I Love that woman she is a Gift from God."
Fans are also speculating that you can actually hear Bey say "Tiffany" at around the 2:50 mark in the song. When one social media user mentioned this, Tiffany went back to listen again.
"OMG I JUST HEARD IT! I am Doing a full on Dance right now. My name is in a Beyoncé, Jay-z, Future and Dj Khaled song! I MADE IT Y'ALL!" Tiffany tweeted, later adding she's "happy" about the mention.
While addressing the NDA line, Tiffany tweeted, "Not a problem I love her."
When one social media user asked Tiffany why she would talk about Bey when she knows "she is very private," Tiffany replied, "I said nothing negative about her. I was just saying how real she is and that if it wasn't for her I would have beat somebody up real talk. Beyoncé is a superhero!"
What do you think about the "Top Off" lyrics? Sound off in the comments!