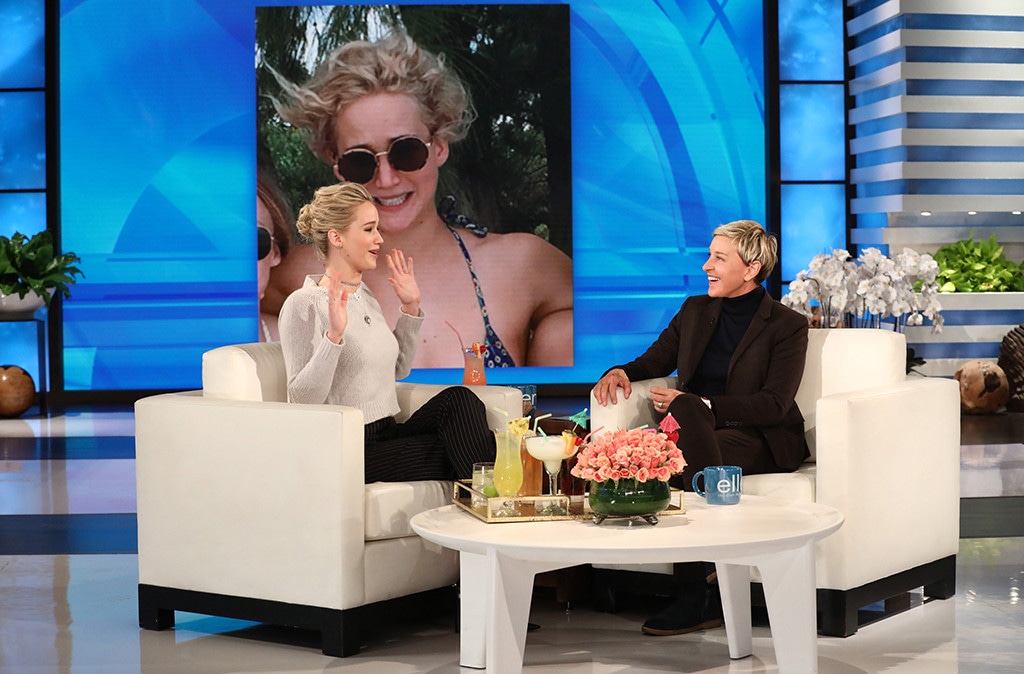 Michael Rozman/Warner Bros.
Everyone, meet Gail—Jennifer Lawrence's drunk alter ego.
The 27-year-old actress introduced viewers to her drunken persona on Friday's episode of The Ellen DeGeneres Show.
Gail is the person Lawrence becomes after one too many drinks. Ellen DeGeneres showed a picture of the alter ego as a visual. When the host asked the Red Sparrow star why she named her alter ego Gail, Lawrence replied, "I didn't. She almost named herself. I think my girlfriends probably named her Gail—probably by the way I look. And it's a very specific drunk [look], too. It's not just like every time I'm drunk I turn into this." 
Wanting to see if Gail could come out and play, DeGeneres had one of her staff members bring Lawrence a whole tray of cocktails.
"I can't. I really can't," she objected before reaching for a drink. "I'll take this one."
Michael Rozman/Warner Bros.
So, what is Gail like? Lawrence said she's "lovely" and has a "heart of gold." Still, Gail can get the actress into trouble. One time Lawrence (or rather Gail) went conch diving with some girlfriends. There were little worms inside of the shells, so she pulled them out and ate them. Later on during the excursion, Lawrence learned their group was in an area frequently visited by sharks. So, she jumped in the water.
"Everyone's like, 'Somebody get her some water and coffee! She's going to die,'" she said.
However, Gail doesn't make an appearance every time Lawrence gets drunk. The Silver Linings Playbook star said her alter ego mostly comes out when rum is involved. So when she had vodka at DeGeneres' star-studded 60th birthday party, Gail didn't show up. Still, the actress managed to get into plenty of shenanigans.
"All I know is that after five minutes, me and Jennifer Aniston had our arms around each other and were going, 'No I love you the most,'" Lawrence recalled.
While Lawrence insisted she's not a big drinker, she admitted she has been drinking more throughout her Red Sparrow press tour. Before heading to the film's New York premiere, Lawrence drank with Andy Cohen on Watch What Happens Live and with Stephen Colbert on The Late Show. Once she got to the premiere, she was "hammered."
"So, I get on the red carpet and I'm like 'don't look drunk. Don't look drunk,'" Lawrence recalled, "and then I look like I've been electrified."
To learn more about Gail, Watch the video.
Watch The Ellen DeGeneres Show Friday at 3:00 p.m. EST to see Lawrence's full interview.
Red Sparrow premieres Mar. 2.