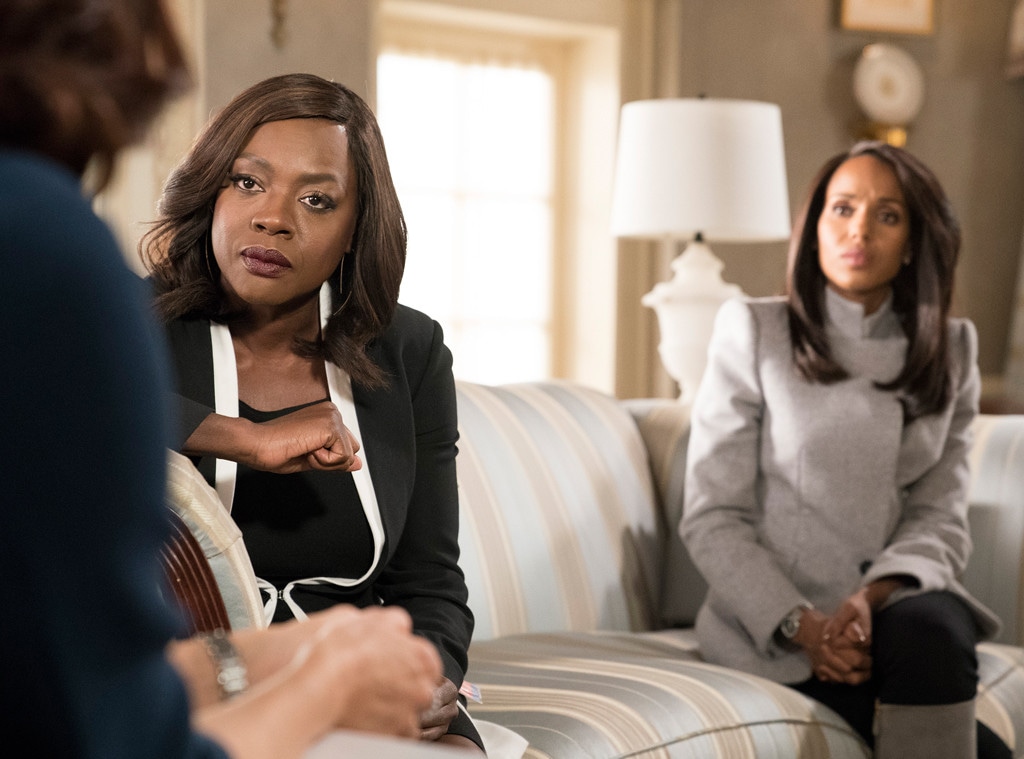 ABC
Well damn if we didn't badly need to see Kerry Washington and Viola Davis making Shonda speeches at each other. 
There were so many great speeches in that crossover, along with a lot of googling, weirdly. Quinn googled Olivia. Olivia googled Annalise. Annalise revealed that she googled Olivia. We googled things to see how well actual google results pages were recreated for the show. We googled google just to make sure it was still a real word. 
Anyway, Quinn discovered through her googling that post-White House, Olivia is now a college professor. She thought that was weird, but Abby literally said, "Good riddance!" and "those who can't..." Guess that bridge is officially burnt. 
We learned in the previous scene that Olivia was teaching college, because Annalise showed up to crash her class and ask for Olivia's help fast-tracking a judicial reform case to the Supreme Court. 
Let's talk about a few of the biggest standout moments...
Michaela the Fangirl: Olivia had Marcus on her side while Annalise brought along Michaela, who lost her mind first over Olivia, then over the 44th president of the United States Fitzgerald Grant, then over the 45th president of the United States, Mellie Grant. 
So Many Showdowns: Liv vs. Annalise. Liv vs. Mellie. Liv vs. Quinn. Liv vs. her own self. Annalise vs. her own demons. Annalise vs. the Supreme Court. 
A Perfect New TGIT Promo: "Popcorn and wine together?" "Yeah, it's kinda my thing." 
Annalise's Parents: It was probably not the best idea to invite them to visit just before the biggest case of Annalise's life, but it's always nice to see Cicely Tyson and has poor Olivia ever been mothered as well as Annalise's mother mothered her? 
Marchaela? Marcus and Michaela flirted hardcore, but she resisted...for a while. Then during a stakeout, while Asher was less than an hour away, they gave in and hooked up. Later, an oblivious Asher called Marcus "the man" and offered him a fist bump.
Oops!
Annalise. Freaking. Keating. Yes, Olivia Pope had many incredible moments, but Annalise was the one who went in front of the Supreme Court to argue for fair justice for inmates without proper defense, and boy did she argue it. She went against the toughest of the judges and used his own words against him to prove that race did play a factor, and she made one hell of a rousing speech as music swelled. It was pretty incredible. 
We didn't find out for sure that Annalise had won the case, but the arrow seemed to be pointing in that direction as the episode ended and Annalise learned that Simon had woken up in the hospital, meaning some s--t is about to go down next week (but what's new?). 
In the end, it's kind of a shame this didn't happen earlier and that it can't happen again. Annalise and Olivia are strangely natural together, and that girl power is pretty undeniable. 
Scandal airs Thursdays at 9 p.m. and How to Get Away with Murder airs Thursdays at 10 p.m. on ABC.