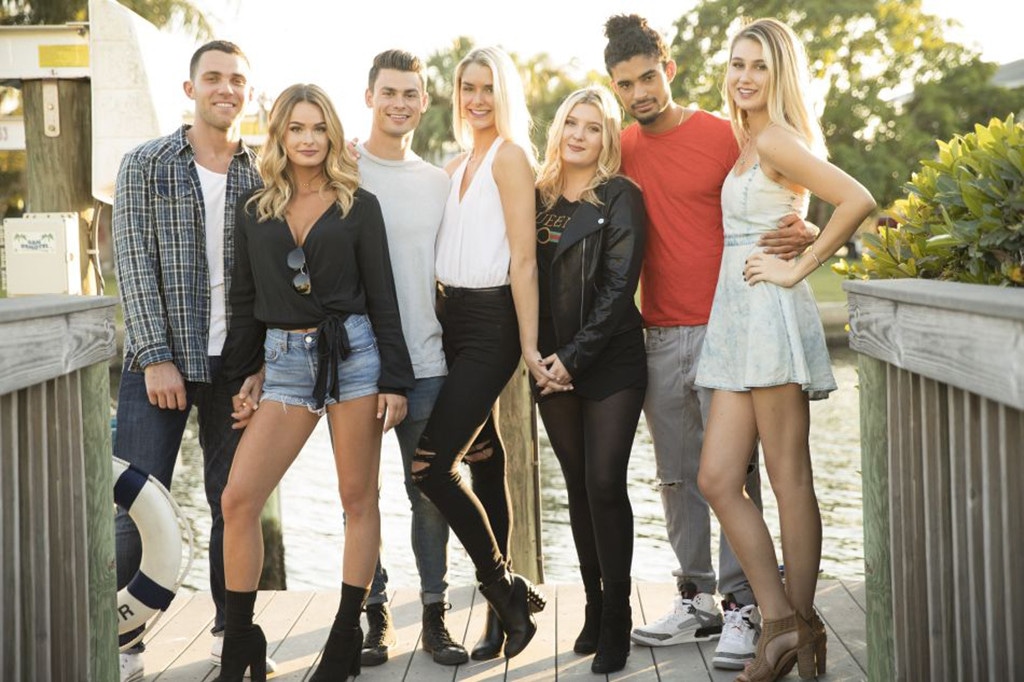 Courtesy of MTV
Forget about The Hills of Los Angeles. Siesta Key is the hot destination causing waves on MTV.
When the producers of Laguna Beach came up with a new docu-series that would follow a group of young adults in their beautiful hometown, fans immediately predicted that it would just be another show similar to The Hills. 
But in the past few months, viewers have been captivated by Siesta Key because of its drama, suspense and differences from earlier MTV shows.
"Siesta Key naturally reflects a more modern and progressive era," Madisson Hausburg shared with E! News ahead of the show's season one finale airing tonight. "Siesta Key maintains the same level of drama that got us all addicted to The Hills and adds an element of relevance and social awareness."
In the first season alone, the cast has addressed LGBTQ issues, interracial relationships and mental health. And while the show has its share of OMG moments, the cast believes viewers across the country have been able to resonate with them in various ways.
"I think Siesta Key hits home for a much larger audience and viewers are able to identify with us more easily," Chloe Trautman explained to E! News. "Beneath all the drama and the bulls--t, Siesta Key deals with real life issues. And everyone—even pop culture fans—have real life issues."
As excitement builds around the show's season finale, we're taking a look at how the first season of Siesta Key proved to be completely different from The Hills.
And spoiler alert: It's not a bad thing at all. In fact, there's room for everyone coast to coast.
Family Matters: While parents may have made a brief appearance here and there on The Hills, viewers have really gotten to know some mom and dads in Siesta Key. One story that has grabbed the attention of audience members is Chloe's mom's battle with chronic illness. While some scenes were emotional to shoot, Chloe is glad she shared the journey with America. "The more I share about myself, the more people I reach and relate to," she explained to E! News. "I hope girls and guys out there with a sick parent see me and don't feel like they're the only ones dealing with that hurt."
Getting Real About Childhood: Before you think the cast of Siesta Key lives picture-perfect lives, you may want to hear their stories throughout the season. Carson Wall surprised fans when he opened up about his childhood during a skimboarding date with Kelsey Owens. After his parents got divorced and family life got unstable, Carson went through a "dark period" that included time in the foster care system. "I think going through some of the stuff I did, it really is one of those things where what doesn't kill you makes you stronger. It taught me a lot," Carson shared during a recent episode. He also explained to E! News, "I was definitely a little nervous at the first thought of talking about it but then I was happy I had the chance to reach out to those who may have experienced adversity while growing up." Reality TV has never been more, well, real.
Spotlighting LGBTQ Issues: In season one of Siesta Key, Tarik Jenkins bravely opened up about his sexuality and admitted his family didn't support his decision to come out.  "This experience has given me the chance to redefine who I am and make myself an even stronger person than I was in the past," Tarik explained to E! News. "Siesta Key is all about a group of young adults from many different backgrounds overcoming the many obstacles life presents us with." And just last month, viewers watched Canvas and Paige Hausburg develop romantic feelings for each other.
Voices of Reason: In comparison to The Hills where Lauren Conrad primarily served as the only narrator, Siesta Key likes to switch up the role every episode. As a result, more perspectives on the biggest storylines are presented to viewers. "The rotating narrator is the main thing that I love," The Hills alum Spencer Pratt shared with E! News when discussing the show he watches every week. "I wish we had different narrators."
Working It Out: According to some viewers, the cast of The Hills was handed jobs and opportunities when they got older. Those same viewers, however, are witnessing the Siesta Key cast work hard to reach their dreams. Madisson is struggling to figure out what she should do with her engineering degree. Kelsey is coming to terms that she's not a high-fashion model—even though we disagree. And Brandon Gomes is trying to make it big in the music industry. "In Siesta Key, you have every cast member going through something real and something relatable," Tarik explained. "Job searching, rejection and even acceptance: This is what life is all about."
Who's the Villain: Unlike The Hills where many would argue Spencer and Heidi Montag were the controversial ones, viewers of Siesta Key have different perspectives on who is the show's "villain." While some may not have liked Alex Kompo's playboy ways, they liked when he comforted Madisson after her breakup from Brandon. Others got bad vibes from Canvas and her flirtatious behavior with Brandon. Ultimately, she was the one who told Madisson about her boyfriend cheating without any bad intentions. Every week in Siesta Key really is an adventure.
Power of Social Media: Back when The Hills was on the air, Snapchat and Instagram weren't prevalent by any means. But on Siesta Key, they help cause and resolve drama. After all, would Carson and Brandon ever know that Alex and Madisson were hanging out on a lake without social media? Would Garrett Miller know that Alex and Juliette Porter were together at a house party? Would Chloe have proof of everyone's whereabouts?  "Let's just say The Hills was the iPhone 1 and Siesta Key is the iPhone X," Spencer joked to E! News. "I wish that we had a Chloe on our show because that way, when people were accused of doing something shady things that they didn't do, Chloe would be able to have all the facts. Chloe would have dropped those receipts." Heidi added, "I wish we had a Chloe investigator. She always knows the truth. "
Watch the dramatic Siesta Key finale Monday night at 10 p.m. only on MTV.  And keep up with The Hills stars Heidi and Spencer Pratt on their "Made Speidi Famous Again" podcast.
—Additional Reporting by Ashley Lewin