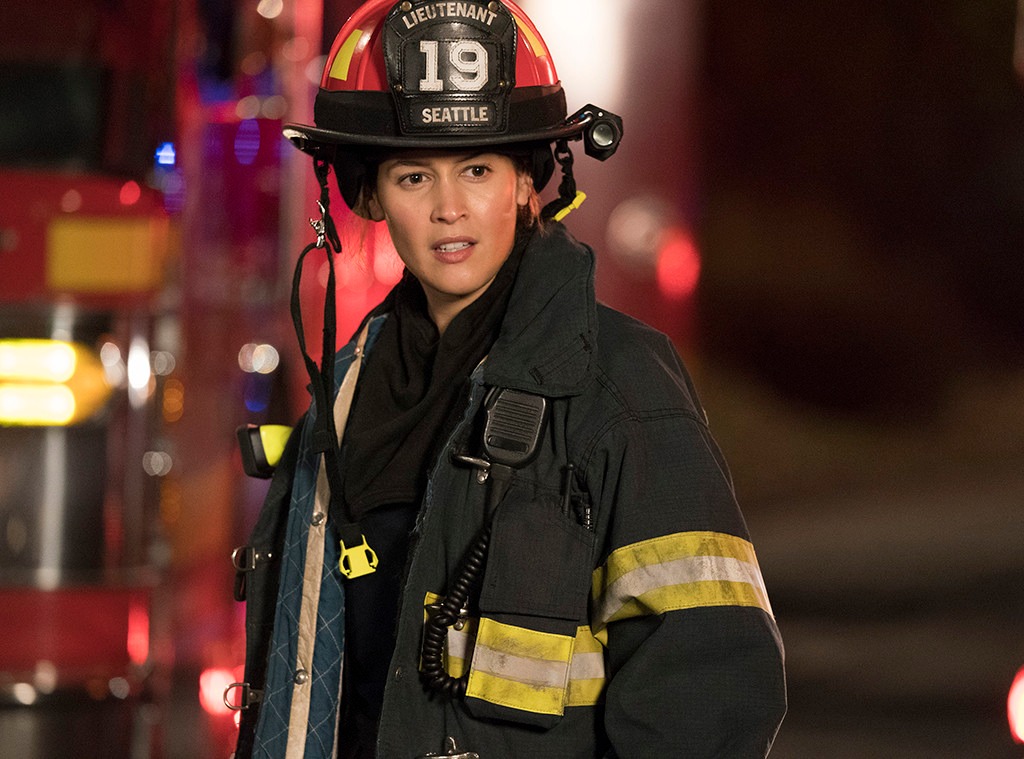 ABC
Well hello, Andy Herrera. 
Station 19 star Jaina Lee Ortiz stopped by tonight's Grey's Anatomy to introduce herself, and you know what? I think we might just check out this little spinoff of hers, because she was delightful. 
When a little boy started bleeding profusely, Andy stuck her hand inside his body, and then she became the only thing keeping him alive. When Meredith taught her where to put a clamp and then let her take her hand out of the body, Andy wanted to stick around to see how things turned out. 
She also just so happened to be on hand when Meredith was waiting for a very important phone call from an old man in Madrid who had possession of the patent she desperately needed for her contest project, and she just so happened to be fluent in Spanish. She got Mer a meeting with the guy and put in a good word for her, meaning contest judge April may never have to know that Meredith almost screwed up big time.
Speaking of April, she's a total mess right now, wandering around the hospital with an IV because she's discovered partying. And while Arizona tried to assure Jackson that "partying" wasn't what Jackson thought it was, she then discovered that it very much did involve April up on a bar pouring rounds of shots. 
Ben Warren (Jason George) also returned for a bit tonight, still struggling with his impulsive new choice of career and the career he's leaving behind. We have a feeling this will be a frequent theme of all Ben Warren storylines on Station 19, but as long as he and Bailey both stay alive and together, we aren't all that mad at it. 
At the very least, we're on board with Station 19 for Andy and Ben's sake, and we'll just have to wait and see if the new show can capture some of the same magic that has made Grey's an obsession for 14 years. As we've recently fully realized, a lot of that magic has to do with Ellen Pompeo, so hopefully Jaina Lee Ortiz can bring it just as well. 
What do you think of Andy so far? Head to the comments with your thoughts!
Grey's Anatomy airs Thursdays at 8 p.m., and Station 19 premieres Thursday, March 22 on ABC.