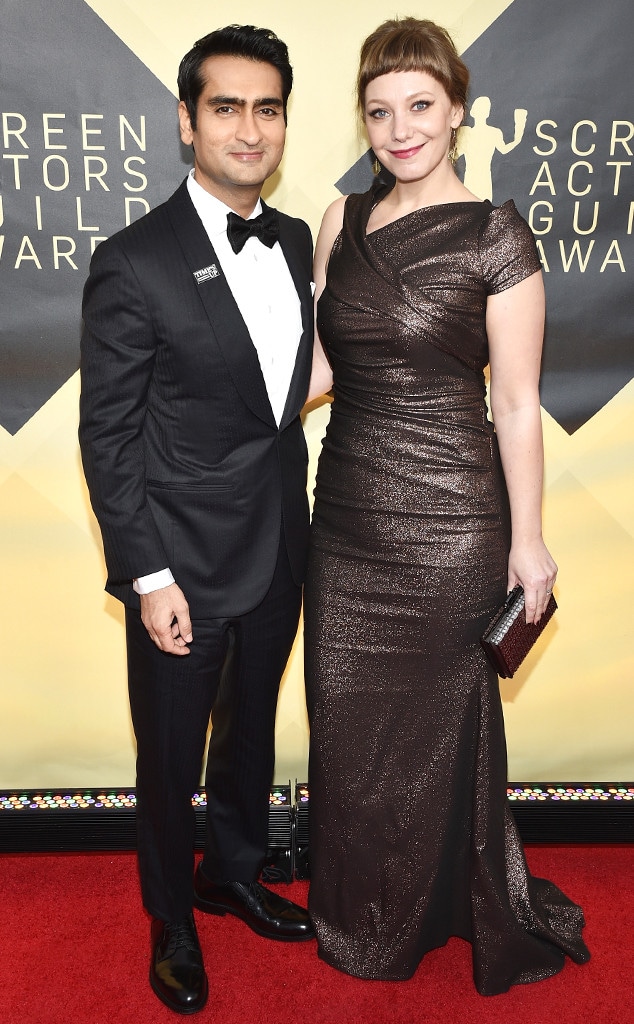 John Shearer/Getty Images for People Magazine
In just about every onscreen (and real life) love story, couples experience a make-or-break conflict.
It's in the face of adversity that they create a strong foundation for continued growth—or, they fall apart at the seams. Kumail Nanjiani and Emily V. Gordon are a duo who fall into both categories. And they're the even rarer couple who turned their own love story into an Oscar-nominated film.
The film they co-wrote, The Big Sick, was a critical and commercial hit, having grossed roughly $56.1 million since its release last year—surprising even the married couple. (Spoiler alert!) 
Meanwhile, Nanjiani originally just "wanted the movie to play well at Sundance and I wanted audiences to like it here." He told The Frame last summer, "I wasn't thinking beyond that. If we get that, we'll be a success and I'll be so excited. It didn't even occur to me—bidding. None of that stuff had occurred to me. I would have been more nervous if it had."
For those who haven't seen the romantic comedy, which is also streaming on Amazon, here is the CliffsNotes version: Nanjiani plays "Kumail," an aspiring comedian working as an Uber driver in Chicago, and Zoe Kazan plays grad student "Emily." The two meet after Emily heckles Kumail at his stand-up show, sparking a hookup.
At first, their encounter is just that: an encounter. But there is an undeniable attraction between the two that draws them together, despite their reservations. She's focused on getting her master's degree in psychology. His traditional parents would rather he find a real job and marry a Pakistani girl, preferably one of their choosing.
Bennett Raglin/Getty Images for Greater Fort Lauderdale Convention & Visitors Bureau
They break up after Emily confronts Kumail about the potential for a future together and he handles it badly, to say the least. Not long after, Emily's rushed to the hospital and Kumail's the only one around to sign off on the decision to put her in a medically induced coma.
Much soul-searching ensues. (On Kumail's part, that is. Exit Emily's input for awhile as Kumail embarks on getting to know her parents—played by Ray Romano and Holly Hunter—and figuring himself out.)
When the partners in marriage and screenwriting spoke to E! News at the Palm Springs International Film Festival, they reflected on their experience of writing the script together. Gordon told us, "I highly recommend any couple to go through and rewrite your origin story because it's very therapeutic."
Courtesy of Sundance Institute/Nicole Rivelli
While that's not an option for everyone, Gordon thinks the experience did allow her and Nanjiani to "really get to dig into each other's personalities a little bit and how each other sees the past, which I think is always wonderful."
Not to say that the movie was a scene-for-scene representation of the couple's own love story. As Nanjiani joked, they were "not making Lincoln." They told their story the best way they could in a modern context.
"Our lives were a jumping-off point and we wanted to make a good, fictional movie based off an experience we had," he explained to John Horn of The Frame.
He added that "people really assume everything in the movie is exactly how it happened."
For starters—and great news!—Gordon's father never really cheated on her mother, despite that added twist in the film. And Nanjiani didn't drive for Uber when he was a struggling comic, because Uber simply wasn't a thing yet then.
Nicole Rivelli/Apatow/Kobal/Shutterstock
The general arc, though—the coma, the heartbreak and Nanjiani's parents' initial disapproval—was real, which made the experience of seeing the film very surreal for the couple and their families.
"In fact, on two, three occasions, I was in tears and my wife was just nudging me and making fun of me," Nanjiani's father, Aijaz, revealed to Lesley Stahl on 60 Minutes.
After sitting worriedly by Emily's bedside at the hospital day after day, Nanjiani realized how much he wanted to spend the rest of his life with her.
"She was unconscious, and she was hooked up to all these beeping machines, and I very clearly remember thinking, If she makes it out of this, I'm gonna marry her," he told The New Yorker last year.
They married at City Hall on July 14, 2007, two months after Emily left the hospital. Eventually Nanjiani's parents got on board.
"I was a bit disappointed, I admit. But later I came to love her like a daughter," Kumail's mom Shabana told the New Yorker.
Nowadays, the Oscar nominees are facing struggles of a different sort: trying to maintain their cool when they are in the presence of their favorite actors. Gordon laughed while telling E! News' Giuliana Rancic she still loses her mind anytime a celebrity recognizes her.
Unanimously they decided that the celebrity encounter that surprised and flattered them the most was meeting Tom Hanks.
Neilson Barnard/Getty Images
Nanjiani and Gordon's film also happens to have come out at a time when it's imperative to see a variety of cultures represented onscreen, especially when some groups may be feeling more persecuted than others these days.
At the same time, however, Nanjiani says representing the Muslim experience on film and addressing people's prejudices has "always been relevant. It's not like Muslims were portrayed as saints 20 years ago," he told The Frame. Usually, the Silicon Valley star said, "a very small group gets to represent a very big group. And if you don't get different kinds of portrayals, then you're not going to have a nuanced understanding of a group or culture."
In addition to contributing to that understanding, Nanjiani and Gordon's stranger-than-fiction story earned them an Oscar nomination for Best Original Screenplay.
But while they're excited for the Academy Awards on Sunday, Nanjiani is, like so many others, rooting for Get Out to have a big night. He tweeted last month, "I would honestly be thrilled to lose to Jordan Peele over & over for my entire career."