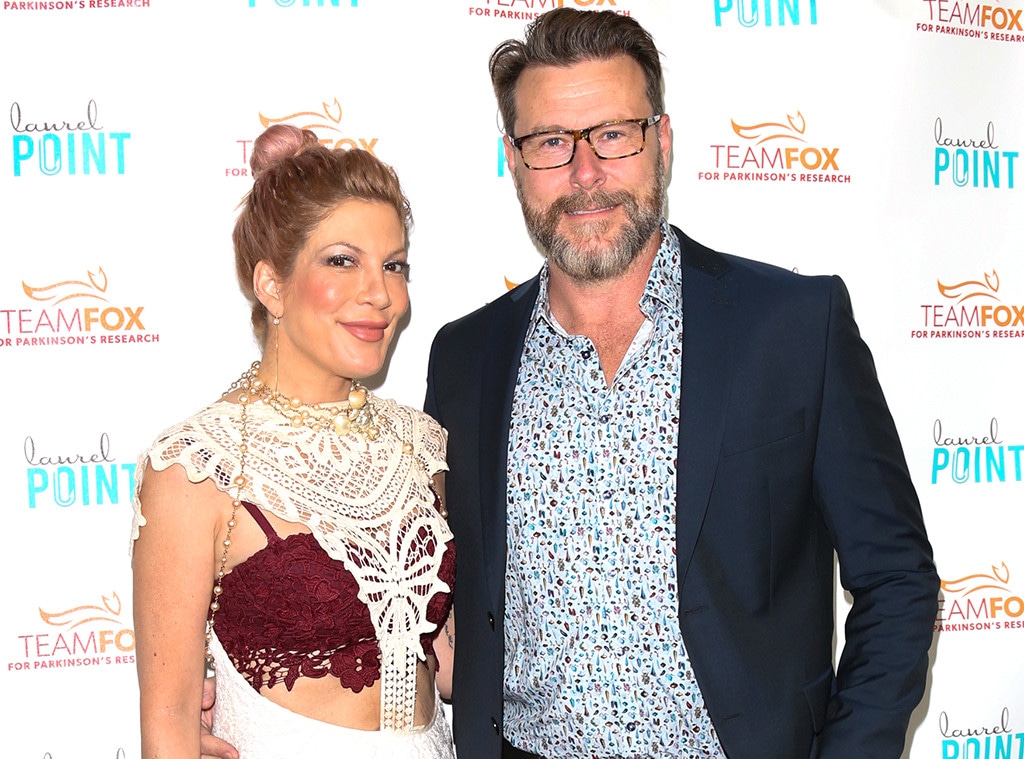 Paul Archuleta/FilmMagic
Tori Spelling has overcome a lot.
Some of it she couldn't really help, like health issues. After not coming into much of an inheritance from her mega-producer father, she's had her fair share of money troubles. And for awhile her marital drama was making for some explosive headlines, spurred along by the cameras she let into the house (and counseling sessions) to capture all of it. 
Almost 25 years since Donna Martin graduated from West Beverly High School, Spelling has had to rally over and over again for the sake of her five kids, Tori and Dean McDermott having welcomed son Beau exactly a year ago tomorrow.
But while Spelling has become known over the years for throwing elaborate birthday parties for their older children—Liam, 10 1/2; Stella, 9 1/2; Hattie, 6; and Finn, 5—and going all out for the holidays, she may have more pressing issues on her mind right now.
On Wednesday night Spelling called 911 to report a break-in at her L.A.-area home, but it turned out to be a false alarm—only McDermott coming home. E! News confirmed that police were called to the house again Thursday morning, however, with the caller saying, according to TMZ, that Spelling was suffering a breakdown. The dispatch call from 911 to authorities, obtained by The Blast, referred to a female with possible "mental illness."
Spelling was last photographed out on Jan. 17, on date night with McDermott at the Comedy Store, and hasn't posted on Instagram since Jan. 23. But she did just pop up in Bachelor alum Corinne Olympios' Instagram story yesterday afternoon, wearing a meta T-shirt with herself in Donna Martin mode on the front and otherwise comfortably hanging out in jeans and Uggs.
Olympios told E! News Thursday that she just met Spelling yesterday, on the set of a Facebook digital video she was shooting for TLC's new cooking show Secrets in the Sauce. 
"When I arrived she was lovely and super sweet asked to take a selfie with me, which I know she's been silent on social media," Olympios said. "As I got my makeup done she proceeded to sit there and didn't go home. She was talking openly about how she just had a baby and then another baby 10 months after, and how stressful that was, having five kids.
"Someone made a joke to her, like, 'well don't go home, just go get a manicure or something,'" and Tori signaled that she agreed with the sentiment and said something about how Dean was watching the kids.
"Other than that I am just as shocked as anyone and I really hope she's okay," Olympios said. "She was lovely and so nice, but she definitely stuck around longer than necessary. And I just pray everything is okay and her and her family are safe!"
There were reports that a trip to the hospital in October 2014, when she and McDermott were still living out a real-life soap opera in the public eye after she found out he had cheated, was due more to emotional stress and exhaustion than any particular physical ailment. She was briefly quarantined (it was during the height of the Ebola scare) after experiencing trouble breathing, and was ultimately said to be battling a sinus infection and bronchitis.
"This sick in hospital I finally see how quickly life can take it all away frm you," Tori cryptically wrote on Instagram alongside a photo of her in her hospital bed, hooked up to an IV. "We all need 2 step up frm inside& go 4 it! W/our friends by our side. Sadly I've finally faced truth that 1 person will never be there 4 me #TrueTori."
The second season of True Tori had just premiered, another installement of the oft-gut-wrenching parade of tearful arguments and drained conversations with Dean that had become her life in 2014.
Shane Gritzinger/Getty Images
Having grown up the daughter of prolific producer Aaron Spelling in the 56,600-square foot Holmby Hills estate known as The Manor, Spelling's childhood and teen years didn't exactly want for spectacle. Or real-life drama.
Tori eventually admitted that she encouraged her father—who in addition to Beverly Hills 90210 and Melrose Place was behind The Love Boat, Dynasty and Charlie's Angels—to fire Shannen Doherty from Beverly Hills 90210 for being tempestuous on the set. Jennie Garth has recalled explosive, wanted-to-kill-each-other fights with Doherty from those days, though they reunited for the CW's 90210 with no apparent issue in 2008.
After Beverly Hills 90210 ended in 2000, Spelling—like a lot of actors from the show—struggled to find her second act, the magic of the O.G. Fox series in its hey day never to be replicated. She married Charlie Shanian in 2004, but then she met the also-married McDermott on the set of the 2005 Lifetime movie Mind Over Murder. Both disengaged from their respective unions and married each other on May 7, 2006. ("In the end, I didn't screw up, she did," Shanian told GQ in 2007. "Well, some might say she screwed down, but that's a matter of opinion.")
Aaron Spelling died a month later, on June 23, 2006, and it soon became apparent that Tori's relationship with her father and mom Candy Spelling had been on the rocky side for some time. Spelling wrote in her 2008 book sTori Telling that she got the news of her father's passing in a condolence email from a friend, then from a creator of her based-in-reality sitcom So noTORIous; she didn't hear from family for four hours, till her brother, Randy Spelling, called. She had seen her father for the first time in nine months a few weeks beforehand, she wrote.
Kevin Winter/Getty Images
Tori chalked the estrangement up to not a big blowout fight, but "an increasing list of alienating moments" that were perhaps exacerbated by her decision to do TV shows about her life. (She also mentioned her mother's longtime friend Mark Nathanson driving a wedge between them. Per the New York Times, after a Vanity Fair story claimed they'd had an affair for some years before her husband died, Candy insisted she enjoyed a purely platonic relationship with him.)
"It's fine if she wants her own reality show or wants to write books about her childhood," Candy Spelling countered in her 2009 memoir Candyland. "I just wish she'd leave me out of it." When sTori Telling came out, she recalled, she was in the middle of undergoing a series of surgeries on her arm, elbow and shoulder and her phone was ringing off the hook with questions about her daughter's memoir, and Tori was all over the TV giving interviews.
After he died, there were reports that, from Aaron Spelling's estimated $500 million estate, Tori's inheritance was only around $800,000. Candy called the figure "inaccurate" and, recalling a woman stopping her on the street to quiz her about their rumored stinginess, she wrote that she considered explaining to the woman that Tori "had plenty of money" and was making "millions of dollars"—and also, "I wanted to ask if her if she had seen Tori's supposed 'garage sale.'" 
Tori, however, wrote that after taxes she indeed collected about $800,000—and yes, she was disappointed. "But, come on, if your father had $500 million wouldn't you hope for, oh, just a paltry $10 million?" she wondered. 
In her 2013 book Spelling It Like It Is, she wrote, "It's no mystery why I have money problems. I grew up rich beyond anyone's wildest dreams. I never knew anything else. Even when I try to embrace a simpler lifestyle, I can't seem to let go of my expensive tastes. Even when my tastes aren't fancy, they're still costly. I moved houses to simplify my life, but lost almost a million dollars along the way."
Candy reiterated as much in 2014, telling the New York Times upon the release of her second book, Candy at Last, that, frankly, Tori was irresponsible with money.
"She would close a store and drop $50,000 to $60,000," Candy, who at the time said she saw Tori about twice a month, told the Times. "I never did anything like that. She just went crazy."
With a big family to take care of, the extent of the Spelling-McDermott household's precarious financial situation started to become more visible in January 2014 when a three-day eviction notice was posted on the gate of the home they were renting (and duly snapped by paparazzi).
It turned out to be a "clerical error," according to Spelling's rep. "All payments have in fact been made, the lease is current and in good standing and the three-day notice has been effectively withdrawn."
The couple padded their bank account that year the hard way—airing all of their dirty laundry for VH1's True Tori in the wake of Dean's cheating scandal, which took their marriage to the brink of collapse. Tori also returned to scripted TV, with Jennie Garth, on the ABC Family comedy Mystery Girls.
"I feel so responsible for so many people and I can't do it. [I can't handle] the responsibility of having to take care of so many people financially, the fear of that. [It] doesn't matter. I know people look at me and they're like, 'Oh, poor you.' Like, 'Boohoo, you have so many problems,'" she lamented on True Tori. But "we live paycheck to paycheck!" she cried. "After this [show] I have no f--king idea if work's going to come in. Like, how am I going to support my family in six months? Look at the life we're leading. We're paying for five f--king private schools."
Spelling—who had been hospitalized with severe abdominal pain in 2009 and needed emergency surgery after giving birth to Finn in 2012—spent almost a week in the hospital for undisclosed reasons in April 2014, right as True Tori premiered. 
"Our family has been going through an incredibly difficult and trying time, and the story of what I've been going through has been told by everyone except for me. So, it's time for me to set the record straight," she explained the intent of the series on her blog.
In January 2016, Spelling was sued by American Express for failure to pay a $37,981.97 balance that had been piling up, including interest and fees, since the previous summer. Candy Spelling told TMZ that month, "I've been paying all her bills now, except I'm not paying extras like that. "I'm not paying any back payments—just for the house, and the kids' schools, and their food." The family had moved into a $7,500-per-month rental in Encino, Calif. (And apparently mother and daughter had reconciled enough.)
David A. Walega/WireImage
Tori denied they were broke, telling People in March 2016, "We're not bankrupt. We're not struggling. We're fine!" Three months later, she and James Franco top-lined the ultra-campy Lifetime movie Mother, May I Sleep With Danger?
American Express filed suit again in November 2016 to collect $87,594.55 on an account that had since been canceled. City National Bank then sued the couple for almost $200,000 that December after they stopped making payments on a $400,000 loan and overdrew their account. Spelling was pregnant with Beau at the time.
And then last year the court came after McDermott for failure to pay roughly $6,000 in spousal support to ex-wife Mary Jo Eustace, mother of his son Jack, dating back to July 2016.
"He owes money and then he's getting a $40,000 shower for his new baby while neglecting his responsibilities to his oldest child and ex-wife? That's what's upsetting her," a source close to Eustace told E! News. (Candy Spelling hosted the shower at the Hotel Bel-Air.)
McDermott and his ex, who says she's entitled to payments until July 2020, reached an out-of-court settlement last March.
Meanwhile, Dean, who had his own medical scare in 2010 when he landed in the ICU after a motorcycle accident, was photographed outside his house shaking hands with one of the cops who responded to the 911 call. No sign of Tori or the kids. McDermott's been picking up the Instagram slack during Spelling's social media break, meanwhile, most recently posting multiple plaudits for Team Canada during the Winter Olympics. A week ago he shared a video of little Beau in a swing at the park and on Feb. 20 he revealed that daughter Stella had broken her wrist ice skating.
"She's so tough, the first thing she said after getting her cast was 'wait!! I can still do kickboxing on Sunday right??' She's such an amazing little athlete. She excels at everything she tries. MMA, hockey, Jiu Jitsu, gymnastics, you name it. Love this young lady so much!! #proudpapa#girlsrule."
On Jan. 8, Tori Spelling showed off a fresh new bob haircut on Instagram and wrote a lengthy caption about how to actually effect change in one's life.
"Change doesn't happen because we want it. Change doesn't even happen because we say it," she wrote. "Change happens when we actually start doing it. To remind myself that stepping out of your comfort zone isn't easy but opens up a world of possibilities personally, professionally, financially, and emotionally I opted for a new 'Do'...
"This realization came to me at 11pm last night. Whether it came from watching the empowering speech that @oprah gave at the #goldenglobes or simply that my extensions were hanging on by a thread doesn't matter... I took charge and took action. I gave myself a chop...Woke up this rainy Monday morning with energy and confidence. Is it the haircut? No, that's just a reminder that change comes from within. Be the change you want. This is 2018. This is a new week. Start doing what you've only till now been saying you'll do ... #no makeup #2018#WeCantExpectToSeeAChangeIfWeDontMakeOne."
—With reporting by Holly Passalaqua