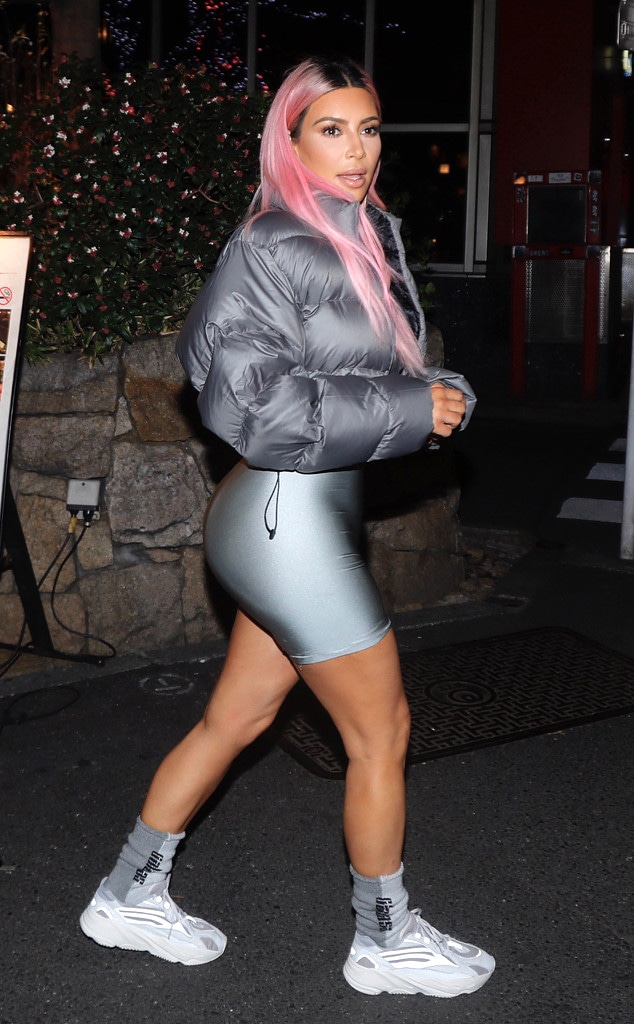 Brian Prahl / Splash News
Kim Kardashian is dishing some serious Bond girl vibes.
The 37-year-old Keeping Up with the Kardashians reality star, who is currently on vacation in Tokyo with sisters Kourtney Kardashian and Khloe Kardashian, posted a sexy selfie to Instagram while channeling her inner-Halle Berry.
In the photo, which Kim captioned "Hey you" written in Japanese, the fashion designer is sporting a white bra and skintight mini skirt while rocking a short, icy blond 'do.
Also on full display in the pic? Kim's abs! The middle Kardashian sister spoke of her fit figure in a video on her app earlier this month.
"I can't take your hips seriously right now," Kourtney said to Kim. "Because your waist is so small and your hips are so big."
Kim responded, "It's never been 24" ever in my life!"
It appears the photo was taken prior to the star dying her hair pink, which she recently defended via Snapchat.
"You guys, if I see one more person say I'm wearing a wig and think I'm lying...You're just, like…I just don't get it. Like, why lie about wearing a wig?" she asked. "This is my hair. There is no wig. I dyed my hair, guys."
"It's, like, such a crazy thought," Kim added. "F--k outta here with that wig s--t."
And while her pink hair is evidently very real, so is her love for the James Bond films. Back in 2011, Kim told E! News about her dream to play a part in the iconic franchise.
"I would love to be in a Bond film—a Bond Girl!" she revealed. "That would be the ultimate."
Watch the season finale of Keeping Up with the Kardashians Sunday at 9 p.m., only on E!