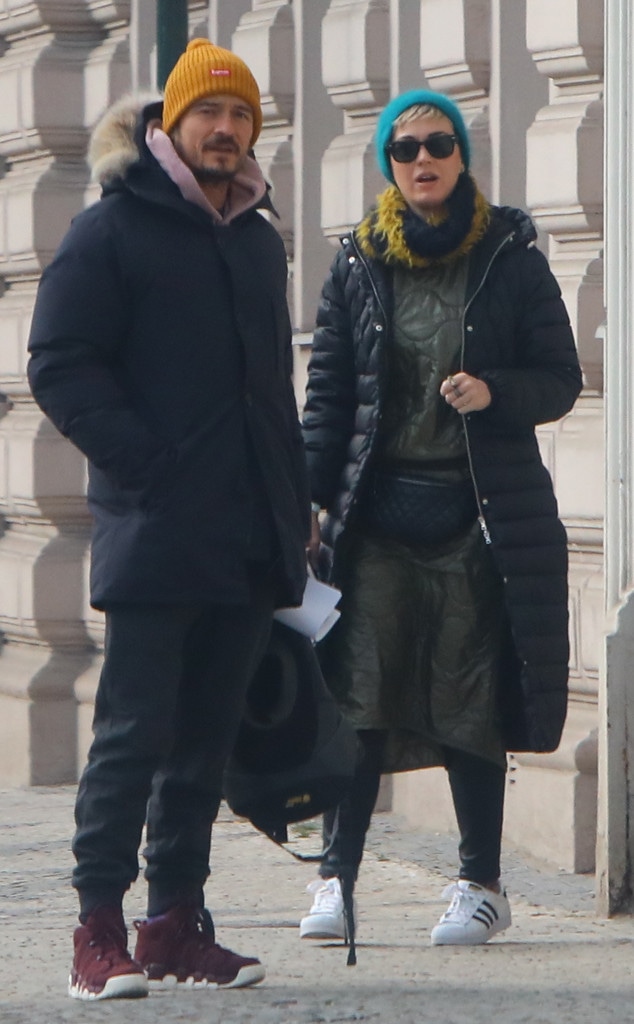 WENN/SPLASH
Katy Perry and Orlando Bloom sparked romance rumors on Wednesday after they were spotted touring around Prague.
According to an eyewitness, the pair left Bloom's apartment in the early afternoon. The insider claimed the 41-year-old actor has been renting the flat since the early fall and living in it while filming the TV drama Carnival Row with Cara Delevigne. The apartment is in a scenic location near the Vltava River and the Prague National Theater. 
Perry bundled up in a long black jacket, yellow scarf and turquoise beanie to block out the cold while Bloom kept cozy in a dark jacket, pink hoodie and orange hat. He also brought along his adorable pup.
After they left the apartment, the two enjoyed lunch at Savoy, where they sat at a table hidden from street viewers. Then, it was time for some sightseeing. According to the insider, the stars visited Prague Castle to see the St. Vitus Cathedral. The two then strolled along Golden Lane—a street lined with tiny houses inside the complex and headed off to the Strahov Monastery, which contains a breathtaking library.
Near the end of their day, the celebrities popped by the Orea Hotel Pyramida.
So, are Perry and Bloom back together?
"They haven't called each other boyfriend or girlfriend yet but it's [kind of] known to their close circle," another insider told E! News. "They talk all the time. Katy and Orlando have grown up since they cooled down. They never stopped communicating."
Perry and Bloom broke up after about 10 months of dating in February 2017. Still, the two maintained a close relationship. They've reunited for beach days, concerts and even vacations to the Maldives. 
"I think people are in and out of your life. It's nice to keep people you love around you," Perry told The Morning Mashup in August 2017. She also admitted that "lines get blurred" as people get older.
However, Perry may be wanting more.
"She hates being away this much, but they built more trust in their relationship then before," the insider shared. "They have met up a few times which was under the radar to the media. They try to keep what goes on between them private. "