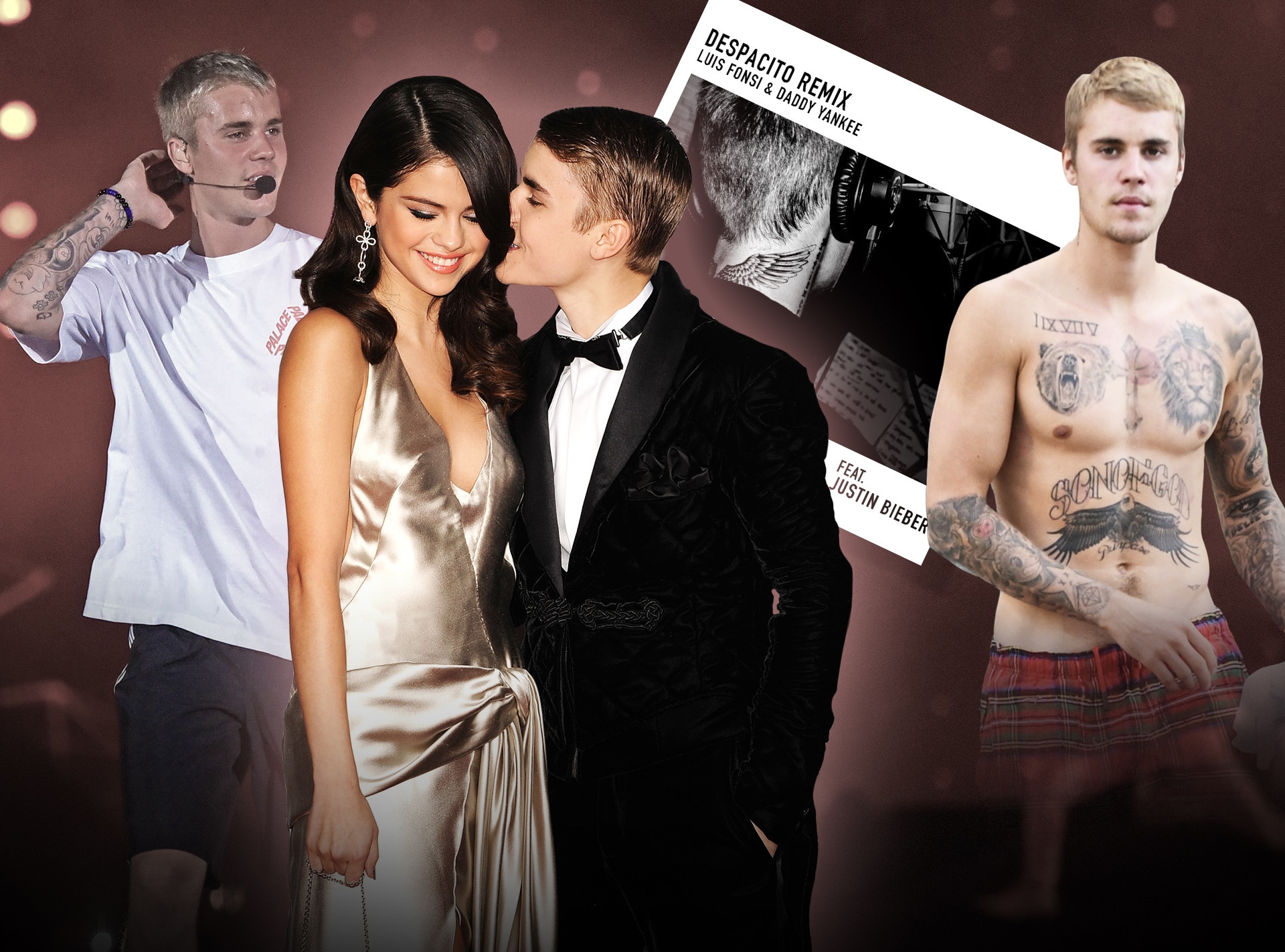 Melissa Herwitt / E! Illustration
Another year older, another year wiser—that's the hope for Justin Bieber.
Mar. 1 marks Bieber's birthday, and this year represents his 24th trip around the sun—and what a trip it's been.
Since his 23rd birthday, Bieber has released a chart-topping hit, reunited with his love Selena Gomez and learned what it really means to love yourself. While his journey hasn't been easy—and there have been plenty of mistakes along the way—Bieber has learned valuable life lessons.
So in honor of the singer's 24th birthday, here's a look back at Bieber's transformative year.
One Less Lonely Girl
2017 didn't start on the best note for Bieber.
About two weeks into the new year, the media caught Bieber's ex Gomez kissing The Weekend. News about the budding relationship spread. And even though Bieber and Gomez broke up in 2014, it looked like he wasn't over his ex.
Bieber dissed The Weekend's music—saying "that sh-t's wack"—and threw shade at the "Starboy" singer in an Instagram video. But as much as tried to put on a cocky front, Bieber couldn't hide his true feelings. On Valentine's Day, the "Baby" singer shared a video in which he said, "All I ever wanted was a Valentine. Now I don't even have a Valentine."
David Livingston/Getty Images, Steve Granitz/Venturelli/WireImage
Bieber was on the right path, and he recognized his growth. In April, he shared a picture from his 2014 DUI arrest to prove just how far he'd come.
"I love this because it reminds me I'm not exactly where I want to be but thank God I'm not where I used to be!!" he wrote next to a side-by-side photo of his mugshot and current face. "The best is yet to come. Do you believe it?" 
By loving himself, Bieber could, in turn, pass his love on to others. For instance, after the Manchester Attack at Ariana Grande's concert, Bieber joined forces with Grande and other artists to put on the One Love Manchester benefit concert—an event that raised nearly $3.5 million for the survivors and the victims' families. 
Even Gomez couldn't ignore the change in Bieber. During a June interview with SiriusXM's The Morning Mash Up, Gomez applauded all of the One Love Manchester performers and complimented her ex. 
"It was beautiful," she said, per ELLE. "I thought everyone did such a beautiful job. It was so gorgeous. I love how [Ariana] ended it. I thought Justin did great. It was really beautiful." 
He also continued to pay it forward by surprising patients at Children's Hospital of Orange County, and he shared thoughts about his faith with his fans.
Still, something wasn't right with Bieber. After performing in 150 shows across six continents, he was burnt out. So, in July, Bieber cancelled the last 14 shows of his Purpose tour.
About a week later, Bieber spoke out about the cancelled performances via a lengthy Instagram post. The singer expressed how grateful he was for the tour, his fans and their journey together. He also opened up about some of his struggles and how he'd learned from his mistakes.
"Learning and growing hasn't always been easy but knowing I'm not alone has kept me going," Bieber wrote in part of the post "I have let my insecurities get the best of me at times, I let my broken relationships dictate the way I acted towards people and the way I treated them! I let bitterness, jealousy and fear run my life!!! I am extremely blessed to have people in the past few years help me build my character back up[,] reminding me of who I am and who I want to be!!! Reminding me my past decisions and past relationships don't dictate my future decisions and future relationships.  I'm VERY aware I'm never gonna be perfect, and I'm gonna keep making mistakes. I wanna be a man that learns from them and grows from them!!"
Kevin Mazur/One Love Manchester/Getty Images for One Love Manchester
Could this be his best year yet? Never say never.