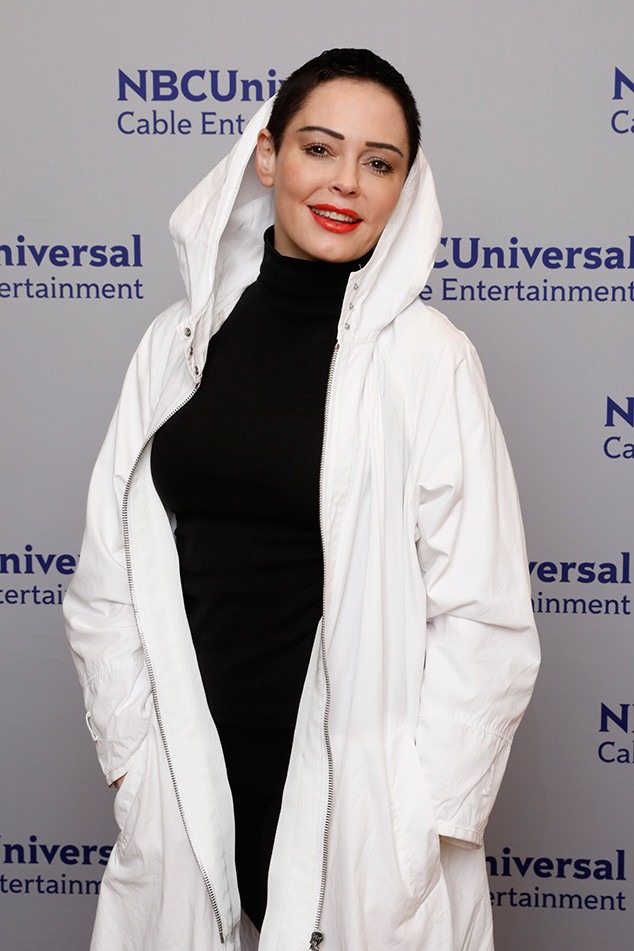 Trae Patton/NBCUniversal
UPDATE: A judge has declined Rose McGowan's motion to dismiss the drug possession charge against her, Billboard reports (via the AP). 
At a hearing held Monday, prosecutors reportedly said they have additional evidence to be submitted in the case. A preliminary hearing has been set for March 21. 
E! News has reached out to McGowan's attorney for comment.
_____
On Tuesday, Rose McGowan sought to dismiss her 2017 felony drug possession case in Virginia due to "lack of jurisdiction," E! News can confirm.
The actress is set to have a preliminary hearing on March 12 in Leesburg, VA., after authorities allegedly found cocaine in her wallet, which she accidentally left on a United flight at Dulles International Airport on Jan. 20, 2017 while on her way to the Women's March in Washington D.C.
According to court docs obtained by E! News, her attorney Jessica Carmichael is seeking that the case be dismissed in part due to the fact that five hours lapsed between when the wallet was lost and when it was found on board by the plane's cleaning crew, alleging that the star is a victim of "the Harvey Weinstein machine." 
The papers continue, "It is now public knowledge that Weinstein employed underhanded tactics to 'silence' his victims."
Carmichael also wrote, "There is simply no point in time at which the evidence places Ms. McGowan and the cocaine together in the same place."
The attorney argues that the case should be tossed because many people came and went on the aircraft during the 5-hour span that the actress did not have her wallet and due to "the underhanded targeting of Ms. McGowan" by Weinstein, whom the former Charmed actress has publicly accused of rape—an allegation that Weinstein has denied.
According to the docs, "McGowan has maintained her innocence" at all times on the felony charge.
Matt Winkelmeyer/Getty Images for TCM
Tuesday's motion also seeks dismissal the hearing on the technical grounds that drug crimes taking place on an airplane in interstate commerce should be handled in federal court, not state court. 
The lawyer writes, "When a crime is committed on an aircraft, however, and the state over which it is flying at that time cannot be determined, it falls under the special aircraft jurisdiction of the federal courts."
The Hollywood Reporter reached out to Weinstein's rep, who did not respond to the publication's request for comment.
McGowan's attorney told E! News that she had no comment at this time.
In late October, after making several attempts to contact the star, the Metropolitan Washington Airports Authority issued a bench warrant for McGowan and submitted it to a national law enforcement database.
On Nov. 14, the E! star was arrested and released on bond after turning herself in to authorities in connection with the felony drug possession charge.
(This story was originally published Wednesday, Feb. 28, 2018 at 7:34 p.m. PST)