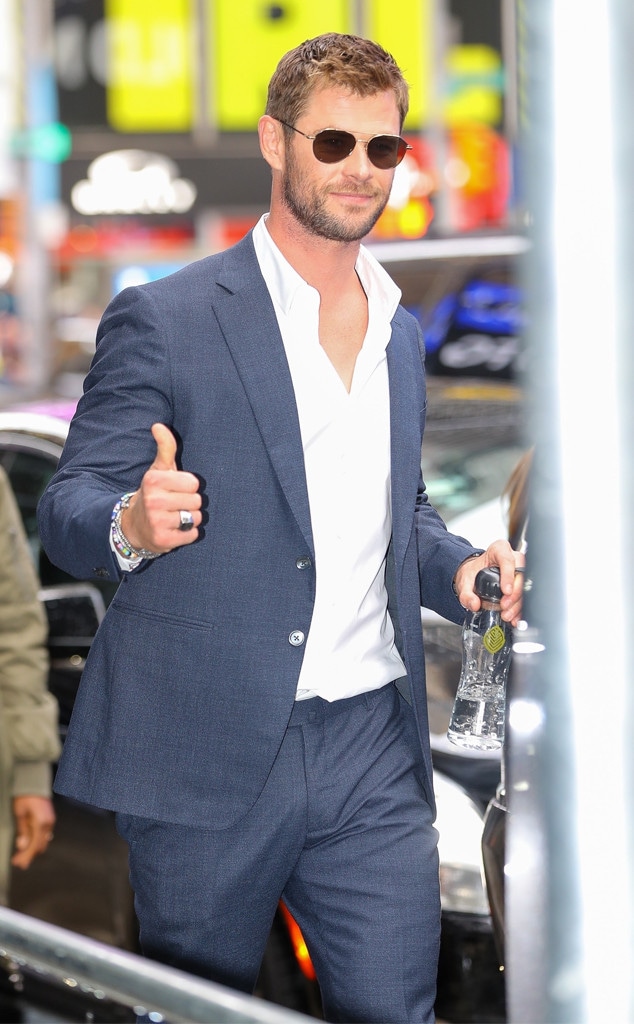 Spartano / BACKGRID
Here come the Men in Black...and Chris Hemsworth?
According to The Hollywood Reporter, the 34-year-old actor, who recently starred in Thor: Ragnarok, is considering joining the successful Sony franchise, which is set to be released in June 2019.
As for other names tied to the project, F. Gary Gray, who worked on The Fate of the Furious and Straight Outta Compton, is reportedly planning to direct the film, while Iron Man writers Matt Holloway and Art Marcum are also on board.
And while fans might expect to see Agents K and J, infamously played by Tommy Lee Jones and Will Smith in the 1997 original and the two sequels that followed suit, they're in for a surprise. According to reports, the studio has its sights set on introducing new characters this time around, one potentially being played by Hemsworth.
Mark Metcalfe/Getty Images for Disney
If the Australia actor does sign-on, this would make quite a year for the star. Hemsworth, who is just coming off his 2017 film 12 Strong, returns as Thor in Avengers: Infinity War which comes out in May, as well as Bad Times at the El Royale which is slated for an October 2018 release.
In an interview with USA Today last month, the star revealed how busy he's been as of late.
"Two days I ago, I was in Atlanta finishing Avengers in my Thor garb," he said. "It's really been two years of non-stop. I'm exhausted, but good."
And when asked about his role of Thor, the star said that he will be hanging up his cape following the fourth installment of the Avengers series, set to be released in May 2019.
"I'm done. I won't be playing the character again," he said. "This really seemed like this never-ending thing. And now it's potentially finishing."
Here's hoping that 2019 brings on some Hemsworth MIB!