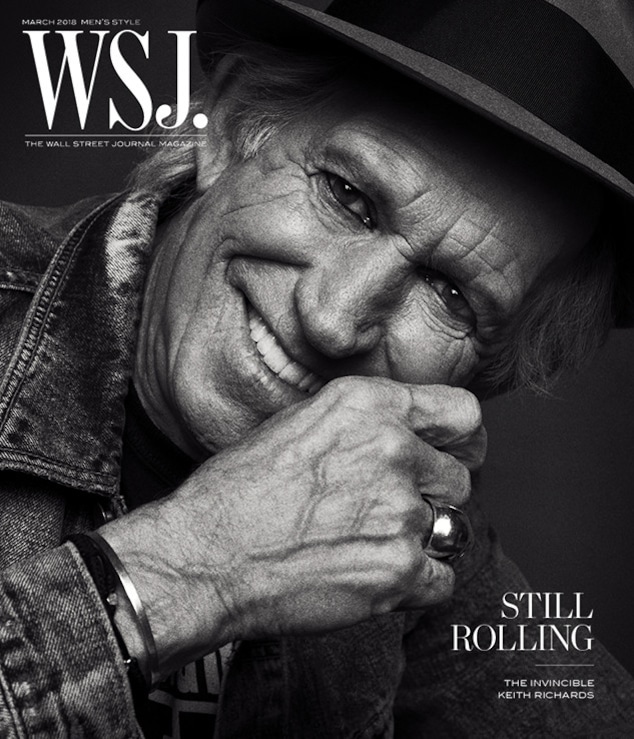 Inez & Vinoodh/WSJ. Magazine
Keith Richards gets a little snippy in WSJ. Magazine's March Men's Style Issue.
Mick Jagger, who welcomed his eighth child at age 73, is "a randy old bastard," the Rolling Stones guitarist says. "It's time for the snip—you can't be a father at that age. Those poor kids!"
(After the magazine's interview was published online and went viral, Richards issued a statement to E! News. "I deeply regret the comments I made about Mick in the WSJ., which were completely out of line," the rocker said. I have of course apologized to him in person.")
Richards, who has five kids and five grandchildren, makes no secret of his prickly relationship with the rock musician. For example, in Life, his 2010 memoir, he called Jagger "unbearable" and ridiculed his "tiny" penis. "Mick and I would have spats anyway, no matter what I said in the book, and I left a lot out," he says. But, he adds, "Mick and I live off of this fire between us."
Their tension is the secret to their success as rock legends, Richards says. "It's been up and downhill, but if I'm talking about the Rolling Stones, there ain't a front-man like Jagger," he says. "Don't matter how many bones you want to pick out of him, he's amazing to work with."
Inez & Vinoodh/WSJ. Magazine
(For the record, writing Life was difficult. "I'm glad to get a lot off my chest, and I was amazed by the response that it got. I like the way that it worked out," he says. "But it's a hell of a thing trying to tell your story and still trying to protect your friends and neighbors at the same time.")
Writing songs for Jagger is an "interesting challenge," he says. "There's no point in my giving him a song that's beyond his range or that he's not comfortable with. What I really like to do is write a song where Mick goes, 'Yeah, right, I'm in!' That's what I try and do, because I'm writing for the lead singer of the Rolling f--king Stones, and that is my job—to give him a riff that he leaps on and goes, 'Right, I know what to do with this.'" Recently, they paused recording to see their families over the holidays. "It's more difficult for us to write together the further apart we are," he explains, "but it also has its benefits in that we come back to it from a different angle."
Oftentimes, Richards says, he will wake up in the middle of the night with a couple of notes in his head, and he will have to get out of bed to figure it out. "It's like being incontinent—either you've got to take a pee, or you've got to lay this little line down. So you get up, go to the piano or the guitar and hope it sticks," he says. "I don't record s--t. If I don't remember it, it's no good. I'll wait for the wife or one of the daughters and see if they start to sing it without knowing it."
But all those sleepless nights are worth it. "I think the band is sounding better than it ever has," he tells WSJ. Magazine (on newsstands March 10). "Does it matter now? To us, it does. There's a certain thing in this band, which I find really weird, is that they just want to do it. Some nights we're better than others, of course, but all I know about this damn band is that they always want to make it better than the night before. And that's one of the things that keeps us going."