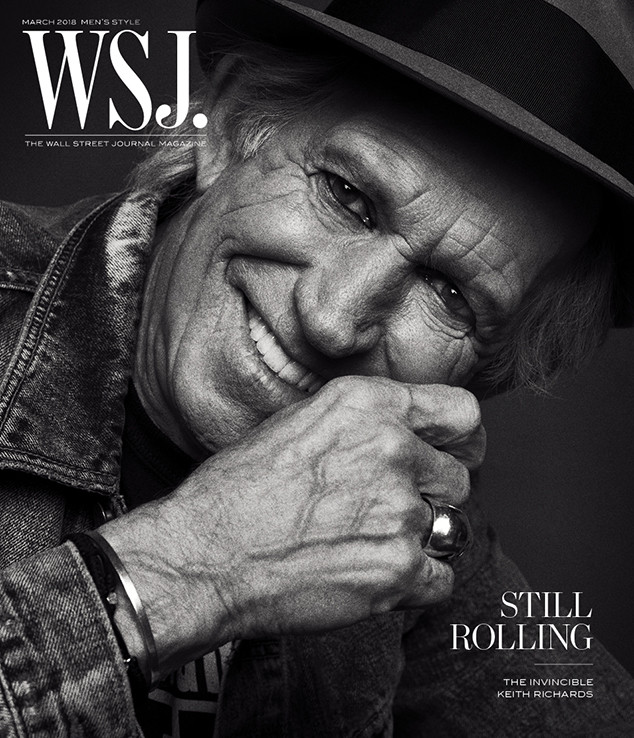 Inez & Vinoodh/WSJ. Magazine
Keith Richards gets a little snippy in WSJ. Magazine's March Men's Style Issue.
Mick Jagger, who welcomed his eighth child at age 73, is "a randy old bastard," the Rolling Stones guitarist says. "It's time for the snip—you can't be a father at that age. Those poor kids!"
(After the magazine's interview was published online and went viral, Richards issued a statement to E! News. "I deeply regret the comments I made about Mick in the WSJ., which were completely out of line," the rocker said. I have of course apologized to him in person.")
Richards, who has five kids and five grandchildren, makes no secret of his prickly relationship with the rock musician. For example, in Life, his 2010 memoir, he called Jagger "unbearable" and ridiculed his "tiny" penis. "Mick and I would have spats anyway, no matter what I said in the book, and I left a lot out," he says. But, he adds, "Mick and I live off of this fire between us."
Their tension is the secret to their success as rock legends, Richards says. "It's been up and downhill, but if I'm talking about the Rolling Stones, there ain't a front-man like Jagger," he says. "Don't matter how many bones you want to pick out of him, he's amazing to work with."