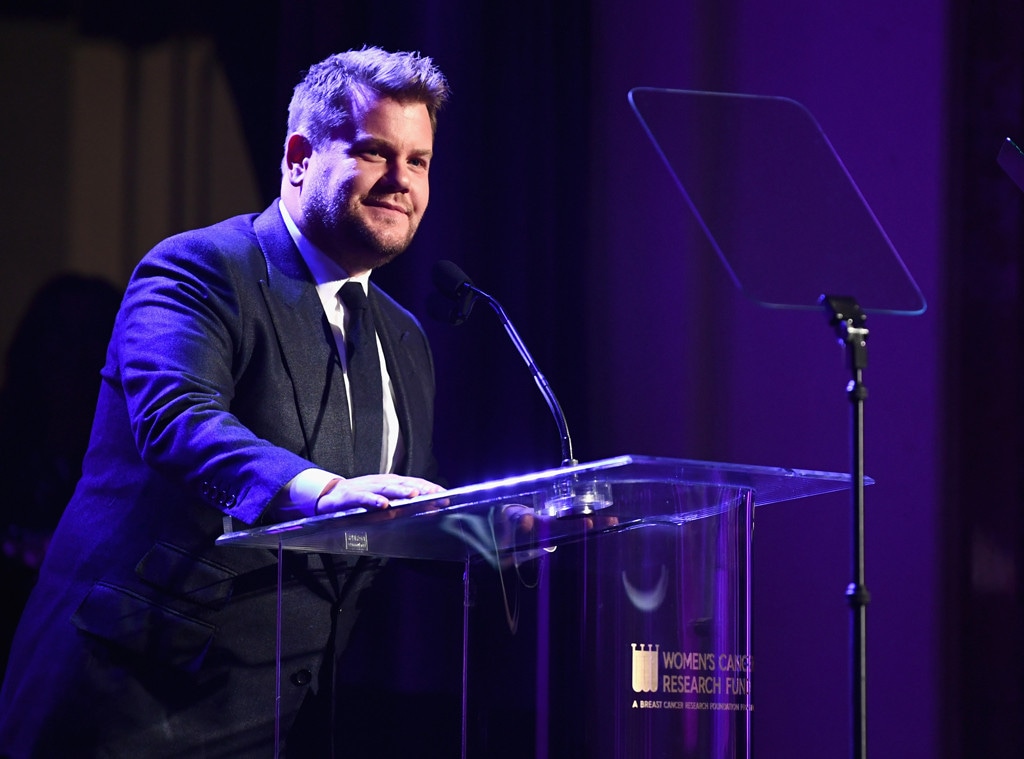 Emma McIntyre/Getty Images for WCRF
Watch out, Tom Hanks! James Corden is calling you out.
Well, playfully, of course. The Late Late Show host and Tuesday night's emcee for the Unforgettable Evening Gala benefitting the Women's Breast Cancer Research Fund kicked off the event by taking verbal aim at the Oscar winner. Hanks missed out on the star-studded event, even though his longtime wife Rita Wilson, who is one of the leaders of the fund, was in attendance. 
"Unfortunately Tom Hanks could not make it tonight," Corden quipped. "He does not support cancer research. He's very humble about it. The tide is about to turn on that guy... "
However, that would only be the start of the jabs for the absent actor. When it came time to introduce Wilson, Corden continued his Hanks shtick. 
"[Here] is a lady coming out who has suffered tremendous hardship in her whole life. She has lived through something truly unbearable because for the last twenty something years she has been loveless, in a loveless marriage with Tom Hanks," Corden joked of the couple, who have been married for 30 years. 
"Imagine what it's like to wake up every day with a man who absolutely refuses to be here tonight. His lack of support for cancer research and yet she stood up and she said no, Woody, Forest, or whoever the f--k you think you are, I'm going to stand up and make a difference. And just because you paint your hand red and place it upon my face, I will never be that Wilson. Because I am a Wilson on a higher plane," he continued, poking fun at the star's most memorable roles. 
Jokes aside, the actress took her moment at the podium to launch into an impassioned speech in the name of courage. "When it comes to the subject of women in courage, we're all living in remarkable times and in remarkable times it's probably a good idea to take a step back and listen to the voices of the women who helped make these times of reckoning possible. And here, in 2018, when it appears that time is finally up, I am reminded of the words of the legendary suffragette Elizabeth Cady Stanton who once said these wise and timeless words: 'The best protection any woman can have is courage.'"
As Wilson continued before presenting Sofia Vergara with the Courage Award, "Courage, that is a word too many of us, even in this room, grew up associating with men rather than women. And as we've seen in recent days, in our business and with the students in Parkland, Florida, courage comes in every shape and size and gender and all ages, too. Those of us who have fought the good fight against cancer know that there is no weapon quite like courage."
As for Corden's comical routine, it got Wilson's stamp of approval. "Thank you for helping us tonight, James!!!" she wrote to him on Instagram. "You were hilarious and wonderful."
—Reporting by Alli Rosenbloom