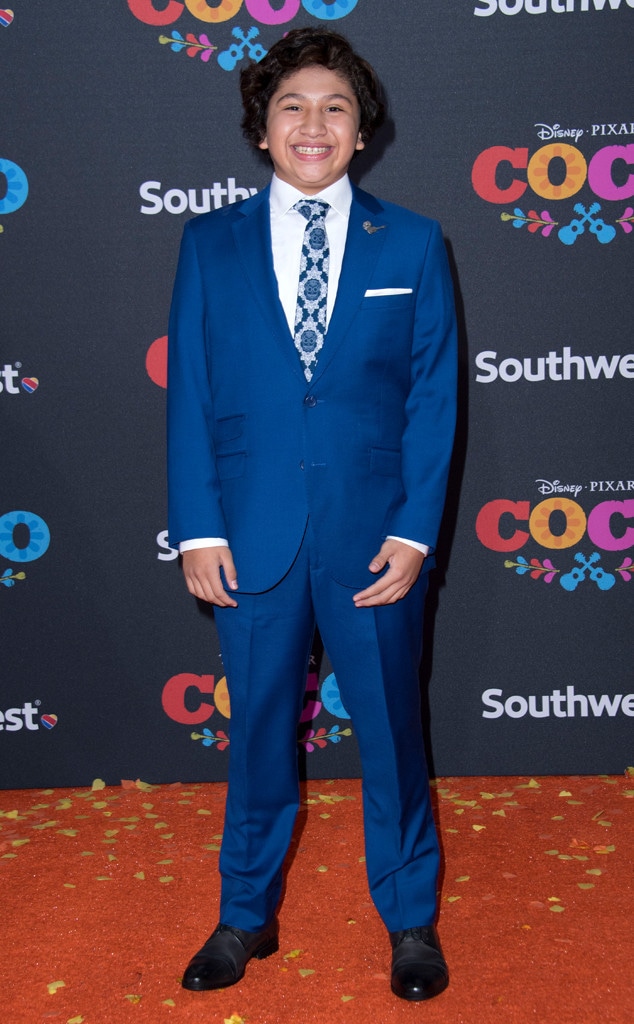 VALERIE MACON/AFP/Getty Images
Coco broke records in every way, and we have a feeling it isn't done making history. 
We recently chatted with Anthony Gonzalez about the film's success, what his friend's think and what he learned while working with Coco's powerhouse cast. 
Despite his family's generations-old ban on music, 12-year-old Miguel (Gonzalez) dreams of becoming a musician like his idol, Ernesto de la Cruz (Bratt). After being dissuaded by his grandmother, Miguel strums his ancestor's guitar and winds up in the mystical and colorful Land of the Dead. Along the way, he encounters a trickster, Hector (García Bernal). Together, they set off on an extraordinary journey to unlock the real story behind Miguel's family history. 
Lee Unkrich directed the film, which premiered in November 2017 and features the voices of Alfonso Arau, Benjamin Bratt, Jaime Camil, Sofía Espinosa, Gael García Bernal, Anthony Gonzalez, Selene Luna, Ana Ofelia Murguia, Edward James Olmos, Alanna Ubach and Renée Victor.
Gonzalez, who says he's seen the film about nine times or so, also says he'll never forget the first time he saw it completed. 
"I just didn't believe that I was part of this movie. Just with the message it sends, it was so amazing. it was very touching for me like when I was recording it, I had my idea of what it was going to be like and what events were going to happen, but I had no idea about the colors and the characters," he says exclusively to E! News. "I had no idea how it would turn out, and it was way better than I expected. I love it so much. I'm so happy that everyone loves it as well."
While his friends had a similar reaction, "They're all really happy and supporting it. They just couldn't believe that I was in the movie."
Gonzalez, who's been singing since he can remember, also gave a lot of heart to the film's epic soundtrack. 
"Well, I've been singing since I was four. I did do a lot of vocal warmups to sing but mainly what I was focused on was the emotion of each song, for example, like when I sing 'Remember Me,' it's a bit sad and 'Poco Loco' is happy, and 'Proud Corazon' is touching and moving and the 'The World Is Mi Familia' is just beautiful," he explains. "It was very easy to feel like what Miguel was going through because for example, while I was doing that [singing 'Remember Me'] I was thinking about my grandfather that passed away when I was six years old and he was very supportive of me. So I was thinking like I was singing that song to him. That was my mindset and that really helped a lot."
The film's songs are equally moving as they are powerful. "Remember Me," which was written by Kristen Anderson-Lopez and EGOT winner Robert Lopez, received an Oscar nomination for Best Original Song. The film also received the Oscar nomination for Best Animated Feature. 
This Sunday, Gael Garcia Bernal and Natalia LaFourcade will perform the Oscar-nominated song. 
At the time of our interview, Gonzalez wasn't sure if he'd be attending the prestigious award show but regardless was elated about the film's nominations. 
"I don't know yet," he says when asked about attending his first Academy Awards. "I really hope Coco wins. I wish the best for them. I'm very happy that it got nominated twice and that everyone is supportive of the movie."
While working with the film's phenomenal cast, Gonzalez said he was able to observe and learn from many of the actors who he's always looked up to. 
"I actually learned many things about them because I actually got to meet them and see how they work," he says. "I actually did a lot of interviews with Benjamin Bratt and I learned a lot about him in all of those 60 something interviews that we did, because it was a junket. He speaks very well, and I learned that from him."