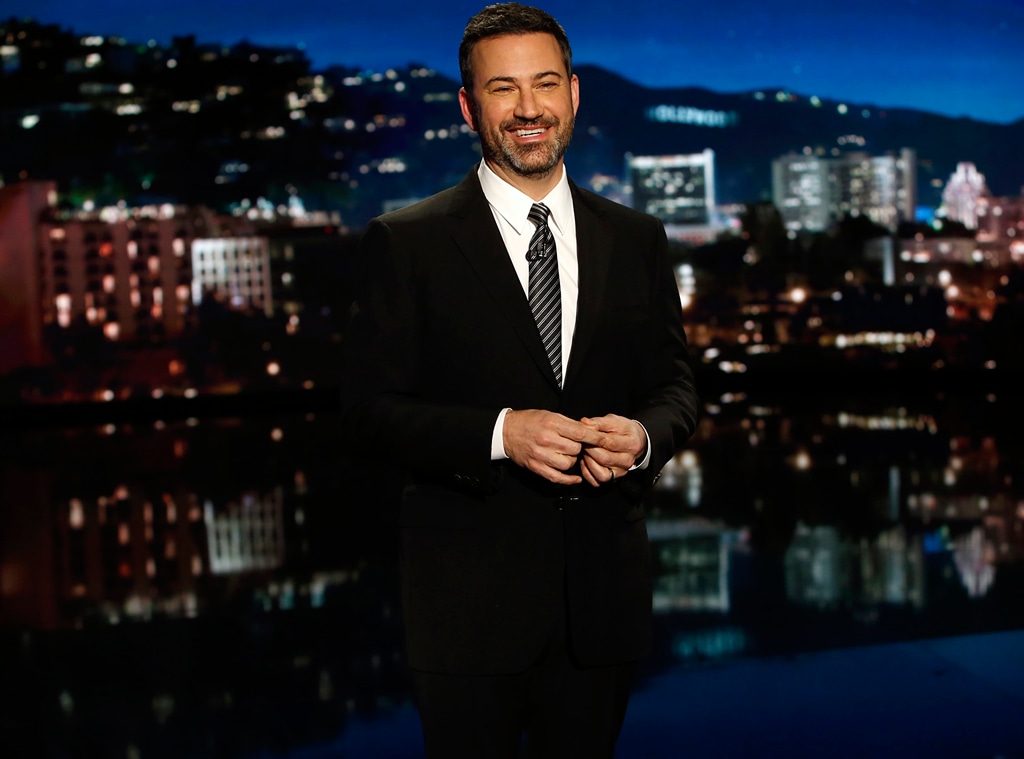 ABC
Despite last year's headline-making hiccup/worst gaff in the history of the Academy Awards, Jimmy Kimmel is back again to host the 90th Academy Awards this Sunday.
In May, Academy President Cheryl Boone Isaacs announced that Kimmel would be returning to host the show again.
At the time of the announcement, Kimmel told E! News that, "Hosting the Oscars was a highlight of my career and I am grateful to Cheryl, Dawn [Hudson] and the Academy for asking me to return to work with two of my favorite people, Mike De Luca and Jennifer Todd. If you think we screwed up the ending this year, wait until you see what we have planned for the 90th anniversary show!" 
But a lot has happened since the 2017 Oscars. 
With the #MeToo Movement and the take-down of many of Tinsel Town's biggest players, the tides have changed in Hollywood. Similarly, a lot has happened in the funnyman's life over the past year. Namely, wife Molly McNeary gave birth to the couple's son, William John Kimmel, who had a heart defect and had to undergo open heart surgery at just three days old.
The big-hearted comedian has let the world in on his struggles, triumphs, his politics and his desire to help others. Needless to say, the past year has been a roller coaster ride for the 50-year-old and his adoring fans (and Internet foes) filled with tears and laughter.
Let's go through the late night host's biggest and best moments during the last turn around the sun...
Most Emotional Moment: When Kimmel revealed to the world that his son had undergone open heart surgery because of a congenital heart defect.
He told the crowd (and the world), "On Monday morning, Dr. Vaughn Starnes opened his chest and fixed one of the two defects in his heart. He went in there with a scalpel and did some kind of magic that I couldn't even begin to explain. He opened the valve, and the operation was a success. It was the longest three hours of my life."
He also made an impassioned speech on the need for health care.
The monologue has been viewed more than 12 million times.
Vivien Killilea/Getty Images for L.A. Love's Alex's Lemonade
Cutest Moment: When Kimmel brought his 5-month-old baby boy to the red carpet for the first time in September. 
On Sept. 10, Kimmel and Molly brought Billy and their 3-year-old daughter Jane to the  L.A. Loves Alex's Lemonade charity event at UCLA.
Despite the difficult few months, the family looked adorable while posing together, dressed for the Los Angeles heat. Billy donned a cute navy and white striped onesie while their daughter rocked an all-white ensemble with a pair of checkered Vans sneakers.
Funniest Moment: While it's hard to pinpoint the funniest moment from the comedy king in the year leading up to the 2018 Oscars, it can be said that his famed "I Ate Your Halloween Candy" video was pretty hilarious. 
Most Impassioned Moment: Kimmel made an emotional call for action against gun violence early this month on an episode of Jimmy Kimmel Live! following the tragic shooting in Parkland, Fla.
The late night host became teary-eyed describing the Valentine's Day attack that resulted in 17 deaths. He then showed a clip of President Donald Trump's response to the tragedy.
"We are all joined together as one American family and your suffering is our burden also," Trump said in his speech. "No child, no teacher should ever be in danger in an American school. No parent should ever have to fear for their sons and daughters when they kiss them goodbye in the morning."
While Kimmel said he agreed with Trump's statement, he said the country needed legal reform. 
"So, here's what you do to fix that," he said. "Tell your buddies in Congress—tell Paul Ryan, Mitch McConnell, Marco Rubio, all the family men who care so much about their communities—that what we need are laws. Real laws that do everything possible to keep assault rifles out of the hands of people who are going to shoot our kids. Go on TV and tell them to do that."
Most Heartwarming Moment: Ellen DeGeneres surprised Kimmel with news that she had honored honor him and his son Billy with a very special gift at the hospital.
"We called our friends at Children's Hospital LA," she told him earlier this week. "We have named one of the rooms of the Heart Institute floor in honor of Billy." 
They proceeded to show footage of the room with a sign on it reading "In Honor of Billy Kimmel." Meanwhile, the proud dad didn't immediately break out into tears, but he did take a moment to discreetly wipe his eye. 
"That will forever be the Billy Kimmel room," DeGeneres said.
The room was filled with emotion as the grateful star gave her a kiss and said thank you.