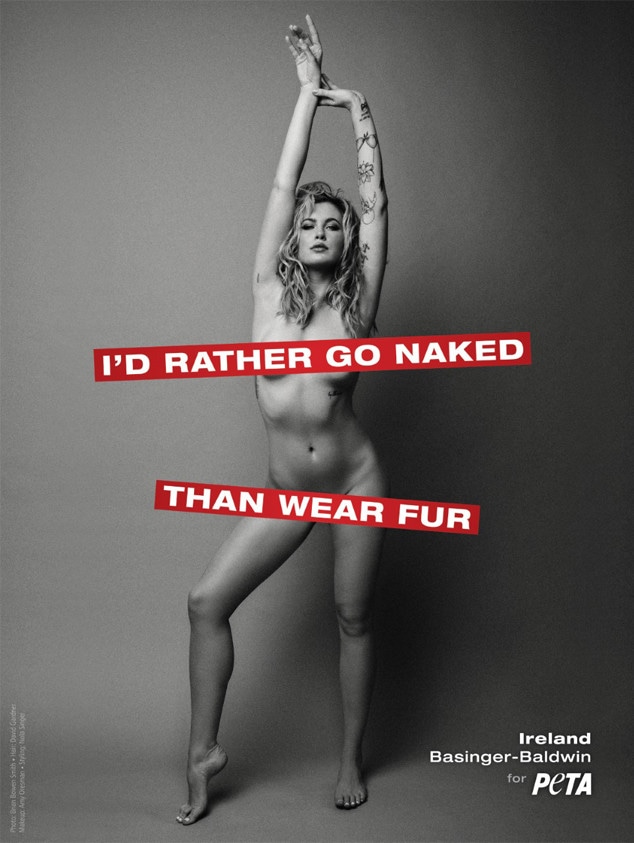 PETA
Ireland Baldwin is fur-free and proud. 
E! News has an exclusive look at the 22-year-old model's PETA campaign, which comes almost 25 years after her model mama Kim Basinger famously posed nude in support of the animal rights organization.
Ireland (whose father is actor Alec Baldwin) rocks nothing but her birthday suit in the black and white snapshot, as the phrase "I'd Rather Go Naked Than Wear Fur" covers her body parts. As the blond bombshell explains in an accompanying video, working with PETA was a lifelong goal for Ireland. 
"I saw the images from when my mom shot this campaign so it's something I've aspired to do," she says. "Since I was a little girl I wanted to do something for PETA."
Ireland is so passionate about the cause, in fact, that her modeling contract includes a clause saying she won't wear fur. "I didn't want that to be a part of my brand," she says. "I've had wardrobe people try to put me in fur coats and jumpsuits and lay on a fur rug and do whatever, and I've actually told people to f--ck off."
The model hopes to educate others by partnering with PETA, saying, "Some people just really don't know. They really don't have the education... You're still buying cruelty and you're still advocating for it. To a fur maker and a fur farmer, an animal is just dollar signs." 
To hear more on Ireland's animal-loving perspective, check out the video above!