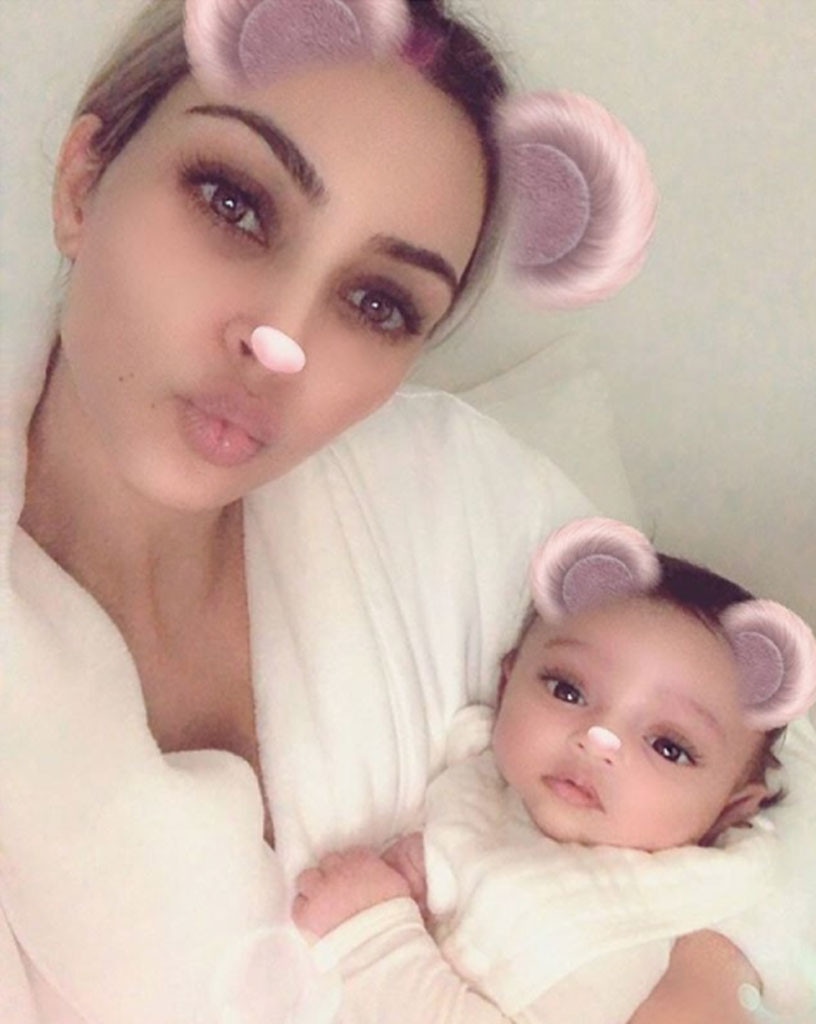 Snapchat
Kim Kardashian shared the first photo of Chicago West on Monday.
The Keeping Up With the Kardashians star posted a pic with her and Kanye West's newborn baby girl on Instagram with the caption, "Baby Chicago." In the sweet picture, Kim holds baby Chicago as they look into the camera and are both decked out in Snapchat's pink-hued teddy bear filter.
This pic comes just over a month after Kim and Kanye welcomed their third child into the world via a surrogate. And while baby Chicago made her debut in Kylie Jenner's pregnancy video in early February, Monday was the first time Kim shared a photo of her baby girl on social media.
The first photo of Chicago was shared almost exactly two years after Kim posted the first picture of son Saint West.
On February 22, 2016, Kim shared a photo of Saint on her website. "Today is my dad's birthday," Kim wrote. "I know there's nothing more in the world he would have wanted than to meet his grandchildren. So I wanted to share this pic of Saint with you all."
Kim had previously posted a photo of Saint's hand holding on to sister North West's hand on Twitter in January 2016, a month after she gave birth.
Back in August 2013, it was Kanye who unveiled the first photo of North on Kris Jenner's talk show.
"When my daughter was first born, people ask me how do you feel is everything different? No, not yet," Kanye told Kris on the show. "It takes time to understand and you met a brand new person…and the thing I think about as a dad is just protection."
Two months later, Kim shared a rare Instagram photo of North wrapped up in a baby swaddle.
"I missed waking up with my little [angel emoji]," Kim captioned the picture.