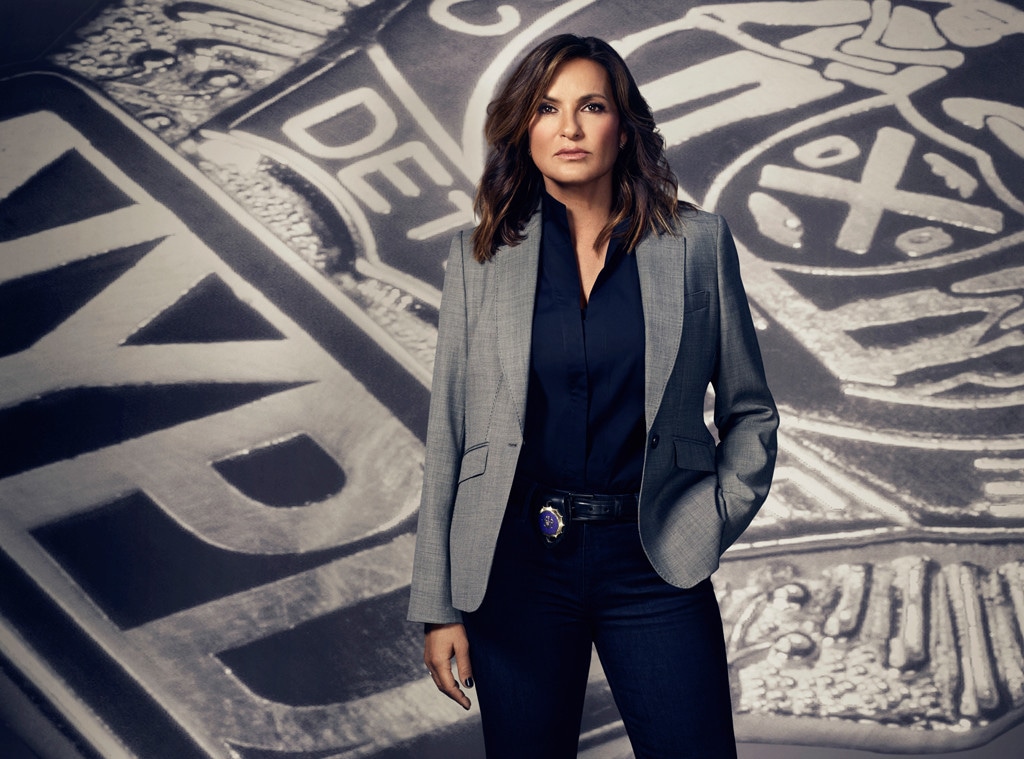 NBC
Mariska Hargitay has had a badge and gun strapped to her person as Olivia Benson on Law & Order: SVU for 19 seasons of TV, and she's showing no signs of fatigue with the long-running series. The Emmy winner has repeatedly told E! News she's more engaged with the subject matter and character than ever—and there's a reason why: Collaboration.
SVU returned for season 19 with a new showrunner, Michael Chernuchin, a veteran of Law & Order, Law & Order: Criminal Intent and the showrunner of the short-lived Chicago Justice, who came in with a game plan for the season and its leading lady.
"Well, I told her I was going to really lead her through the woods, basically. She was going to hit bottom with the tug between home life and family life. We've kind of done that with the Brooke Shields episodes where everything seems great and it then it couldn't get worse. She comes out stronger for it, and I think we succeeded," Chernuchin told E! News. "And she loved it."
Chernuchin also old the writers at the start of the season the show is about family.
"A lot of our plots are family-driven plots, and also, I wanted to look at the people in SVU as if they were family. You have mama bear, you have the crazy uncle [Laughs.], people come, people go, and the kids," he said. "We always have in the back of our mind when we're starting any script: it's about family."
And the head of SVU's family is Mama Bear Benson, both on screen and off.
"I call [Hargitay] the No. 1 No.1. She is the best lead actor I have ever worked with, collaboratively," he said.
Chernuchin and Hargitay worked closely on the standout episode "Something Happened." The episode broke from the traditional SVU structure of crime, investigation and prosecution, and largely took place in the squad's interrogation room. The episode featured Hargitay's Benson and Melora Walters' victim-turned-suspect diving deep in what was essentially a two-person play.
"I don't know if she told you, on that episode 'Something Happened,' we would get to the stage about two hours before call and just rehearse and figure out every scene. It was basically Mariska, Melora, Alex [Chapple], the director, and myself, and it was the most fun I've ever had in Hollywood. I love that creative collaboration and who knows Benson better than Mariska? It's been going great," Chernuchin said. "I can't wait to get to work every day. It's one of those things."
The feeling seems to be mutual for Hargitay. She said her experience and working relationship with Chernuchin has been unexpected.
"It's been utterly collaborative in a way that I didn't even know was possible, and certainly not in a way that we traditionally…Each week it gets more exciting because [Chernuchin] keeps topping himself for me," Hargitay told E! News in November. "Before, the writers would come up with the material and we would do it or tweak it, but Michael is a true collaborator in ways like that. I just did another episode with Brooke…we did this amazing show…We did a read-through and I was like, 'I don't know, what if we did this? What if we did that?' and Michael was the first one to go, 'This is why I love to do read-throughs! I want everybody's input!' And we, together as a group, came up with this amazing idea and Michael was the one who seemed to be the most excited by this collaboration.
"I really find him ego-less, which is such a great testament to his artistry. It's always the best idea wins. Right now the creative team at SVU is so exciting to me because it is a true sort of team, in that everyone is pitching and throwing ideas and everyone is listening. It's the best idea wins. That's just the way we roll," she continued. "It's been very exciting. For Michael to give me the honor to have so much input, it's absolutely thrilling and of course makes me even more engaged."
Chernuchin said he has "never felt as free as a writer as I have on this show."
"When I first joined, I said, 'How can we do rape week after week? It'd get boring.' It's a lot more than that. I get to deal with issues like I did on Law & Order, but I get to throw raw emotion on the screen every week. On Law & Order you really couldn't do that because your victim was dead," he said. "We couldn't be more relevant right now with what's going on in the world, with #MeToo, it's incredible...It's great that we're dealing with things that the world is dealing with."
Law & Order: SVU airs Wednesdays, 9 p.m. on NBC.
(E! and NBC are both part of the NBCUniversal family.)