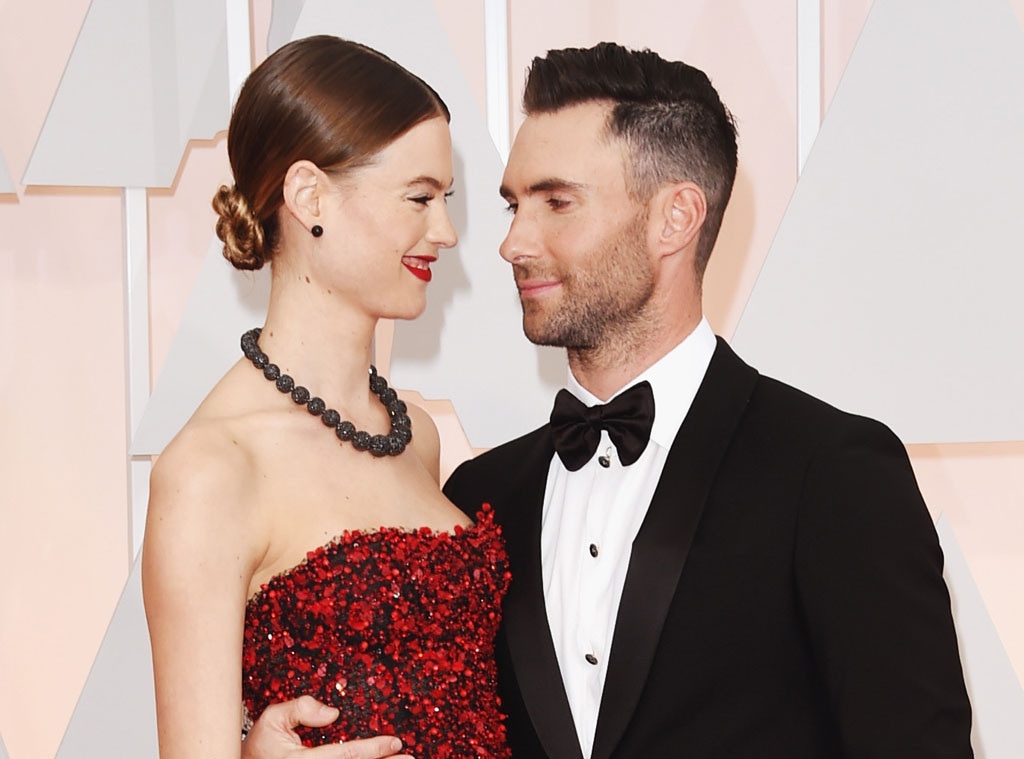 Getty Images
Adam Levine didn't think he was the marrying kind, either.
"This is the longest, most functional relationship I've ever been in," he told Howard Stern in 2012, talking about his girlfriend at the time, model Anne Vyalitsyna. "I don't want to screw it up."
That was shortly before he screwed it up.
There were reasons why, after winning repeatedly at the game of meeting women but not being able to nail the long-term commitment part, he couldn't picture himself settling down.
"There's two kinds of men," Levine reasoned with Details in the spring of 2012. "There are men who are f--king misogynist pigs, and then there are men who just really love women, who think they're the most amazing people in the world. And that's me. Maybe the reason I was promiscuous, and wanted to sleep with a lot of them, is that I love them so much."
Totally the reason.
For years now, though, he's been madly in love with Behati Prinsloo, his wife of five and a half years and the mother of his two daughters.
But who could've predicted that day would come? At least so soon for a proclaimed lover of all the women?
Even after he had met the South African-born model, he told Nylon Guys in 2013, "If you don't get married, you can't get divorced. Why couldn't we learn from the devastatingly low percentage of successful marriages that our last generation went through?"
His concerns led to him not locking it down without a hitch the first time. Instead, he dated Prinsloo for almost a year, then they split up in May 2013. Levine was spotted in the company of model Nina Agdal shortly afterward, but within a month he and Behati had reconciled, and he proposed that July.
And with that, Leonardo DiCaprio could go back to having all the models to himself.
We kid, sort of, but Levine's reputation as a ladies' man had so far preceded him that he signed up for The Voice in 2011 part to help give his image a tweak.
"I've always felt a little misrepresented in the world," he told Details in the spring of 2012. "I felt like people only knew me as a singer who dated pretty girls. A little bit of a bimbo. Maybe I was kind of a bimbo. I was the music dude that was naked all the time with the girls, and that's fine, no problem with that.
"But I wanted to create a little balance. When the show came around, I thought, 'People now know that I have a brain.'"
To be sure, his tenure on The Voice, which lasted for 16 seasons over eight years, was the start of a whole new era for Levine—he was still the studly singer, yes, but finally the essence of his charm and appeal were on display. Who knows, maybe Prinsloo was more willing to give him a chance once he became known for more than being—in his own words—"kind of a bimbo."
The Maroon 5 frontman had indeed relished the perks of being a rock star, though it's been pointed out that perhaps he would've been exactly the same even if he'd had a normal job.
"Adam's been the exact same dude ever since I've known him. Fame kind of justified his personality," bassist Mickey Madden told Rolling Stone in 2007.
And if he hadn't gone through a tough breakup, the band's smash-hit debut album Songs About Jane may have never happened.
MediaPunch/REX Shutterstock
Levine once nonchalantly explained to Howard Stern that he had bedded his girlfriend at that time, Rebecca Ginos, on her 21st birthday, "the first night we met." (He denied to Stern, however, that he had previously hooked up with Paris Hilton, Natalie Portman and Maria Sharapova. He said he "did not have sexual intercourse" with Lindsay Lohan. He claimed he didn't hook up with Jessica Simpson while she was still married to Nick Lachey. And he insists he didn't break up with Simpson via text.)
Also talking about Ginos, Levine told Rolling Stone, "We were casual at first and it turned into something amazing. She just wants to en­joy my company and love me. And I love her. It's really simple and beautiful. When you're younger, relationships thrive on dra­ma. And if there's no drama, you're bored and it ends. I'm not into that anymore. I know more about myself, which pre­pares you to figure girls out."
He added, "I guess I should start calling them women now, huh?"
Watch:
Adam Levine & Alicia Keys on Balancing Careers With Kids
Levine went on to date model Angela Bellotte in 2009 before meeting Anne V., whom he would eventually go on to date for two years.
"He thought I was a stuck-up bitch and I kind of thought he was a d-bag musician" when they first met, Vyalitsyna told Stern when she sat in on the interview with Levine in 2012.
Some of that may have been Levine protecting himself. It's not as if he's never been rejected.
"I was su­per-hung-up on this girl, and I just could not get her to pay attention to me," he told Rolling Stone in 2007, recalling the inspiration for "Won't Go Home Without You." "I was in the driveway, having just gotten home from some rejection, and I said, 'I've got to write a song that's going to make this girl like me."
That being said, "She doesn't know it's about her. I ended up dating her best friend for a year and a half."
Already by then he'd been labeled a "man-whore" in the New York Post.
"It's funny how they latch on to you," Levine told RS. "By 'man-whore,' they mean '28-year-old guy who fell into a good situation and had fun. I was dabbling, hanging out, partying, drinking, giving hugs, doing other things we won't talk about. It was the hedonistic part of my brain. But was I seriously dating anybody who was a famous person? No. It was flattering, but I got credit for a lot of things I didn't do."
He said in 2011, while he was dating Anne V.—whose hands are covering his privates in the famous nude photo of him published in Cosmopolitan UK that year—that his touring schedule and marital-like commitment to his band were among the things he considered when thinking about tying the knot.
"There are many things that keep me from getting married," Levine told Elle.com. "But there will be a time when marriage makes sense to me... I have a very all-over-the-place lifestyle. The people I know who are married—90 percent of them have houses and live in the same place and sleep in the same bed every night." Moreover, he said, he didn't want to get married just because everybody else was doing it.
"The most important thing about marriage is understanding that it might not be the right time, regardless of what your friends are doing," he said. "Peer pressure is a motherf--ker. Peer pressure plays a huge role in people's desire to get married."
In April 2012, less than two months after Levine deflected Howard's pointed questions about marriage, he and Anne V. broke up.
They had been having troubles, but Levine was reportedly blindsided by the official statement Anne released first to People.com.
"Adam and I have decided to separate in an amicable and supportive manner. We still love and respect each other as friends. I wish him all the best," the Russian-born model said.
A source told Us Weekly, "Adam's heartbroken. He wasn't even fully sure they were really broken up."
Just in time, though, as it turned out.
He met Behati Prinsloo that June—and all it takes is one to change everything.
JEAN-BAPTISTE LACROIX/AFP via Getty Images
"Famous last words: "I'll never get married,'" Levine told Jay Leno on The Tonight Show in October 2013. "You know, I still don't think you have to get married, unless you meet someone that makes you want to marry them. And then you marry them and it's wonderful."
"He somehow found such an attractive woman who actually is, like, an unbelievable person...When you win the lottery and become him, you don't usually win the lottery again and find the most amazing woman in the world," pal Jonah Hill, who officiated at the couple's 2014 wedding in Cabo San Lucas, told Howard Stern in 2016. 
"She's the best," Levine said about his wife during another Stern sit-down in October 2017.
"I think that as far as being a father, or being a parent, or just being a person in the world, which is extremely complicated...I feel like I've managed to figure out," he searched for the right words. "Whatever life is, I'm doing it pretty well. I wake up happy."
Levine and Prinsloo's eldest daughter, Dusty Rose, was born in September 2016, and her sister, Gio Grace, was born in February 2018.
Allen Berezovsky/Getty Images
"I'm obsessed with them," Levine said on The Ellen DeGeneres Show in October. "I genuinely just adore them in a way I never knew I could adore any person."
In fact, he said that his predominant reason for leaving The Voice after eight years was to have more time to spend with his family.
"I was constantly working for so many years—very lucky, very fortunate, very blessed and all that—but to just be able to stop in this moment to spend time with my new young family and just have the greatest time ever," Levine shared.
"Now I'm a stay-at-home dad. I just stay at home and do very little."
(E! and NBC are both members of the NBCUniversal family.)
(Originally published Feb. 26, 2018, at 4:07 p.m. PT)