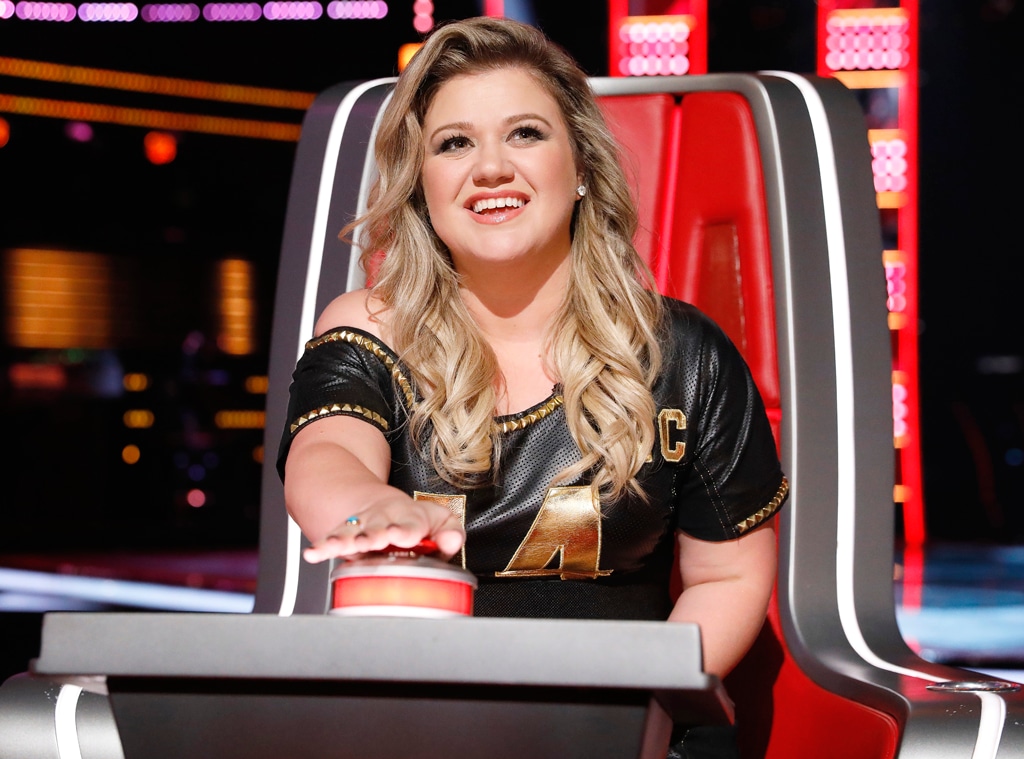 NBC
Kelly Clarkson has finally arrived, The Voice fans!
With season 14 officially underway and the original American Idol winner has ascended her rightful throne on the NBC reality juggernaut as the latest addition to its coaching panel, it's clear that Clarkson's belonged her since day one. The singer with the peerless vocal ability and endlessly charming personality was in her element over the course of these first two hours of blind auditions—and if we were Blake Shelton, Adam Levine or Alicia Keys, we'd be nervous right about now. Why? Because the "Love So Soft" singer stole the damn show, you guys!
How so, you ask? Allow us to break it down.
1. When she got real about why producers added the block button this season: "I feel like you all invented that because I'm coming," she said at the very start of the hour. "And you're all afraid." Show us the lie.
2. When she let Blake know she was on to his games: "You're a tremendously great liar," she told him during Britton Buchanan's audition after the country star deployed his one and only block on Adam and wouldn't admit it. "You should be an actor."
3. When she let Blake know she was on to his games, pt. 2: During her fight with Blake over who would get 14-year-old Brynn Cartelli on their team, she reminded everyone very quickly that ol' Most Wins Shelton once turned to her as a Battle Round advisor way back in season two. "I'm just saying, he had to phone a friend," she said, successfully pleading her case.
4. When she successfully navigated around having to ever say the words American and Idol together in a sentence: Kelly was quick to bring up her claim to fame as a reason why she'd make a uniquely excellent coach, but she did so without ever once uttering the returning competitor's title. Case in point? When she told backup singer Kyle Jade, "I know Blake has won a lot and I'm the rookie, but I'm just saying, I have won a competition."
5. When she shut down Adam with a withering line that we want stitched onto a pillow immediately: "That is a lie from Satan's mouth," she told the Maroon 5 frontman as they battled it out for the last audition of the evening, Justin Kilgore. Bonus points for landing the singer on her team.
6. When she walked away with more artists than any other team: Kelly did the damn thing, landing three singers to everyone else's two. Like we said, they ought to be nervous right about now.
What did you think of Kelly's debut? Sound off in the comments below!
The Voice's two-night premiere continues Tuesday, Feb. 27 at 8 p.m. on NBC.
(E! and NBC are both part of the NBCUniversal family.)