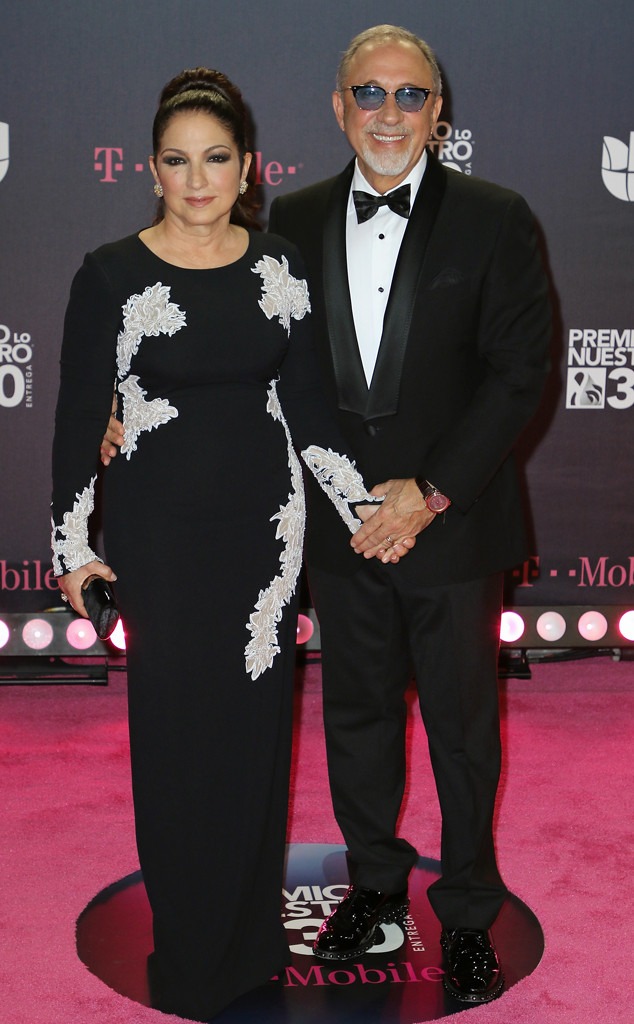 Alexander Tamargo/Getty Images
Gloria Estefan and Emilio Estefan were honored tonight at Premio Lo Nuestro by some of the biggest stars in Hollywood and music. 
"They've always been connected on a very positive level. They just keep growing and growing as they go, they made sure you never forget what Cuban music is about. It's all love for them and respect," said Quincy Jones during the reel that played before their beloved peers honored the power couple.
Then we saw their friend, actor Andy García, who said, "They have a great concept of music, and of course, talent. For me, when they're together, that talent is taken to a whole new level. I'm so incredibly proud of them, not only how they present themselves as musicians and composers, but also as parents, friends, and the way they represent the Cuban community all over the world. They are always giving a hand to those that need it most, I feel blessed to have you both as my friends." 
Last but not least, there was a video message from Shakira. The star's career began with the help with the help of the Estefans. 
She showed her gratitude by saying, "They've been not only two great friends but also a tremendous support not only for my career but also for the career of so many artists. Emilio's ideas and Gloria's incomparable talent gives them magical energy. I'm so grateful that God put them in my life."
II Volo then performed, "Con Los Años Que Me Quedan." Leslie Grace and the Miami Sound Machine performed Gloria's iconic hits, "Abriendo Puertas" and "Conga." Víctor Manuelle finished the performance with his rendition of "Mi Tierra."
Then Pitbull joined walked on stage and addressed the couple to honor them. 
"So I was back there, and they told they had written something for me to say to Gloria and Emilio and I said, 'No.' When I say something, it's from the heart. So I looked up and said, 'Celia [Cruz] help me, please. Queen, please help me. and the queen said, 'Azúcar.' And I told the queen, 'Dale!' I not only want to tell you guys but also thank you for all the doors that you both opened for all Latinos all over the world, for the Cuban community and Cuban culture," the star explained. "For the people from Miami that came from nothing, which worked for everything, I have lived in a lot of bad neighborhoods in Miami, good neighborhood, and even worse ones. One of them was Wynwood, and in Wynwood my window had a crack and bugs and lizards wouldn't come in because there was a huge poster of Gloria Estefan. So I want to tell you both, thank you, thank you and again, thank you. And like Celia told me, 'Tell the princess and the god father, 'What's up?' It is an honor to be here!"
Gloria and Emilio joined Pitbull on stage, and the singer went on to say a few words. 
"This Premio Lo Nuestro means a lot to me because I feel like I belong to you guys, part of every single one of the countries that have been represented tonight on that stage. Everyone single one of the Latin countries that make part of the United States and they do it better, stronger, more beautiful and with more flavor. But I want to dedicate this to my mother that I lost on June 13, for maintaining within me my culture, for teaching me that the strength comes from maintaining our roots and who we are. Also [thank you] to our kids, and my grandson that they feel Latinos even though they were born here," she said as she held back tears. 
Emilio also spoke and said, "I just want to say that to receive this in Miami, which is a city that saw us grow up. Thanks to all of you we are here tonight. We came to the first Premio Lo Nuestro, and we dedicated our speech to the new Latino community, for them to always feel proud of being Latino. Now more than ever, we couldn't be prouder of being Latino. I want to dedicate this award to my country, Cuba so that one day it may be free."